NEVIS ISLAND ADMINISTRATION (JUNE 09, 2023) — Hundreds of preschoolers on Nevis and parents walked through the streets of Charlestown from Old Hospital Road to the Elquemedo T. Willett Park, in the annual Early Childhood Education's Child Month Parade on June 09, 2023, with the theme "Empowering our children through STEAM (Science Technology Engineering Arts and Mathematics) Education."
At the end of the parade, Ms. Zahnela Claxton, Principal Education Officer (PEO) in the Department of Education, deemed the activity a success.
"The 2023 edition of the Child Month parade was successful. The parade was led by the Queen City Drum Corps followed by members of the cabinet of the Nevis Island Administration.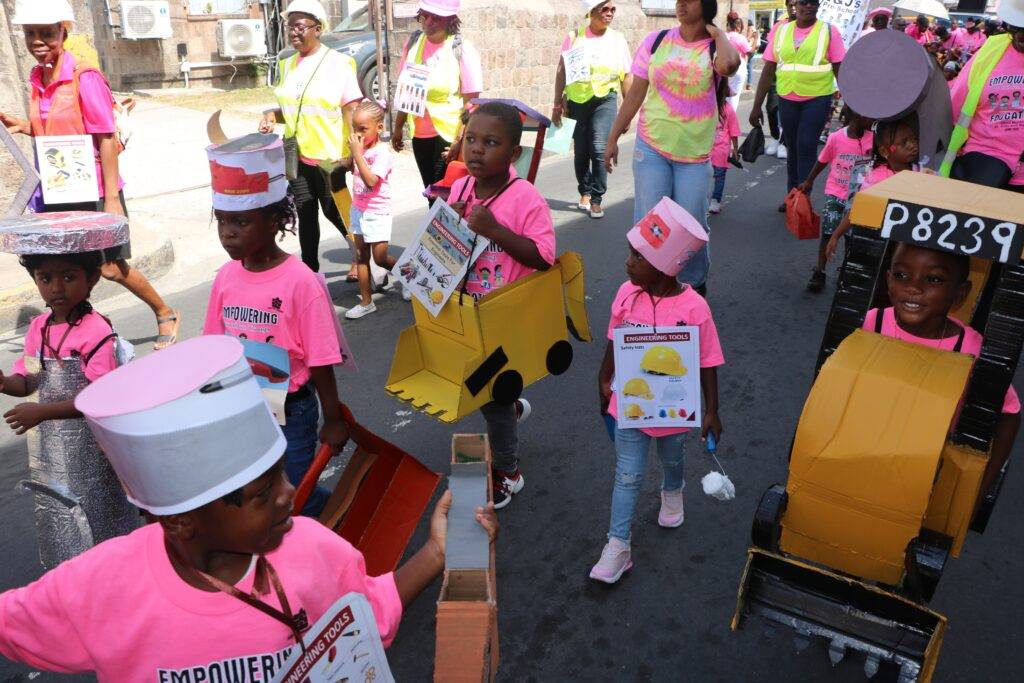 "The theme for Child Month, "Empowering our Children with STEAM Education" was well represented by six nurseries and 11 preschools on the island. We also saw representatives from our Kindergarten classes across the island. Each school represented one of the five areas: Science, Technology, Engineering, Arts and Mathematics. The children were supported by their parents.
"We say thank you to the Early Childhood Unit, supervisors, teachers and all members of staff. We commend the parents and public for their participation in the Child Month parade and we look forward to their continued support for the duration of the month's activities," Ms. Claxton said.
The parade forms part of the Ministry of Education's Early Childhood Unit's activities for the month which began with a Combined Church Service at the Gingerland Seventh Day Adventist Church on June 01 followed by Transition Day on June 02.
The other activities planned for month are: STEAMagine Cantata at the Nevis Performing Arts Centre (NEPAC) on June 14 from 4:30 p.m.; A bake sale the Solomon Arcade apron in Charlestown on June 16 from 10 a.m.; Read with Me – Family Fun Time at NEPAC on June 21 and 22 from 5 p.m.; Early Childhood Department Staff Retreat on June 23; Compassionate Day (visits to retired Early Childhood Department workers) on June 28 from 10 a.m.; and Parade Day in St. Kitts on June 30. On every Saturday of the month dubbed "Child Month Saturdays" there will be features on the Youth on the Go show on VON Radio from 9 a.m.
END