NIA CHARLESTOWN NEVIS (June 09, 2023) – Ms. Nichelle Ottley of the Charlestown Secondary School has been judged the winner of the Department of Physical Planning's STEM Expo challenge.
Hon. Spencer Brand, Minister of Planning and the Environment in the Nevis Island Administration (NIA) presented the Form 2 student with her prize during a brief ceremony at the school on Friday, June 09. The challenge was a collaboration between the Planning Department and the Ministry of Education as part of the inaugural STEM Expo 2023, held on May 26.
Hon. Brand said it was especially heartening that a female had won the challenge in a field usually dominated by men.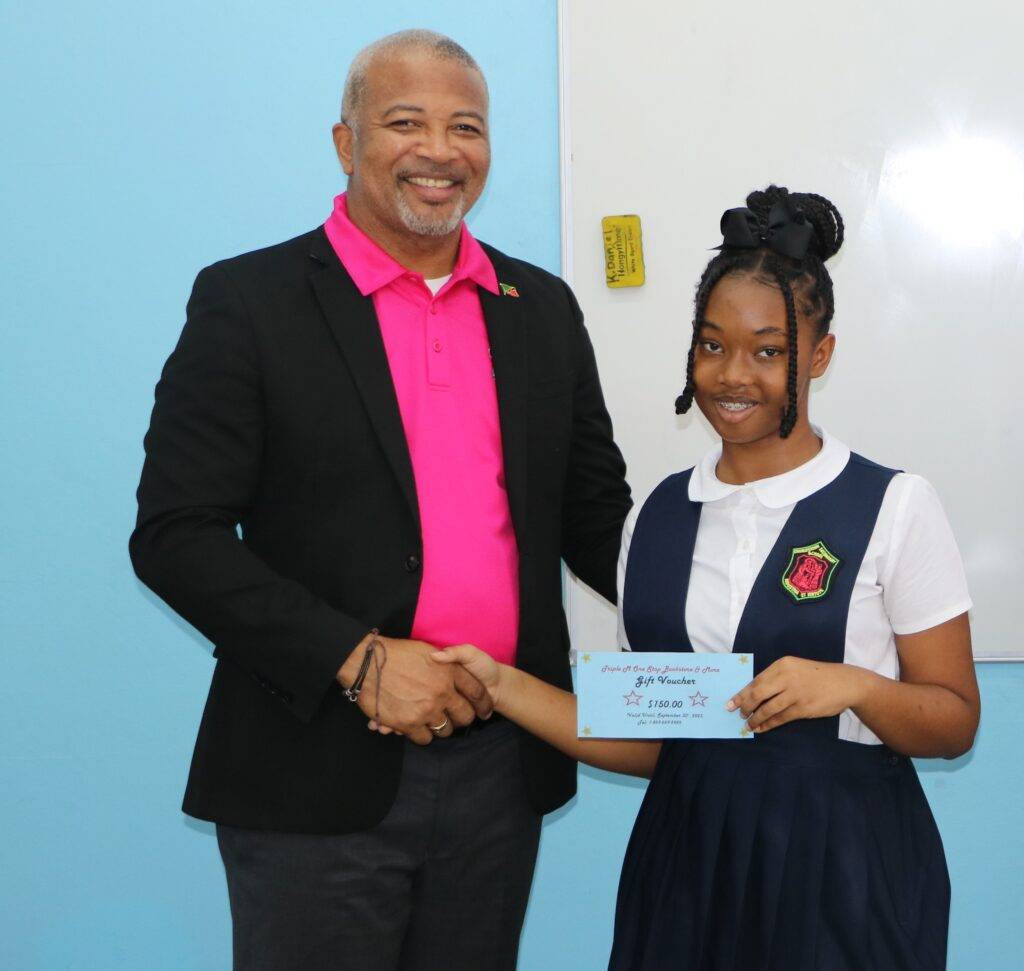 "I want to say how delighted I am as the minister with responsibility for Planning and Environment to be associated with this initiative. It is no secret that St. Kitts and Nevis is pursuing STEM- Science, Technology, Engineering, and Mathematics. We feel that this is a critical component for the development of the island of Nevis and by extension, the Federation.
"I am so happy that a female has won this challenge because this field, construction, is not normally a field that females are involved in, so special congratulations to Ms. Ottley on this achievement."
Ms. Ottley was awarded a $150 gift voucher from Triple M One Stop Book Store and More.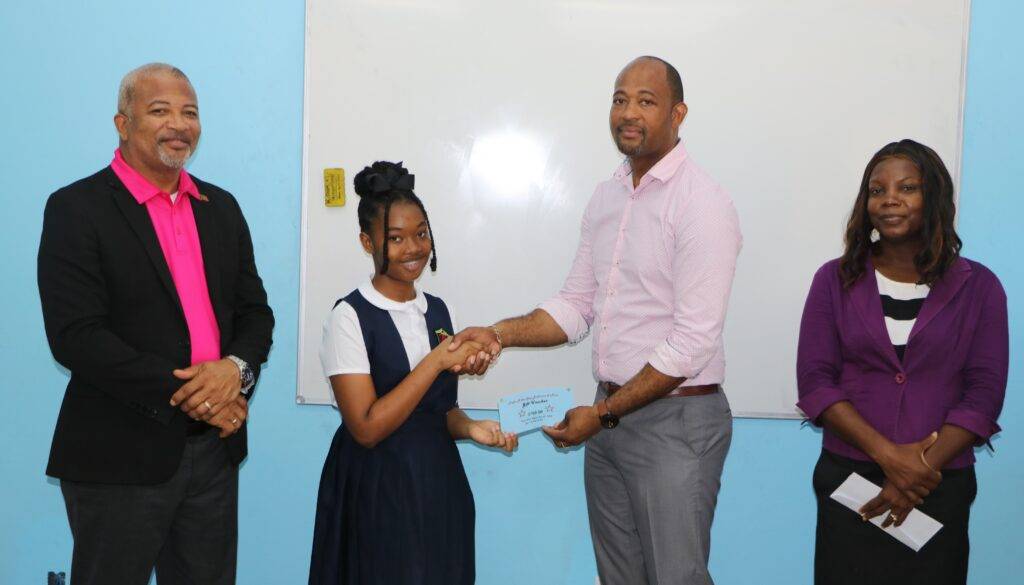 Mr. Deora Pemberton, Director of the Department of Physical Planning and Environment, outlined the STEM challenge, which saw students engaged in the laying out of technical plans for a structure and other features associated with a property. He said this allowed them to get an idea of the role STEM plays in the critical functioning of the Planning Department with respect to projects and development on the island.
"That challenge entailed a mock plot of land, we gave them a site plan which had a perimeter fence, a building, septic tank, garage, and driveway. The students had to use the scale to set out these features and the student who completed the challenge in the shortest period of time was determined the winner.
"I want to thank Ms. Ottley for participating in our challenge at the STEM Expo. Congratulations for you hard work and we want to offer you this prize. I prefer to think of it as a seed we're planting and we hope your future will see much growth."
Principal of the Charlestown Secondary, Mrs. Jasmin Dore, expressed her pride on behalf of the school, congratulating Ms. Ottley for her excellent work. Also on hand to witness the prize-giving ceremony were Ms. Ottley's mother and her classmates, who showed their support with lusty applause.
END