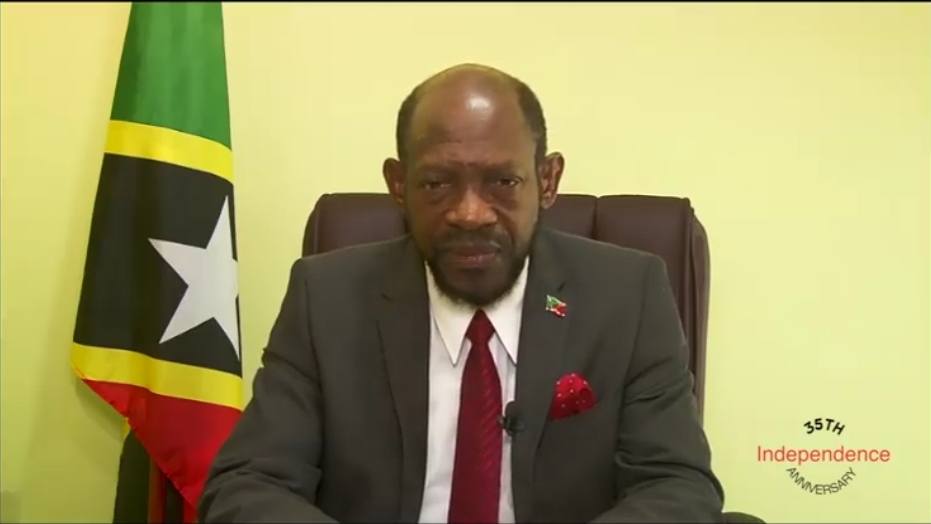 Photo Caption: Leader of the Opposition in St. Kitts and Nevis The Right Hon. Dr. Denzil L. Douglas on the 35thAnniversary of St. Kitts and Nevis' Independence
On the momentous occasion of our country's thirty-fifth anniversary of independent nationhood, the poetic lyrics of this timeless hymn – I vow to thee, my country – come to mind as they capture all the virtues that form the theme of our celebrations.
MY FELLOW CITIZENS AND RESIDENTS,
"Love, Service, Patriotism and Pride" are all inextricably linked. Service is the ultimate expression of Love as demonstrated by the life of Jesus Christ; Patriotic sacrifice of one's time, energy and even one's life is the ultimate service one can give to one's country and Pride is the first fruit of all three working together to realize a vision of our nation that we can proudly deliver to future generations. Love, Service, Patriotism and Pride are the ties that bind us together as a nation and form the fabric upon which our national consciousness and identity as a people are anchored. It is this ethos that has found cultural expression in everything we do and in the way we live as proud Kittitians and Nevisians.
Over the past thirty-five years the journey of nation-building for St. Kitts and Nevis has not been an easy one. The legacies of slavery and colonialism that we inherited were designed to ensure that that our tiny twin-island nation would never be able to raise its head as an equal around the table of the community of nations. The exigencies of a globalized and asymmetrical world threatened to seal our fate. However, through all the challenges, travails and setbacks we faced, the story of St. Kitts and Nevis is a story of TRIUMPH against impossible odds, which we were only able to overcome, because we did it TOGETHER and we did it based on a shared philosophy rooted in optimism, decency, compassion, kindness and most of all hard work.
It is this shared philosophy that has always made us stand out as a people and to punch above our weight. It is this shared philosophy that propelled us from being a struggling third world economy destined for the dustbins of history, to becoming a globally integrated high income country that can compete successfully in the same economic, diplomatic and technological space with larger, richer and more prosperous nations. It is this shared philosophy that motivates every Kittitian and Nevisian towards achieving personal and national excellence. It is the kindness and caring that is shown towards fellow citizens that makes us distinctly Kittitian and Nevisian and keeps visitors returning to our shores.
However, this shared philosophy, the defining ethos of Love, Service, Patriotism and Pride that has animated and motivated us as citizens and as a nation is currently under threat and the thirty-fifth Anniversary of our Independence finds us at a cross-road.
Sadly in our country, the issue of escalating crime has enshrouded our nation in a cloud of fear, sadness and anxiety. There is an unsavory undercurrent of criminality that has found awful anti-social expression and impact that threatens the security of our people and the economic viability of our great Federation of St. Kitts and Nevis. This monstrous criminality tells us that something is desperately broken in our society. It tells us that if, according to one reputable source, approximately seventy per cent of all reported crimes are committed by youths, that there is a disconnect that has separated some of our young people from assimilating and benefitting from the traditional values and philosophies upon which our nation was founded.
The overwhelming majority of our people are good, hard-working and productive and are steeped in the tried-and-true values that are at the core of our citizenship. This is manifested daily in the camaraderie, helpfulness, courteousness, purposefulness and productiveness of the thousands of working people – the farmers, fisherfolk, doctors, nurses, students and teachers, police officers, sanitation workers, administrators, sports, and cultural artisans – who go about their routine on a daily basis. This is further evidenced by the extraordinary contributions being made by many of our young men and women who engage enthusiastically and productively in the social, civic, political and economic life of our society. Our young people continue to excel academically and vocationally as demonstrated by the vibrant community of young entrepreneurs and professionals; the thriving creative and entertainment industries led by our young artistes and the regional and international achievements of our young men and women in the world of sports.
However, it appears that for various reasons some of us, and our youth in particular, are falling through the cracks and this is unacceptable. No one should be excluded from contributing to and sharing in the benefits of nation-building. It is for this reason that the St. Kitts-Nevis Labour Party has been foremost in calling for the formulation of a national strategy on crime that would bring together our youth, our families, our schools, churches, the media, the government, the opposition, and civil society in a conversation with the formal institutions of law and order. All hands must be on deck to cripple and destroy the unacceptable malignancy of violent crime. Our citizens, residents and visitors who break the law MUST be punished for the choices they make. Justice MUST be made available to the suffering victims and communities. Even as we punish, we MUSTrehabilitate and even as we enhance our capabilities and strengthen collaboration among our law enforcement institutions, we must equally pursue the preventative measures that would ensure that no man or woman, no boy or girl is left behind. We MUST model and rouse anew within our young people a national consciousness based on Love, Service, Patriotism and Pride that would cause them to repudiate anti-social behaviour and bring lasting peace to our country.
FELLOW CITIZENS AND RESIDENTS,
On this, the thirty-fifth anniversary of Independent nationhood, let us come together to reaffirm the core values and beliefs upon which our nation was founded and for which our forebears bled and died. Let us reaffirm our belief in the supremacy of Almighty God and the freedom and dignity of every man, woman and child. Every life is precious, every life is valuable. Let us reaffirm our desire to build a society that recognizes and is ordered by the recognition of the principles of democracy, free institutions, social justice and equality before the law. Let us reaffirm our commitment to recognize the human dignity in each other that presupposes the safeguarding of the right to life, liberty and the pursuit of happiness. Let us reaffirm the bedrock ideals and principles that are enshrined in our Constitution and upon which we the people of St. Kitts and Nevis founded our independent nation on September 19, 1983. These are the enduring fundamentals around which our social solidarity must coalesce in recognition that we will either RISE together as a nation or FALL together as a nation.
MY FELLOW CITIZENS AND RESIDENTS,
Even as we work together to orchestrate a return to our core founding principles of Love, Service, Patriotism and Pride let us all insist that even as we demand these things of ourselves, true patriotism requires that we demand it of those whom we appoint to represent us in elected office. The togetherness and solidarity of our people are made manifest, most formally and practically, in citizenship, which is the strongest bond that holds us together, now and forever. Citizenship is the highest office of the land, higher than that of Governor-General or Prime Minister. We should never take our role as citizens lightly as we are the driving force that would determine the direction and limits of our collective aspirations as a nation. For this reason we must hold our leaders accountable. We must demand that our leaders uphold the highest standards of democracy, good governance, fairness, transparency, integrity and ethics since politics without principle is one of the biggest threats to peace, progress and prosperity.
MY FELLOW CITIZENS AND RESIDENTS,
It is vital that as a nation we ought never to allow negativity and cynicism to overtake us either practically or figuratively. In rooting ourselves in the values and ethos of Love, Service, Patriotism and Pride it calls us to act in concert towards building the kind of society that we would be proud to deliver to future generations. In order to truly take pride in our country, we must be able to take pride in our leaders and we must all be expectant beneficiaries of the dividends and proceeds of the national prosperity agenda
On this auspicious Independence Anniversary let us all pledge to live by the principles enunciated in our national motto and our anthem. As we look to the future, let us all strive to ensure that our nation is truly built on the sure foundation of Love, Service, Patriotism and Pride.
I therefore call for a new beginning for all, irrespective of political affiliation, gender, race and creed.
This country belongs to all of us.
HAPPY INDEPENDENCE 35! May God bless us all!
May God Bless the Federation of St. Kitts and Nevis!
Disclaimer
This article was posted in its entirety as received by SKN PULSE. This media house does not correct any spelling or grammatical errors within press releases and (or) commentaries. The views contained within are not necessarily those of SKN PULSE.