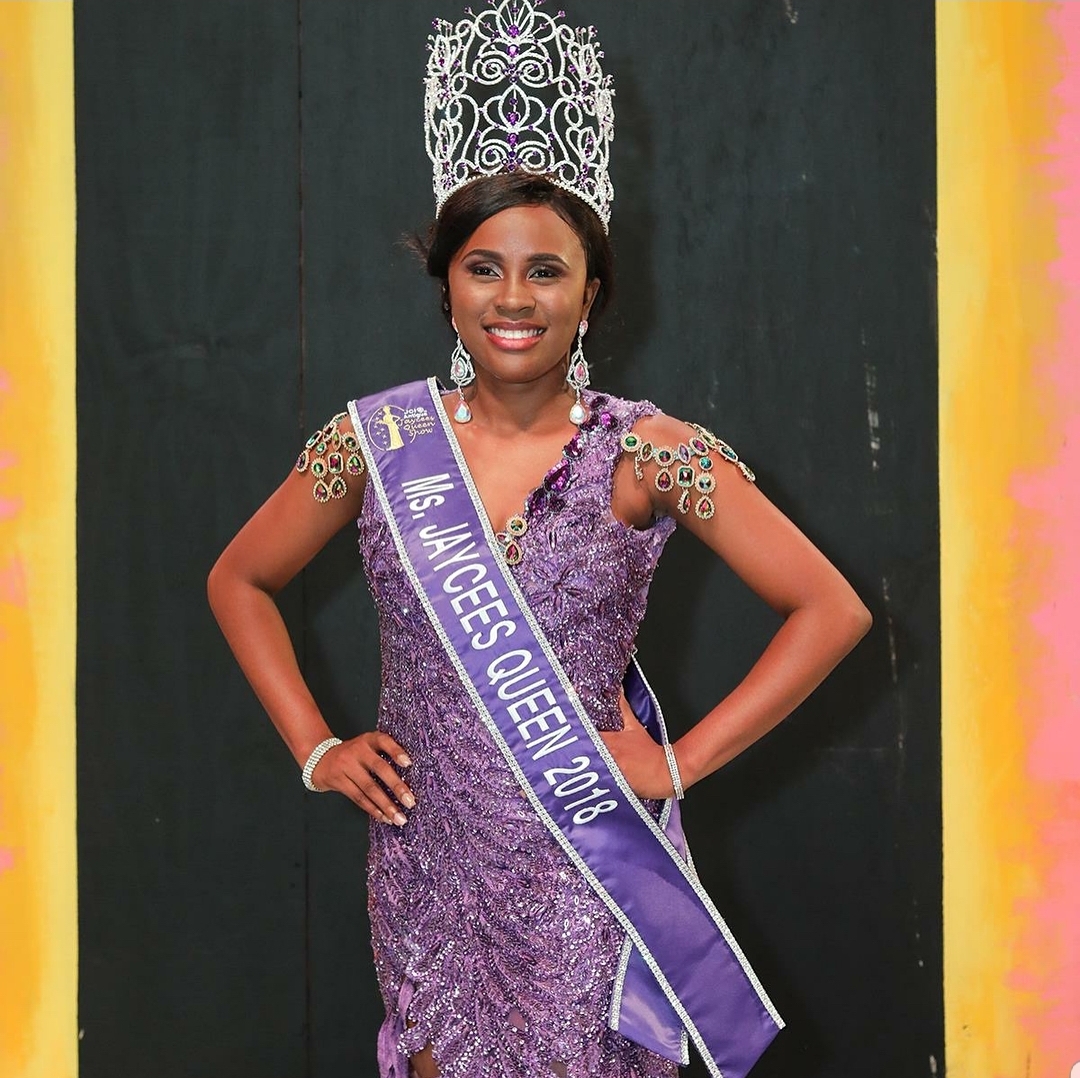 700/2018
Basseterre, St. Kitts, July 30, 2018 – The reigning Miss St. Kitts, Sheniqua Lanns walked away with the 57th annual Ms. Jaycees Pageant crown in Antigua Sunday night.
The first runner-up was Ms. Antigua and Barbuda, Ashley Boodoo and second runner-up, Ms. USA, Felicia Rose Limada.
The Kittitian beauty also won the Miss Photogenic, Staying True to the Theme, and Best Talent segments.
Contestants from Saint Lucia, St. Vincent, Barbados and Trinidad and Tobago competed.
Best in Swimwear Caribbean – US Felicia Rose Limada; Best Modeling Skills in Evening Wear: Miss Antigua; Best Dressed Evening Wear: Miss Caribbean US Felicia Rose Limada;
Best Interview: St. Vincent and the Grenadines and Miss Congeniality: Chancy Fontenell, Miss St. Lucia;
"My mission in life is not merely to survive; but to thrive and to do so with some passion, some compassion, some humour, and some style." As quoted by Maya Angelou, this philosophy is what guides Miss Sheniqua Lanns. The beautiful island of St. Kitts is prized to call this 24 year old, such an ambitious and multitalented product of the soil.
Sheniqua hails from a small urban community called La Guerite but this seemingly insignificant village did not deter her from becoming a proud graduate of Monroe College in New York attaining a Bachelor's Degree in Business Management. As an Administrative Executive Assistant, Sheniqua utilizes her skills to the advancement of the nation's youth through technical training and development. The fascination of their complex minds coupled with a heart that yearns for incarcerated children; has driven Sheniqua to pursue her ultimate goal as Child Psychologist.
Her professional and academic careers have been cultivated with balance and service with an appetite for performing arts; particularly music and dance. Sheniqua is a committed member of Poise SKN Institute of Dance and a long standing and active member of her church's youth choir; Girls' Brigade and youth fellowship. She credits her church family for instilling values of discipline and respect which further contributed to developing her exceptional interpersonal skills and leadership qualities.
Much of Sheniqua's successes are ascribed to Ms Venelma Hanley; her lifelong guardian. Her selfless dedication in nurturing countless young ladies, none biologically hers; has injected Sheniqua with full admiration enough to dub her a real life "Super Woman". Her compassionate spirit and consistent care extended, humbles Sheniqua and motivates her to stand in the gap for other young women.
Sheniqua believes that there is absolutely no task too difficult to undertake. By this token, she bravely entered and won her first pageant in December 2017; and now bears the title Miss National Carnival Queen. As she presents sweet sugar city St. Kitts in this 57th Annual Jaycee's Queen Show, she hopes that her journey brings inspiration to ladies who maybe fearful of taking such leap of faith.