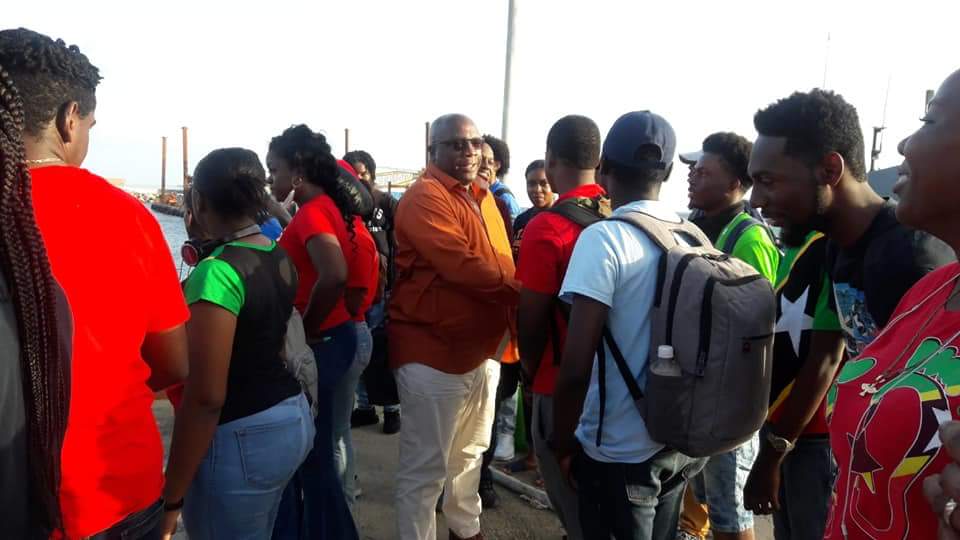 BASSETERRE, St. Kitts, July 30, 2018 (Press Unit in the Office of the Prime Minister)
– Twenty-four (24) young persons representing the St. Kitts and Nevis Comprehensive Disaster Management (CDM) Youth Ambassadors group left the Federation on Sunday, July 29, on board a Coast Guard vessel destined for the British Virgin Islands (BVI), where they will offer much needed humanitarian assistance as the restoration efforts from last year's devastating hurricane continue.
The CDM Youth Ambassadors, launched by the National Emergency Management Agency (NEMA) in November 2017 with the full endorsement of the Caribbean Disaster Emergency Management Agency (CDEMA), seeks to directly engage young people in disaster management activities over the short-to long-term period.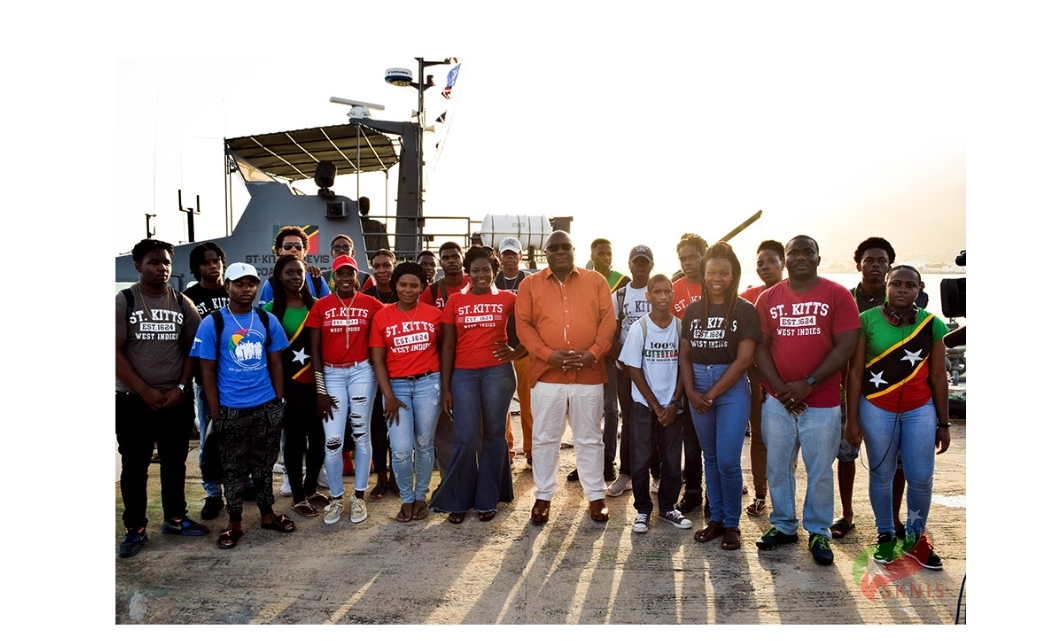 St. Kitts and Nevis' Prime Minister and Minister of National Security, Dr. the Honourable Timothy Harris, was among those present at the St. Kitts and Nevis Defence Force Coast Guard Base on Sunday afternoon to bid the youth ambassadors a safe and productive trip to the BVI.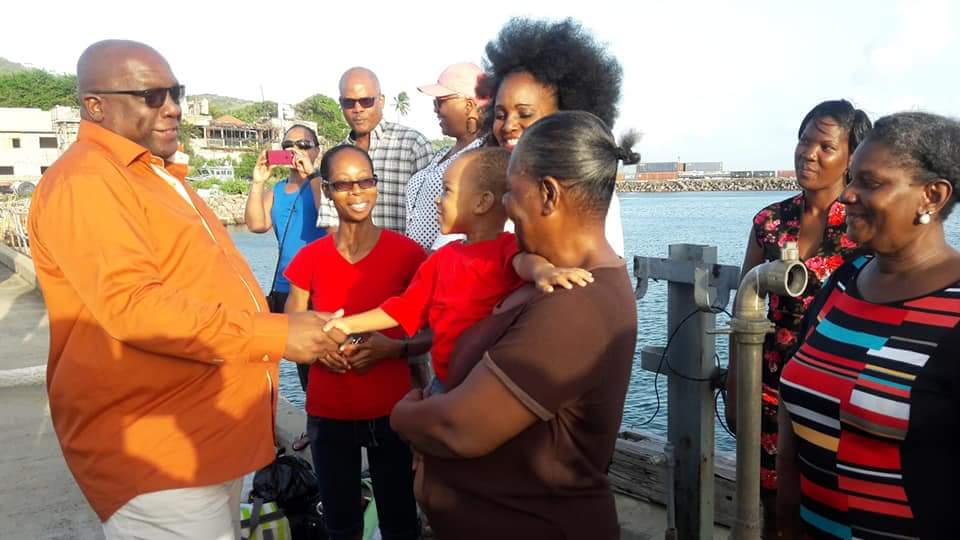 "This group of ambassadors was formed subsequent to our experience with the hurricane, because we appreciate, and the leadership of NEMA appreciated that with youth comes new vision, new energy [and] new resource that could be put to good use and today you are demonstrating this. You are brave enough to say 'I will go'; you are brave enough to say 'I can make a difference to the BVI' and you are brave and conscious enough to say 'we are one Caribbean people and whatever we can do for each other redounds to the benefit of all of us," Prime Minister Harris told the 24 CDM Youth Ambassadors ahead of their departure.
Dr. Harris noted that this humanitarian initiative also complements the aid packages that St. Kitts and Nevis made available to the British Virgin Islands and other neighbouring countries in the wake of the September 2017 hurricanes.
The honourable prime minister further commended the group of young people for taking up the mantle of becoming ambassadors for comprehensive disaster management issues in St. Kitts and Nevis, and the wider Caribbean region.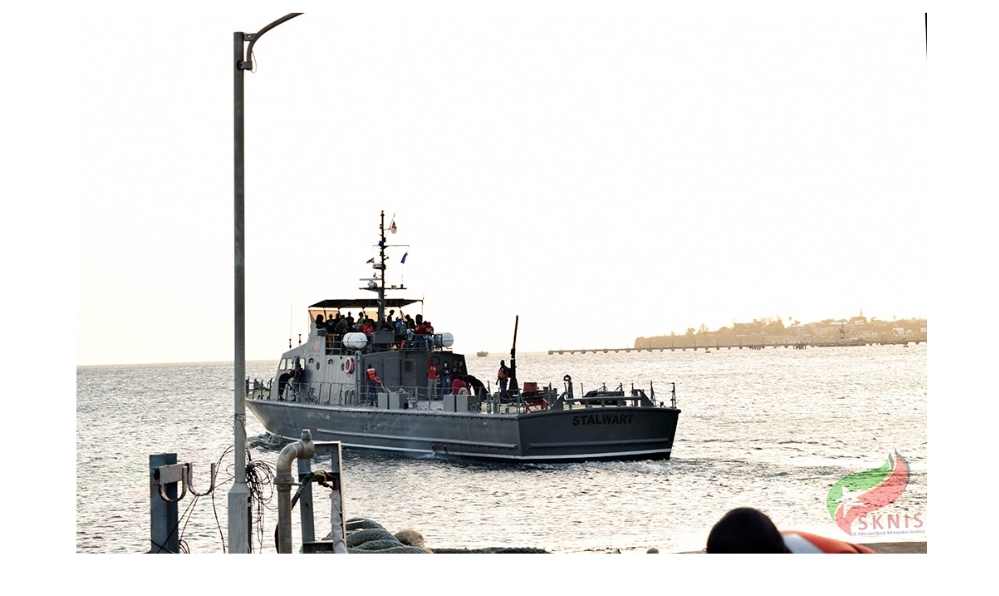 He added, "I want to wish you God speed and hope that it will be an enjoyable and productive experience as you fulfill the particular objectives that have been outlined for you and that you come back energized knowing that you have delivered some good things to our brothers and sisters in the British Virgin Islands. You are going to run into hopefully a number of Kittitians and Nevisians because we have a large contingent of our people living there, so when you do good there you do good that will redound to their benefit and our collective benefits."
National Disaster Coordinator, Mr. Abdias Samuel, stated that the St. Kitts and Nevis Youth Ambassadors will be providing invaluable technical and manual assistance to the BVI's restoration efforts.
"We have some of the ambassadors who are technically inclined so they are going to assist whether in helping them restore computer systems—we have another set who are going to help them paint buildings including the disaster management building itself and other places and they are also going to help with the planting of flowers, trees and many other things," Mr. Samuels noted, while adding that the St. Kitts and Nevis group will also encourage youths in the BVI to engage in similar activities of promoting comprehensive disaster management.
Irma, a Category 5 hurricane, smashed into the British Virgin Islands in September 2017, leaving a trail of death and devastation, displacing thousands of people and leaving thousands more without electricity or water.
-30-
Photo:
Prime Minister Dr. the Hon. Timothy Harris surro members of the St. Kitts and Nevis Comprehensive Disaster Management (CDM) Youth Ambassadors group.
Photo: St. Kitts and Nevis Comprehensive Disaster Management (CDM) Youth Ambassadors depart for the British Virgin Islands on board the Coast Guard Vessel MV Stalwart
Disclaimer