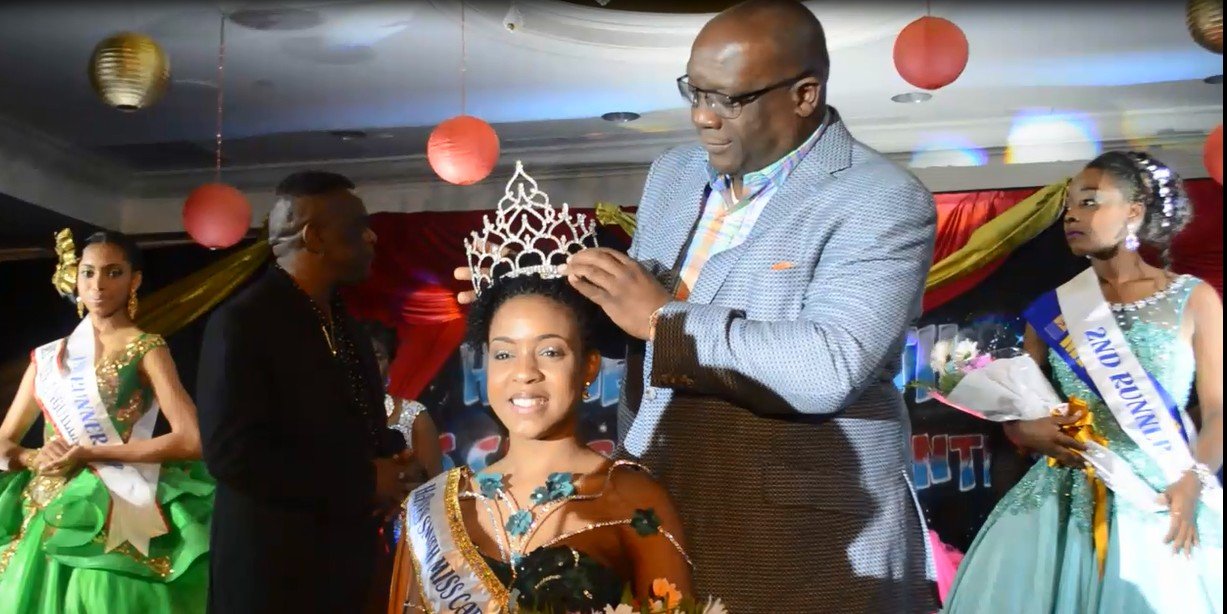 Photo caption: Ms. French St. Martin Tasyanna Clifton being crowned by Prime Minister of St. Kitts and Nevis Dr. Timothy Harris.
Ms French St. Martin Tasyanna Clifton is the 2017 Haynes Smith Miss Caribbean Talented Teen Queen after amassing 464 points in the pageant at Saturday night. Held at the S. Kitts Marriott Resort for the first time as part of a rebranding effort by the Committee, the pageant was dominated with portrayals of Hurricane Irma in talent and theatrical wear segments as some of the contestants were from islands ravaged by the hurricane. Ms. St. Martin also won best evening wear with 67 points, wearing a green dress, with leaf designs depicting growth and renewal of her island in the aftermath of Hurricane Irma. The Queen also won best theatrical appearance with 124 points, also a depiction of Hurricane Irma, this time as the French Queen Marie Antoinette, lamenting on the travails of Hurricane Irma, but expressing confidence of renewal. Tasyanna narrowly defeated Ms Anguilla Deztynee Bryan who finished first runner up with 461.5 points. Deztynee also won best talent with 221 points for her portrayal of a kidnapped girl seeking to break free from physical and emotional turmoil. Ms. Barbados Meghan Green finished second runner up with 439 points. Ms. St. Lucia Cathlina Lawrence won best interview with 90 points.
The newly crowned Queen Tasyanna Clifton was elated with her win and see it as a victory for her island in the midst of the destruction from Hurricane Irma. "I am really excited, I am really happy. Only because my message was St. Maarten will smile again and I know St. Maarten is smiling," Tasyanna said after her win.
It was a morale victory too for Tasyanna, as she had to evacuate from the island in the aftermath of the hurricane to continue her education. Her chaperone Carlishia Phillips said it was Tasyanna's determination why she was even competing, considering the challenges to prepare for the pageant in the midst of the hurricane devastation of St. Martin. "She had to evacuate from the island to further her education so it was a bit difficult to prepare for this pageant because she was off island at the time. She came in a week and a half before the show, so it was a lot of cramming, but she was very determined," Phillips said. "At one point we were saying I think maybe we should sit it out for this year because things were going so crazy but she was like no, we got this, we are going to do this and she wanted it and she got it. I couldn't be happier," Tasyanna's chaperone added.
The pageant was keenly contested as the six contestants showed poise, grace and exceptional talent. Chairman of the Committee Mr. Antonio Maynard was pleased with the outcome of the 38th edition of the pageant, held for the first time outside the Carnival village. "I think the change was a good one. It was a marketing strategy that we came here and it worked," Maynard said. "Everybody loved the change and this pageant remains the most prestigious pageant throughout the entire Caribbean. We lived up to the expectation and reputation of this great show," he added.
The talent pieces were enthralling. Ms. St. Kitts 16 year old Dolicia Barry sang the song "Beautiful" expressing the importance of self-esteem; Ms. Antigua and Barbuda 17 year old Zaria Bideau performed the song Rise Again in tribute to the hurricane ravaged sister island Barbuda. Cathlina Lawrence of St. Lucia did a talent piece entitled "Resurrection of one beat," playing the steel pan to highlight the significance of supporting the performing arts. Ms. St. Martin portrayed Hurricane Irma destroying St. Martin and Ms. Barbados Meghan Green did the Song: "Rise Up" to portray the effects of bullying on persons with disability. The Pageant was punctuated with entertaining co-hosting by Trinidad and Tobago comedian and media personality Errol Fabien and local media personality Jadee Caines and performances from Antiguan Soca sensation Ricardo Drue.
—END—
*This article was posted in its entirety as received by SKN PULSE. This media house does not correct any spelling or grammatical errors within press releases and (or) commentaries. The views contained within are not necessarily those of SKN PULSE.