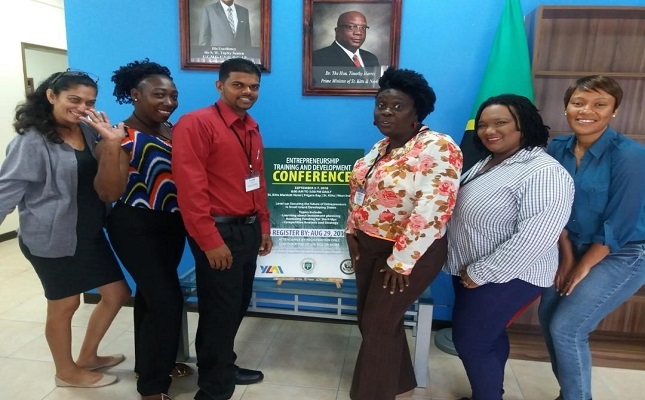 Press Release From: September, 13, 2018

The Dream Achievers Education Foundation in partnership with the United States Department of State and the Young Leaders of Americas Initiative hosted a week long entrepreneurship training and development conference under the theme; 'Level Up: Securing the Future of Small Island Developing State.' The conference was held from September 3 to 7, 2018 for local entrepreneurs specializing in various industries including: customer service, food and beverage, cosmetology, art and craft, real estate, business and financial services, community development, social enterprises and information technology.
There was an array of workshops facilitated by presenters who possess a wealth of knowledge, skills and experience within their respective fields. These workshops focused on topics of interest to the participants such as investment planning, the key elements of a business pitch, competitive analysis and strategy, intellectual property rights, marketing opportunity, accessing funding for start-ups and much more.
The conference also offered many opportunities for the entrepreneurs to interact with each other to encourage them to develop a network that will support their endeavours.

The opening day of the conference offered a compelling presentation on entrepreneurial mindset training. This session introduced the participants to scalable entrepreneurship and it also assisted them in developing an understanding for risk and return on investment, dealing with fear and the importance of failure.
On day three (3) the entrepreneurs formed small groups to develop a community project which they pitched to fellow participants and invited guests on the closing day. This event provided youth organisations, youth businesses and young visual artists with a space to showcase and share their talents, passions and skills.
The Conference Coordinator and Founder of the Dream Achievers Education Foundation would like to extend appreciation to all the volunteers, participants, presenters as well as to the kind donors and contributors and the United States Embassy – Bridgetown.
Disclaimer