NIA CHARLESTOWN NEVIS (May 04, 2023) —Local chef Berecia Stapleton of Gingerland is the winner of the Nevis Tourism Authority (NTA) NICHE Culinary Scholarship which will allow her the opportunity to sharpen her skills with 10 weeks of study in Plant-Based Culinary Arts from June 30, 2023, at the Le Cordon Bleu London, a culinary arts institute specialising in cookery, wine and hospitality management.
The scholarship stemmed from a fund created through the Nevis International Culinary Heritage Exposition (NICHE) which was developed in 2007 at the last NICHE festival. The fund was created for a resident of Nevis to pursue studies in the area of culinary arts at a selected institution. The festival ended in 2010 and has transitioned into the Nevis Mango Festival.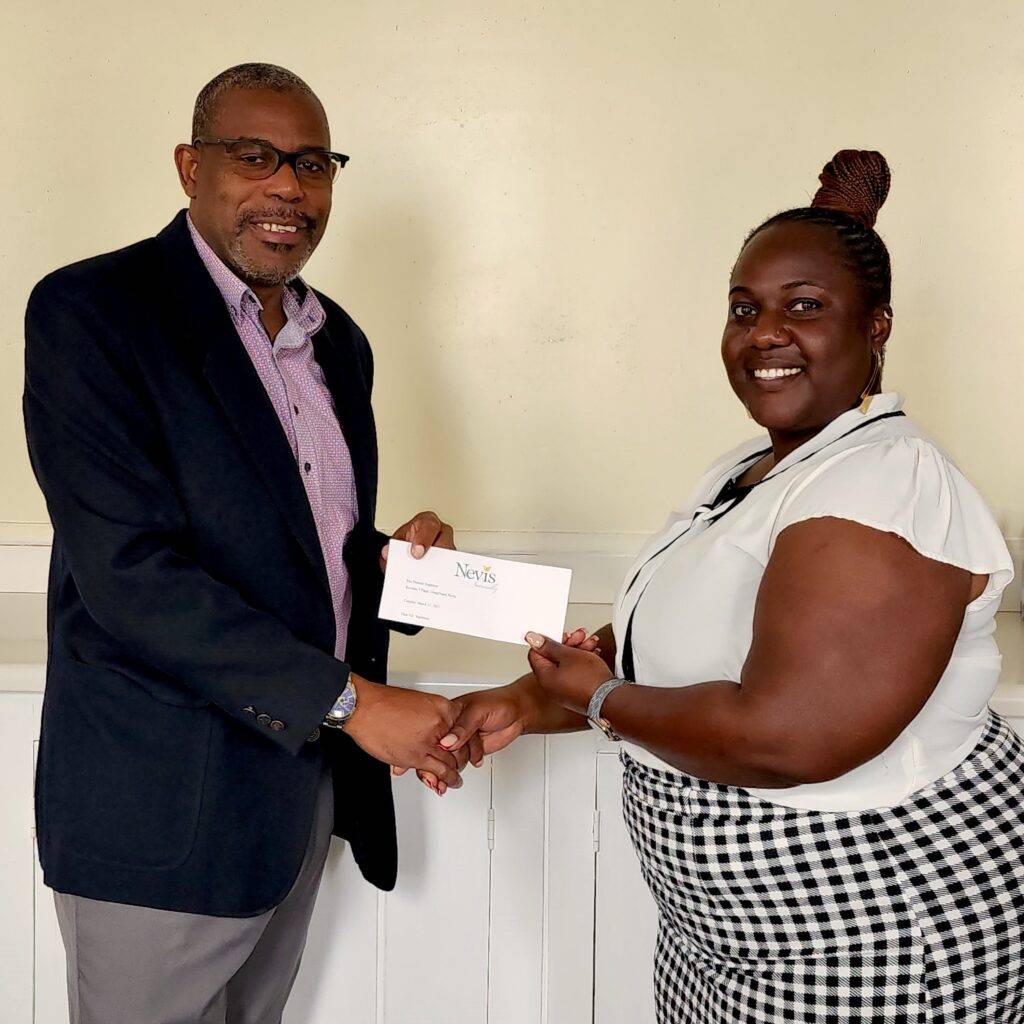 Mr. Devon Liburd, Chief Executive Officer (CEO) at the NTA, in presenting Ms. Stapleton with the scholarship expressed the Authority's delight in assisting in the culinary advancement of someone deserving.
"We are so excited to be able to offer a scholarship with the renowned Le Cordon Bleu Culinary School in London to this deserving Nevisian.
"We believe this is a fantastic opportunity for Berecia to build on her existing culinary knowledge that has been naturally acquired through her love of food and living on an island that is abundant with fresh and local food produce," he said.
In response, an excited Ms. Stapleton shared her feelings expressing gratitude for the opportunity to hone her culinary skills.
"I am so overjoyed to have been selected to travel to London for 10 weeks, where I will be learning from world renowned chefs' plant-based cuisine; how to incorporate them into a daily diet and the many possibilities that are available.
"I will be travelling to London for the summer and during that time I'm hoping to learn so much about the possibilities with plant-based foods; how we can incorporate them into our daily lives if we want to transition from eating meat to plant-based, and hoping on return I'll be able to share this knowledge with my fellow students as well as the island on a whole, teaching persons how they can incorporate these things into their meals as well as creating a product that tourist can come and partake in vegan food as well.
"It has been my motto in life that once you do something you do with passion or you don't do it at all," she said.
On her return home, Chef Stapleton will act as a brand ambassador for Nevis in the area of plant-based culinary skills. She will also be sharing her new knowledge with her students and the wider community.
END