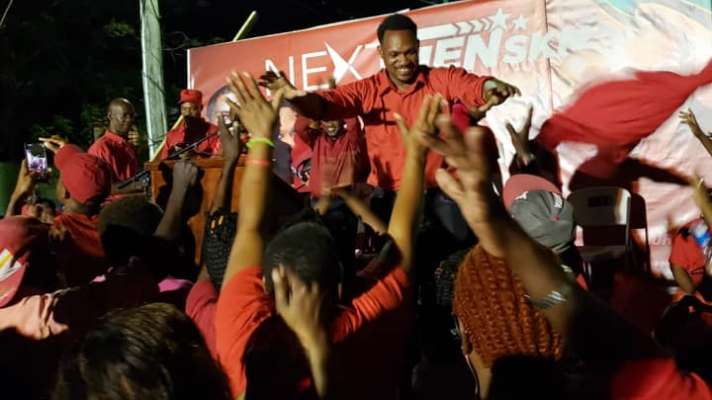 287/2019
By: Erasmus Williams
Basseterre, St Kitts, March 30, 2019 – A massive and highly-energetic crowd greeted the St Kitts-Nevis Labour Party (SKNLP)'s Leon Natta-Nelson, who completes the Next Gen SKN dream team, when he was called to the podium at a political meeting in his home village of Molinuex on Thursday night.
In Mansion, part of the St Christopher 7 constituency, a 75-car pre-meeting motorcade led by Natta-Nelson, was prevented by police from travelling to the Tabernacle, the home village of the incumbent prime minister Dr Timothy Harris, who Natta-Nelson is challenging in the next general elections, expected to be called in a few months.
As party chairman, Dr Terrance Drew introduced Nelson-Natta, the massive crowd went into a celebration frenzy as he greeted his supporters and well-wishers and hugged his fellow colleagues before going to the podium.
Recounting his contribution to the community over the years, Natta-Nelson noted that prime minister Harris seems to have forgotten that he (Dr Harris) has benefitted from his community activities and now wants to discredit him.
"I was the first young man to put on a basketball league in Molineux. It is the same league that he has abandoned since he became prime minister (in 2015). I was the first man to start that league and he benefitted from it. When his brother moved from Tabernacle to Molinuex in 1998, I was the man who put on a football league for him and they benefitted. When I introduced the football league in Ottley's, every year he (Dr Harris) came and gave out the trophies. I did that but they seem to have forgotten," he told the crowd and those listening on radio and watching on several social media platforms.
Natta-Nelson recalled going to Dr Harris, a minister in the Denzil Douglas-led Labour Government to discuss with him the distribution of land in the constituency.
Nelson-Natta said he voted for Dr Harris in the general elections of 2004 and 2010, but Dr Harris changed sides in 2015."We red up our finger for him and he turned his back and gone."
"I have always been a community man and I will continue to be so. I have been president of the Lodge Football Club for 16 plus years and not one of those youngsters who have been under my leadership have been arrested, charged or imprisoned for any offence. They have all been grateful of the assistance that I have given to them over the years," he said.
Natta-Nelson said he is dedicated to provide leadership, responsibility, accountability and availability to all the residents of St Christopher 7.
"I do not need any functionary," said Natta-Nelson, a reference to numerous statements by Dr Harris who complained at press conferences that persons want to see him they must not come to him as he has several functionaries – ministers, permanent secretaries and officials in place.
"Just come and knock on my door and we talk. We will fix the problems in constituency 7. We will fix the problem in the communities, we will fix the problem in the country. That is what it is all about," said Natta-Nelson, who referred to the vengeful acts against those who did not vote for Dr Harris in the 2015 elections.
"They do not want to give a loan. They do not want to give you any opportunities. They have stopped the lap-top programme which provided primary and secondary school students with their personal computers. Harris' recent celebration of 25 years of service amounts to 8 homes being built in Phillips', Five were built recently and is 123 applications were received. The people of St Kitts deserve better. The people of St Kitts deserve much better. It was better before and this will return to St Kitts and Nevis when me and my colleagues are returned to office."
Disclaimer
*This article was posted in its entirety as received by SKN PULSE. This media house does not correct any spelling or grammatical errors within press releases and (or) commentaries. The views contained within are not necessarily those of SKN PULSE.