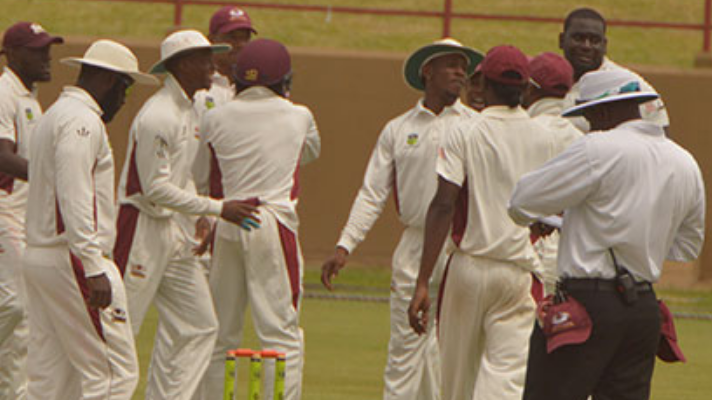 Photo Caption: Leeward Islands Hurricanes celebrating the loss of a Guyanese Wicket (source photo)
By: T. Chapman
Needing maximum points in their final CWI Regional Four Day encounter, the Leeward Islands Hurricanes led by Rahkeem Cornwall lost outright to Barbados after declaring early.
The puzzling declaration from Leeward Islands to lose the match has left many unanswered questions among cricket lovers in the region.
The result gave Barbados sufficient points to secure second spot. Barbados beat the Leewards into second place by 0.2 points. They gained 17.4 points from the match and ended with 134.2 points.
Third place Leewards gained 2.8 points from the match to end with 134 points.
Guyana secured Championship honours following the Leewards collapse on the first day. They were bowled out for 90 in the first innings.
Keon Harding had career-best figures of 5 for 29.
Alzarri Joseph bagged 4 wickets as Barbados declared at 191 with two wickets in hand.
18 runs shy of clearing the deficit, the Leeward Islands shockingly declared at 83-2. Conceding to Barbados.