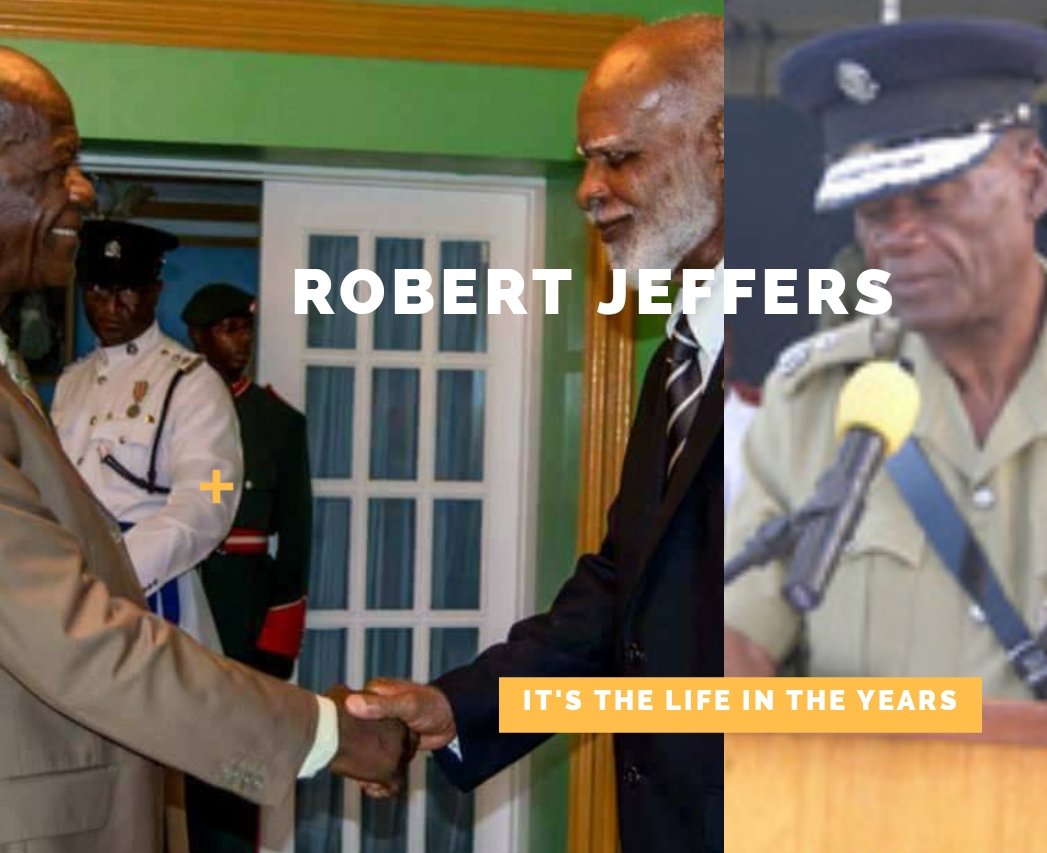 022/2018
Basseterre, St. Kitts, January 15, 2018 – The Federation's former Commissioner of the Police, Mr. Robert Jeffers must be hailed for his stellar contribution to the workings of the Criminal Investigations Department (CID) of the Royal St. Christopher and Nevis Police Force.
"He served with excellence in the capacity of Detective within this department for many years and was a driving force behind the introduction of fingerprint identification for the purposes of solving crimes," said Leader of the Opposition, the Right Hon. Dr. Denzil L. Douglas in his tribute to Jeffers who died on Sunday, at the age of 70.
Dr. Douglas noted that Jeffers was a career policeman who joined the Royal St. Christopher-Nevis-Anguilla Police Force as it then was at the age of 18 years in 1966.
"The Force was his life and indeed, he treated it as such. He took his responsibilities very seriously and performed his duties as an officer of the law with care and precision, and without favour. As a police officer, Robert was exemplary – he was a natural at protection and law enforcement," said Dr. Douglas in his statement on behalf of the Parliamentary Opposition.
Dr. Douglas said that during his career, Mr. Jeffers journeyed to Barbados for training periodically and was always reported back as being either the top performer or one of the top performers emerging from the session.
He said Jeffers' dedication and commitment to law enforcement and the protection of the citizens of St. Kitts and Nevis gave way to his appointment as Commissioner of Police in 2004.
"He served with distinction in that position until his retirement four years later after forty-two solid years of service to his country, making him one of the longest serving officers in law enforcement in the Federation.
Robert Jeffers dedicated his entire life to the service and protection of our people and our Federation. Words cannot adequately convey the depth of love and appreciation, I personally have for his service. We as a people must be eternally grateful for the sacrifices he made to ensure that our nation's peace and prosperity was always protected," said the former prime minister and Minister of National Security.
"I extend sincerest condolences to Robert's family and friends on behalf of the Federal Parliamentary opposition of St. Kitts and Nevis and the St. Kitts-Nevis Labour Party." We trust that in your time of bereavement, you find comfort in knowing that his is a legacy that is permanently etched into the history of St. Kitts and Nevis," said Dr. Douglas.
Photo 1 – File Photo of Governor General His Excellency Sir Edmund Lawrence (right) greeting Mr. Robert Jeffers at Government House.
Photo 2 – The late Robert Jeffers
*This article was posted in its entirety as received by SKN PULSE. This media house does not correct any spelling or grammatical errors within press releases and (or) commentaries. The views contained within are not necessarily those of SKN PULSE.