The Highly-Anticipated New Route Enhances Travel Accessibility, Offering Year-Round Options for New York-St. Kitts Travellers.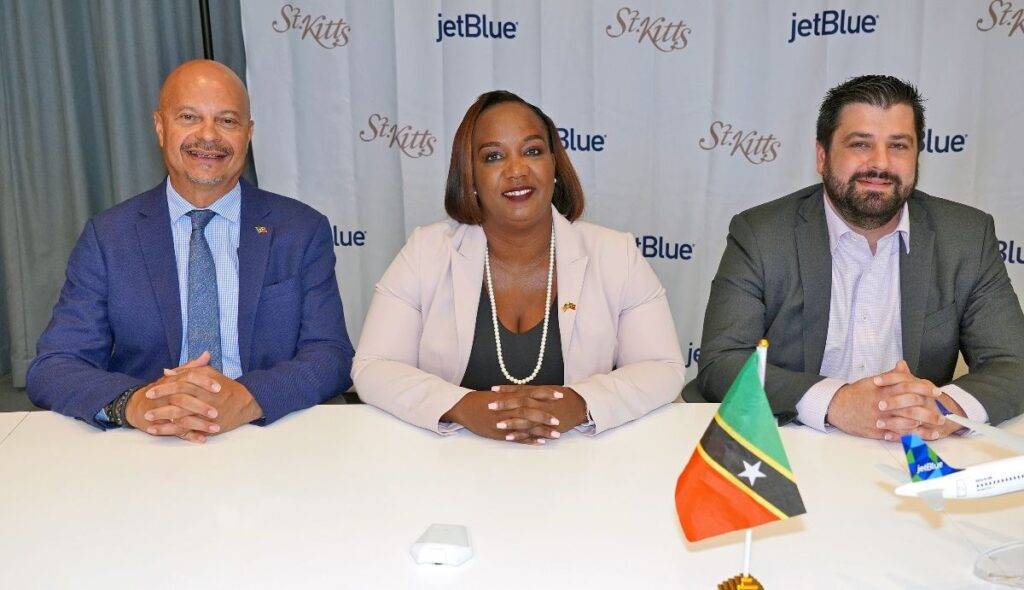 Basseterre, St. Kitts (06 June 2023) – The St. Kitts Tourism Authority is proud to announce its strategic collaboration with JetBlue, marking the commencement of direct, year-round service from New York (JFK) to St. Kitts, three times weekly beginning November 2nd. This partnership is an integral step towards expanding international travel opportunities and enhancing accessibility to the island.

Available year-round, these direct flights will offer seamless travel experiences to and from New York and St. Kitts. The service will operate weekly on Sundays, Tuesdays, and Thursdays, providing travellers greater flexibility.

"The introduction of JetBlue's service to St. Kitts marks a significant milestone for our tourism-driven economy, as it enhances our accessibility and strengthens our global connectivity monumentally," said Honourable Marsha T. Henderson, Minister of Tourism, International Transport, Civil Aviation, Urban Development, Employment, and Labour. "The additional airlift will undoubtedly stimulate economic growth and pave the way for further destination development, ultimately benefiting the people and businesses of St. Kitts."

"We look forward to introducing our low fares and great service to St. Kitts' customers and offering our Northeast customers a unique island getaway where they can find pristine beaches, adventure, world-class gastronomy and warm hospitality," said David Jehn, vice president, network planning and partnerships, JetBlue. "This new nonstop route aims to continue to grow our presence in the Caribbean and bring more choices for our customers."

JetBlue will operate the new route using its Airbus A320 aircraft, offering the airline's award-winning service featuring the most legroom in coach, live television and on-demand entertainment on every seatback, free and fast Fly-Fi broadband internet, complimentary snacks and soft drinks and great customer service.

"JetBlue's service to St. Kitts heralds an exciting future for tourism, opening a world of possibilities for travellers seeking to experience our island's authenticity and rich culture," said Ellison "Tommy" Thompson, CEO of St. Kitts Tourism Authority. "As we work to further build brand awareness and generate demand, it is anticipated that this increased accessibility will bolster our tourism industry and enable new opportunities to further develop the tourism product."

Seats are available for booking now, with service between New York John F. Kennedy International Airport (JFK) to St. Kitts Robert L. Bradshaw International Airport (SKB) commencing this fall ahead of the 2023 holiday season.

St. Kitts is experiencing continuous growth in connectivity internationally. With the introduction of the new JetBlue route, St. Kitts will now have year-round service from New York (JFK), London (Gatwick), and Miami.

For more information on JetBlue, visit https://www.jetblue.com/. For those traveling in groups of 10 or more, please visit https://www.jetblue.com/traveling-together/group-travel and complete the corresponding forms for reduced rates.

Visitors are reminded to regularly check the St. Kitts Tourism Authority website (www.visitstkitts.com) for updates and information.