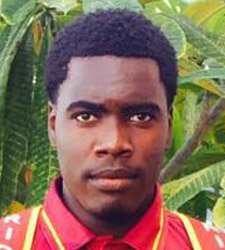 By: T. Chapman
Little Bay, Montserrat – Nevis ends horrid endless streak by defeating Saint Maarten by 6 wickets as they concluded their final game to end with two, (2) points.
Led by an all-round performance by youngster Jamie Cornelius, Nevis successfully chased down the revised target of 154.
Having batted first, St. Maarten posted 163/9 off 45 overs. Sherwin Peters topped scored with 34 runs. Jamie Cornelius and Joseph Williams were the pick of the bowlers. They bagged three wickets each.
Chasing a revised total of 154, Nevis reached the total in the 35th over. Jamie Cornelius led the charge with an unbeaten 55.
Nevis completed the victory with relative ease.
Summarized scores: St. Martin 163/9 off of 45 overs. Peters 34.
Bowling for Nevis,
Jamie Cornelius 3/30 from 9 overs. Joseph Williams 3/28 from 8 overs.
Nevis: 154/4
Jamie Cornelius: 55*
Daniel Doram picked up 2/17 from 8 overs.
Jamie was awarded the Man-of-the-Match.