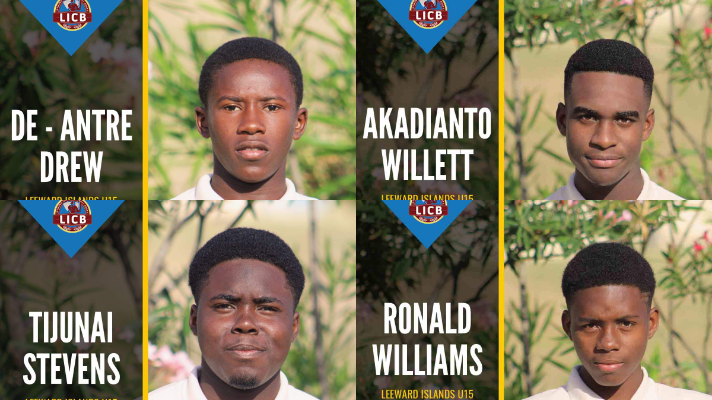 Photo Caption: Collage of SKN Players representing the U-15 Leeward Islands Team
By: T. Chapman
Four young Cricketers from St. Kitts and Nevis have been named in the Leeward Islands U-15 team slated to partake in the Cricket West Indies Regional U15 Tournament to be held in Antigua starting tomorrow, 11-21 April, 2019.
Three Kittitians and One Nevisian earned their selection after a preparatory camp was held in early April in Antigua. The SKN players included in the team are Ronald Williams, Tijuani Stevens and De-Antre Drew of St. Kitts and Akadianto Willett of Nevis.
The full team which was revealed via the Leeward Islands Facebook Page on Sunday 7th April comprises of
Jewel Andrew (Captain) – Antigua & Barbuda; Randel Longville (Vice Captain)- St. Maarten; Akadianto Willett – Nevis; Glen Williams – Antigua & Barbuda; Ronald Williams – St. Kitts; Yanique Watley – Antigua & Barbuda; Wilden Cornwall Jr – Antigua & Barbuda;Nathan Edward – St. Maarten;
Tijunai Stevens- St. Kitts; Nehemeiah Young – Montserrat; De-Antre Drew – St Kitts; Brent Joseph Jr – Antigua & Barbuda; Timothy Sanasie- Antigua & Barbuda; Devanand Singh- St. Maarten
The team is being managed by Sylvester Joseph and coached by Pernel Whatley.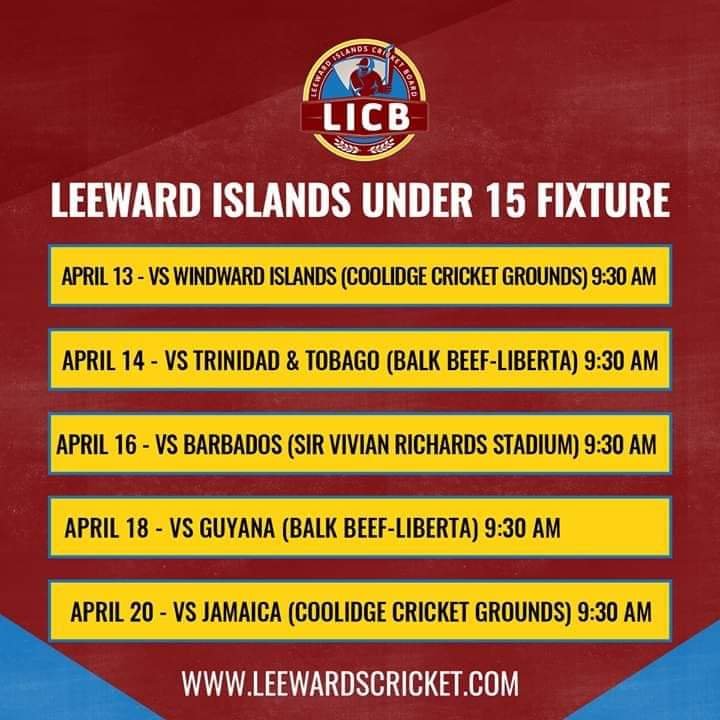 Photo Caption: Leeward Islands Game schedule.
The Leeward Islands is one of six teams vying for Championship honours. Participating teams are Winward Islands, Jamaica, Barbados, Guyana and Trinidad and Tobago.
Leewards will open their campaign against the Winward Islands on Saturday, 13 April at the Coolidge Cricket Grounds beginning at 9:30am.