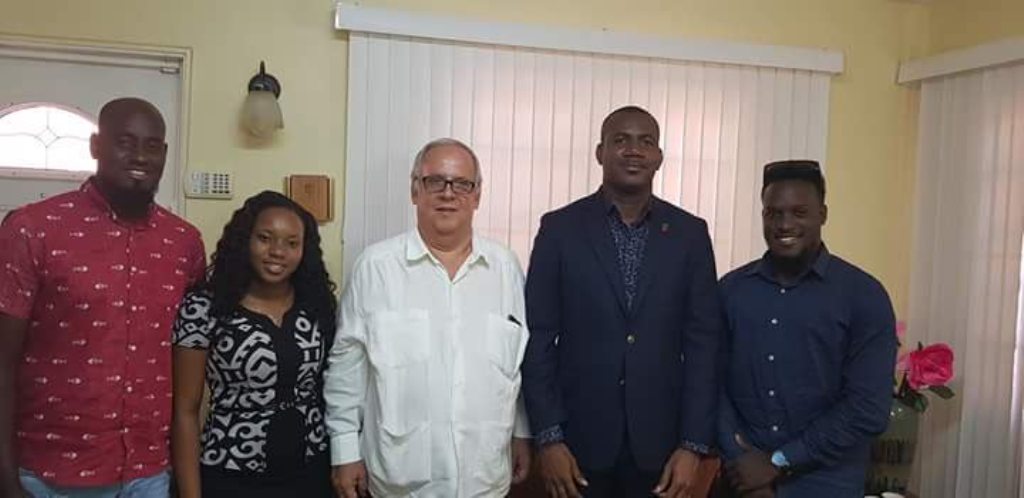 Photo: Left to Right, ( Julanie Garroden, Juliesa Newman, H.E. Aberlado Hernandez Ferrer, Hon. Shawn Richards and Dr. Yannik Henry)
Absent from Photo is recipient Dr. Natasha Weekes.
Basseterre, St. Kitts, August 23, 2018 (SKNIS): Four more nationals will have the opportunity to pursue studies in the Republic of Cuba having been the successful recipients of scholarships from the Government of the Republic of Cuba during an official presentation ceremony on Tuesday, August 21, at the Embassy of the Republic of Cuba in Basseterre.
Juliesa Newman of Cayon and Julanie Garroden of Sandy Point, are the recipients of a full seven year scholarship to pursue degrees in Medicine. Dr.Yannik Henry from St.Pauls will complete a three year Specialization in the area of Paediatrics, while Dr. Natasha Weekes from Phillips Village will complete a three year Specialization in the area of Surgery.
Both doctors previously completed their medical degrees in Cuba.
Cuban Ambassador, His Excellency Aberlardo Fabio Hernandez Ferrer, noted that his government continues to seek ways in which it can assist countries of Latin America and the Caribbean, and therefore it was indeed a pleasure for him to present these scholarships to the recipients.

–
"We would like the students who are going to study in Cuba to become ambassadors for the Federation. We expect you students to take the culture of St. Kitts and Nevis to Cuba and become enriched by the culture of Cuba," he stated.
–
Deputy Prime Minister and Minister of Education, the Hon. Shawn Richards, noted he was indeed happy to be part of the ceremony, given the fact that some four (4) young persons were now being awarded scholarships to further their education and improve themselves. He expressed his gratitude to Cuba and other friendly countries.
"We do not have the distinction of having local Universities like Cuba.
However, we have been able to develop relationships with Cuba and other friendly countries near and far who have come to our assistance in helping to develop our people," said Minister Richards, who congratulated the recipients, encouraged them to work hard, and invest in the youth upon their return to St. Kitts and Nevis.
"When you go off to Cuba, even more is required of you to immerse yourself in your studies. If you do not put in the work, you will disappoint yourself and your country. Therefore, I encourage you to make the very best of the opportunity, and to give back to the youth upon your return. As we look to develop our Federation, we have to look to our young people more now than ever before."
–
Remarks were also given by Permanent Secretary in the Ministry of Foreign Affairs and Aviation, Kaye Bass; President of the St. Kitts and Nevis Cuban Alumni Association, Hollis Prentice; and President of the St. Kitts and Nevis Cuban Friendship Society, Stafford Liburd. The ceremony was also attend by Jamilah Adams of the Human Resource Management Department, as well as parents, well-wishers, and students who are currently pursuing studies in Cuba.
-30-
Disclaimer