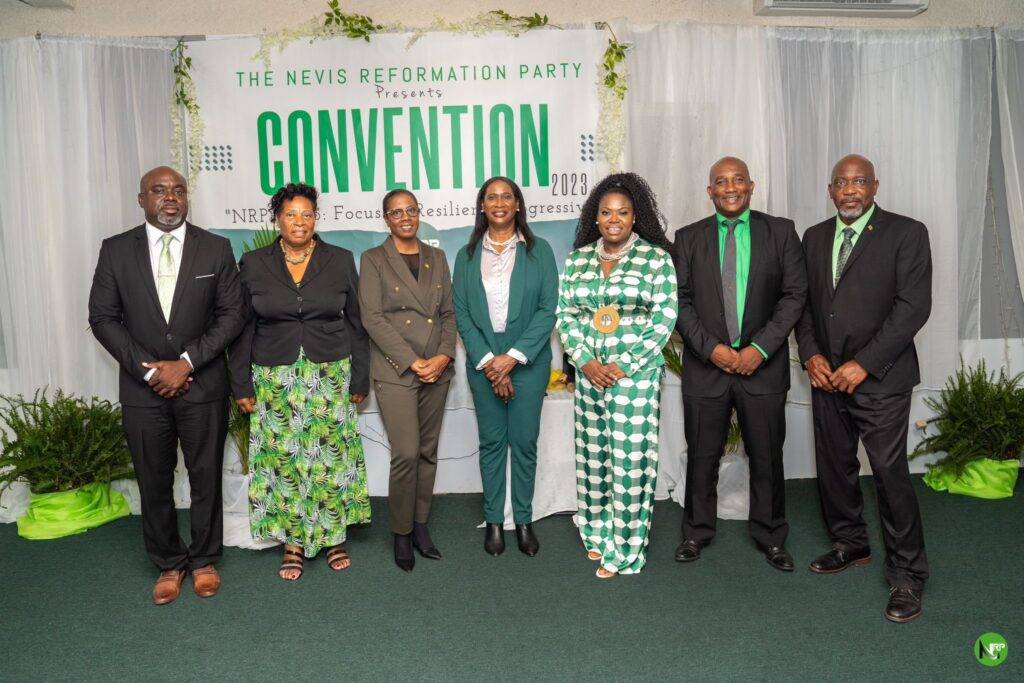 CHARLESTOWN, NEVIS, May 22, 2023 (Nevis Reformation Party) — The Hon. Dr. Janice Daniel-Hodge has received an overwhelming vote of confidence to continue as political leader of the Nevis Reformation Party and has been joined at the helm by Dr. Patricia Bartlette following her election to the position of First Vice President (Deputy Leader) at the NRP's Convention on Sunday.
Dr. Daniel-Hodge, in her address to the delegates, said: "Over the last two and a half years, I have grown as a person significantly, not because of my own doing but because of all of you who have been around and supported and moved me along the way. I say thank you. I have seen in so many of you a determination that I didn't know existed, and I saw some of you when you dug your heels in, when you stood in front of a moving vehicle, when you stood up for NRP, and it gave me the motivation and strength to move on, knowing that NRP is the party for the people of Nevis."
Dr. Bartlette also addressed the delegates. She said "I just want to thank everybody who voted for me. I want you guys to support all of the other executive members because we are here in the first instance to support the work of NRP," adding that "the party is headed by Hon. Dr. Janice Daniel-Hodge and we have to give her our support."
Ms. Jaedee Caines, the NRP's caretaker for Nevis 1 (St. Paul's), was elected Second Vice President. The other executive members of the NRP are Chairperson Mr. Carlisle Powell, Deputy Chairperson Mr. Stephen Hector, Treasurer Ms. Bernadette Lawrence, and Party Organizer Mr. Ronald Powell. The political leader will appoint the Secretary-General, Assistant Secretary, and Assistant Treasurer, acting on the advice of the national executive committee. The constituency branches, youth arm, and women's arm will also be represented on the national executive committee by two persons each.
Sunday's convention also saw a featured address by Mr. Victor Jay Martin, a former NRP parliamentarian who took the time to recognize the late Sir Dr. Simeon Daniel, the late Hon. Uhral Swanston, and the late Hon. Birlyn Clarke, among others. Mr. Martin reminded delegates of the role the NRP played in St. Kitts and Nevis' development and urged them to remain with the party.
The proceedings were chaired by immediate past chairman Mr. Hensley Daniel and also saw messages by NRP supporters in the diaspora, prayer by Pastor Simoen Prentice, the National Anthem by Mr. Devonne Cornelius, and a vote of thanks by Ms. Charnette Tyson.
END