Basseterre, Saint Kitts, 22nd May, 2023 (Ministry of Foreign Affairs)- On the heels of a successful Diplomatic Week, students of the Clarence Fitzroy Bryant College (CFBC), received laptops donated by His Excellency Dr. Kevin Isaac, High Commissioner of Saint Kitts and Nevis to the United Kingdom of Great Britain and Nothern Ireland in a brief handing over ceremony at the Ministry of Foreign Affairs on Monday 8th May, 2023.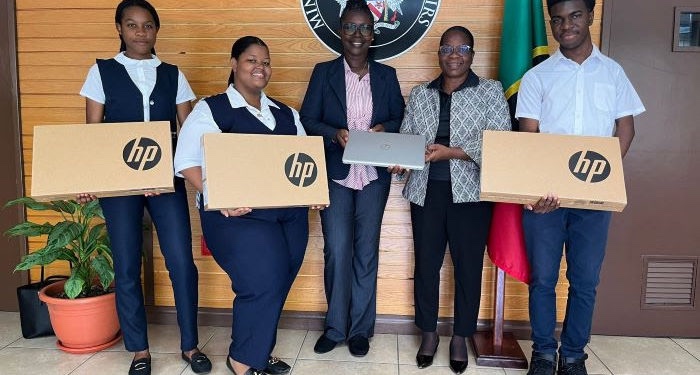 This donation comes as part of a pledge made by the High Commissioner during his visit to the Tertiary institution on Monday 24th April 2023 to work with partners in the United Kingdom to assist the students in securing computer equipment. High Commissioner Isaac said, "I am very grateful and wish to publicly express heartfelt thanks to Mr. Dev Gurdip Bath for donating the computers. His continued support is appreciated."
During the ceremony, the Permanent Secretary in the Ministry of Foreign Affairs, Ms. Kay Bass conveyed remarks on behalf of His Excellency. The students and Dean of the Division of Arts, Sciences and General Studies (ASGS) Ms. Laverne Brookes, were ecstatic and expressed their gratitude to His Excellency Isaac for his donation. They also assured the Ministry that the computers will be put to good use and to the benefit of all the students who will be using the Computer Laboratory at the campus.
-30-