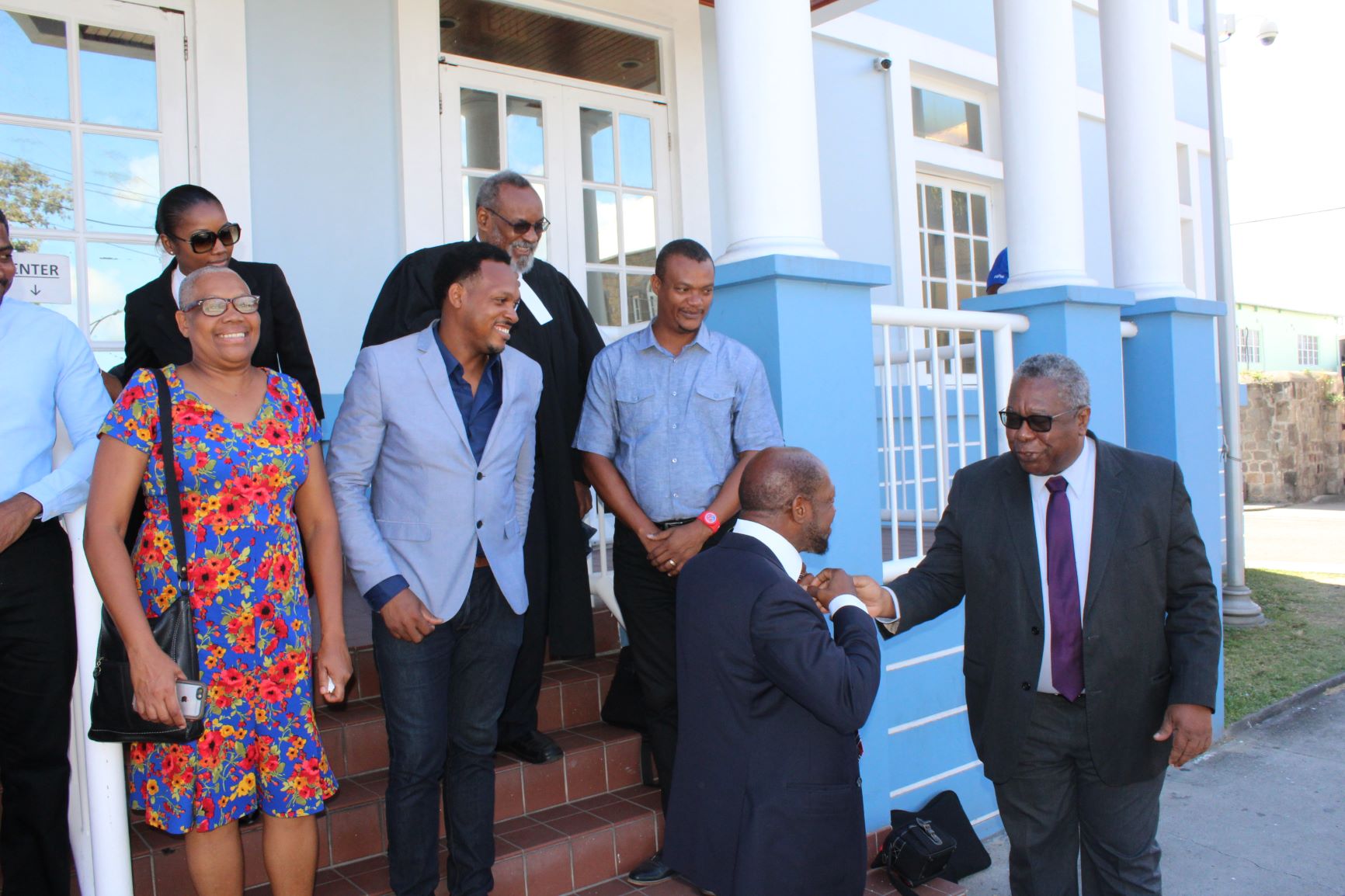 Photo 1 – Attorney General and Minister of Justice and Legal Affairs, Sen Hon Vincent Byron Jr shakes hands of Leader of the Opposition, the Rt Hon Dr Denzil L Douglas as Leon Natta-Nelson, attorneys, Labour Party leadership and supporters ready to take a photo outside the Court House after the court ruling.
Basseterre, St Kitts, March 26, 2019 – Leader of the Opposition, the Rt Hon Dr Denzil L Douglas said that the ruling by Justice Eddy Ventose in the constitutional matter brought against the government of Prime Minister Dr the Hon Timothy Harris by a senior civil servant is another big step to relieve St Kitts and Nevis of his dictatorship.
In welcoming the High Court decision in the constitutional motion brought against the Timothy Harris Unity Government (THUG) by Leon Natta-Nelson, senior customs officer and accountant at Her Majesty's Customs and Excise, Dr Douglas said the ruling is a shared victory for the residents of St Christopher 7 and public servants who have been victimised, oppressed an
d suppressed over the past four years.
Nelson-Natta was informed by letter dated October 10th 2018 from the Human Resource Management Department in the Office of Prime Minister Dr Timothy Harris that it had received "an adverse report of his involvement in political activity" thus contravening the Public Service (Conduct and Ethics of Officers) Code.
The letter alleged "that on or about the end of June 2018, Leon Natta-Nelson, did introduce yourself to a resident of Christ Church Village, Christ Church, St. Kitts, as a candidate of the St. Kitts-Nevis Labour Party running against the Hon. Dr. Timothy Harris for the next general election and also "on or about the end of June 2018 did seek to solicit and or canvass support for your political campaign from a resident of Christ Church, St. Kitts."
Referring to Justice Ventose' ruling, Dr Douglas called on all public servants to take note of the court's decision and noted that civil servants cannot only become candidates, but can also support political parties.
Nelson-Natta has been selected by the St Kitts-Nevis Labour Party branch in St Christopher 7 to challenge the incumbent Dr Harris, the sitting representative in the upcoming elections which is expected in a few months.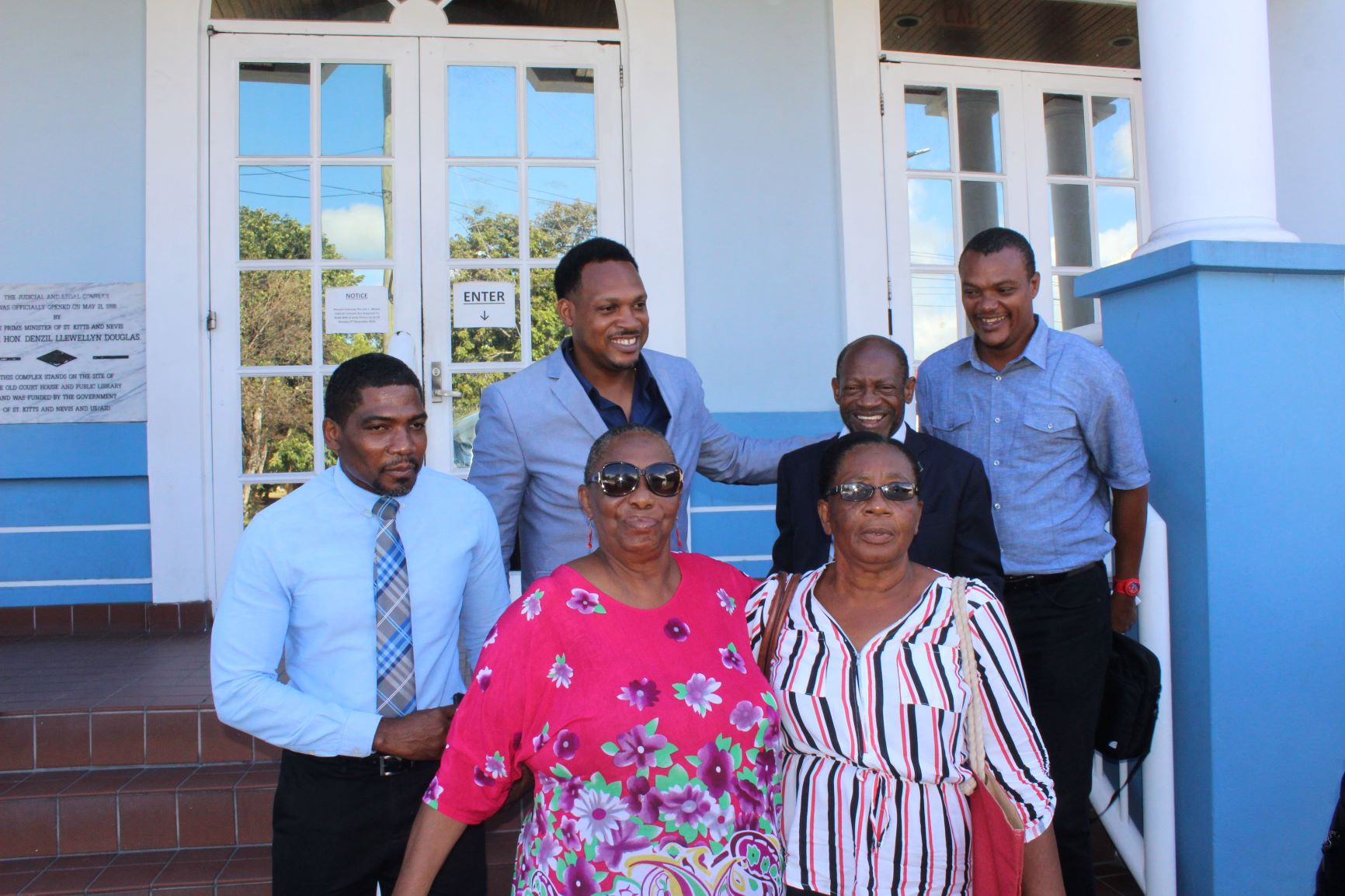 Photo 2 – Natta-Nelson (in light blue jacket) pose with two supporters and prayer warriors and SKNLP leaders
"He is young, he is dynamic. He is responsible. He loves people in the constituency and outside the constituency," said Douglas who also referred to Natta's long and outstanding involvement in the community.
"That is why Dr Harris is afraid of Leon Natta-Nelson as the Labour candidate," said the Labour Party leader who added that Monday's court victory is "the first victory that Leon Natta-Nelson is scoring against Timothy Harris."
He said that Dr Harris and the Team Unity coalition Government "will be defeated by the St Kitts-Nevis Labour Party and Natta in particular will defeat Timothy Harris in the election in Constituency #7 whenever they are called."
"Dr Harris has been a vicious dictator over the last four years. He has victimised a lot of people. He has oppressed them," said Dr Douglas, who singled out Natta-Nelson and former permanent secretary Sharon Rattan among those who were bold and strong enough to resist Dr Harris by seeking the protection of the court.
"It tells you that if we are fearless, if we are strong, if we band ourselves together and decide that we will not take anymore of Harris and his dictatorial practices, Harris will be defeated a
nd people will reign," said Dr Douglas.
He said the court victory is another big step to freedom in St Kitts and Nevis.