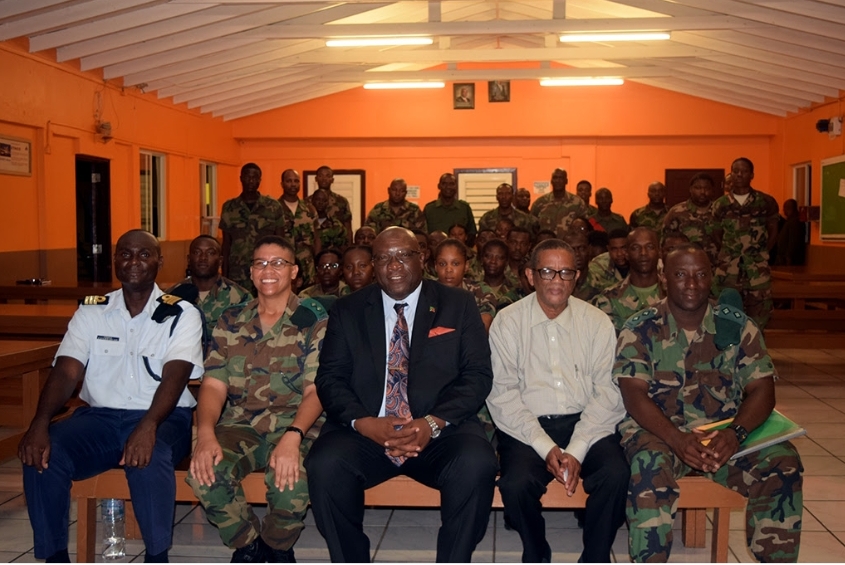 Photo:
Prime Minister Dr. the Hon. Timothy Harris (center) with members of the St. Kitts and Nevis Defence Force during a recent visit to the Defence Force Headquarters at Camp Springfield.
BASSETERRE, St. Kitts, August 25, 2018 (Press Unit in the Office of the Prime Minister)
– Officers of the St. Kitts and Nevis Defence Force (SKNDF) are now empowered with policing powers effective Friday, August 24, 2018. The Governor General, His Excellency Sir S. W. Tapley Seaton, acted on the advice of the Cabinet to enhance the crime fighting capabilities in the country by extending Police Powers to the Defence Force for a period of six months.
The Proclamation by the Governor General to grant enhanced powers to the Defence Force is in accordance with Section 7 of the Saint Christopher and Nevis Defence Force Act. Section 7(1) of the Act states: "The Governor-General may, acting in accordance with the advice of Cabinet, call out the Defence Force for service in aid of the civil powers for a period not exceeding six months, with their arms and ammunition, where it is deemed that the resources of the civil powers need to be augmented."
The recommendation to the Cabinet was made following a lengthy meeting between Prime Minister and Minister of National Security, Dr. the Honourable Timothy Harris; Cabinet Secretary, Mrs. Josephine Huggins; Permanent Secretaries Mr. Osmond Petty and Mr. Andrew Skerritt and the High Command of the Royal St. Christopher and Nevis Police Force and Defence Force.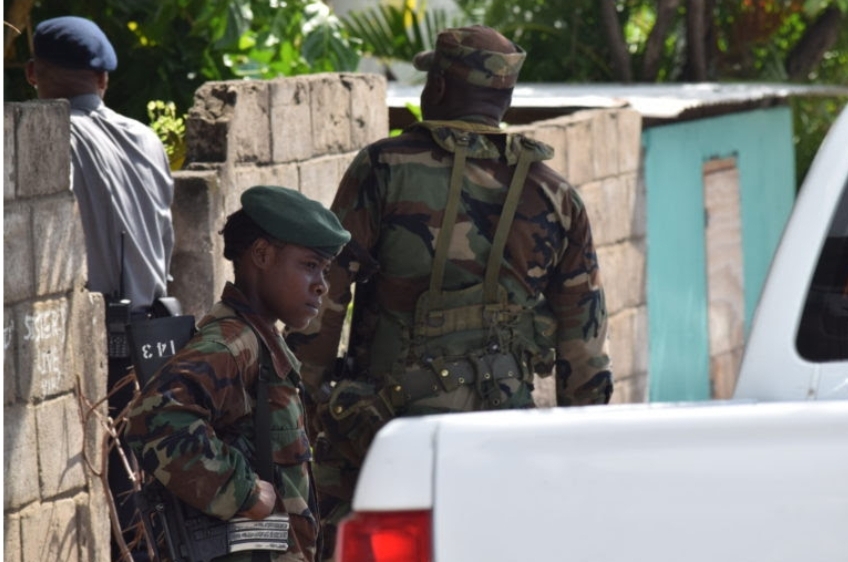 Photo:
Officers of the St. Kitts and Nevis Defence Force and Royal St. Christopher and Nevis Police Force carry out joint patrol.
During that meeting Police Commissioner, Mr. Ian Queeley and Defence Force Commander, Lieutenant Colonel Anthony Comrie proposed that the government consider the initiative. The High Command of the law enforcement agencies also included Deputy Commissioner Hilroy Brandy, Assistant Commissioner of Police, Mr. Andre Mitchell and Captain Bass of the Defence Force.
A range of new initiatives will also be implemented throughout the remainder of the year, as law enforcement agencies step up their mandate to protect and serve.
Prime Minister Harris was quoted as saying, "My Cabinet will use every resource at our country's disposal to ensure that the peace, stability and prosperity that our people deserve are always available. There will be setbacks on the journey, but our commitment to make St. Kitts and Nevis the safest democratic state in the world will never be shaken."