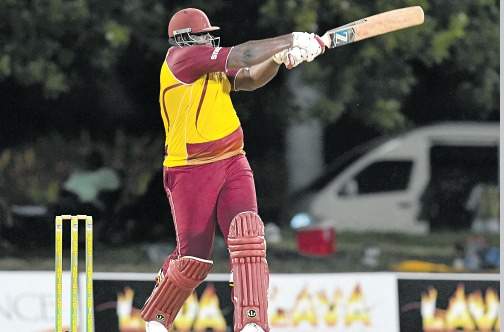 Photo Caption: Sourced photo of Cornwall
By: T. Chapman
Rain delay, reduced overs: 25 over game and it was game on: Antiguan Rakheem Cornwall played a captain's innings as he secured victory for his team.
Antigua after winning the toss sent Nevis into bat. Nevis got off to a quick start with Jamie Cornelius. However, his innings was short lived as he was the first to go, Cornelius made 22.
The Nevisian batting never really clicked, they struggled to get to 134 for 9 after their allotment of 25 overs in the rain affected 50 over encounter at Salem Park, Montserrat.
Antigua was off to a good start but with the score on 33 without loss, Nevisian speedster and vice captain Nelson Bolan struck twice in his third over to bring his team on an even level.
When the third wicket fell it brought the Antiguan Captain Cornwall to the wicket.
Immediately, he stamped his authority with his awesome aggression which devastated the Nevisian bowling attack. He took a liking to Tonito's bowling and scored in excess of 15 overs off his first over.
Summarized Scores: A .Phillip top scored with 40 not out; T.Willet made 28 and J.Cornelius made 22.
Bowling for Antigua:O.Peters:5-0-36-3.R.Cornwall:5-1-14-2.D.Lowenfield,N.Henry,and S.Simon get a wkt each.
Antigua made 135 for 4 off 21 overs.Batting for Antigua:R.Cornwall made 40 not out,K.James made: 32,O.Peters made27 ,D.Lowenfield made 16.
Bowling for Nevis: N.Bolan:5-0-19-2, J.Williams and J.Cornelius had a wickt a piece.
Cornwall led his team to a convincing 6-wicket victory.