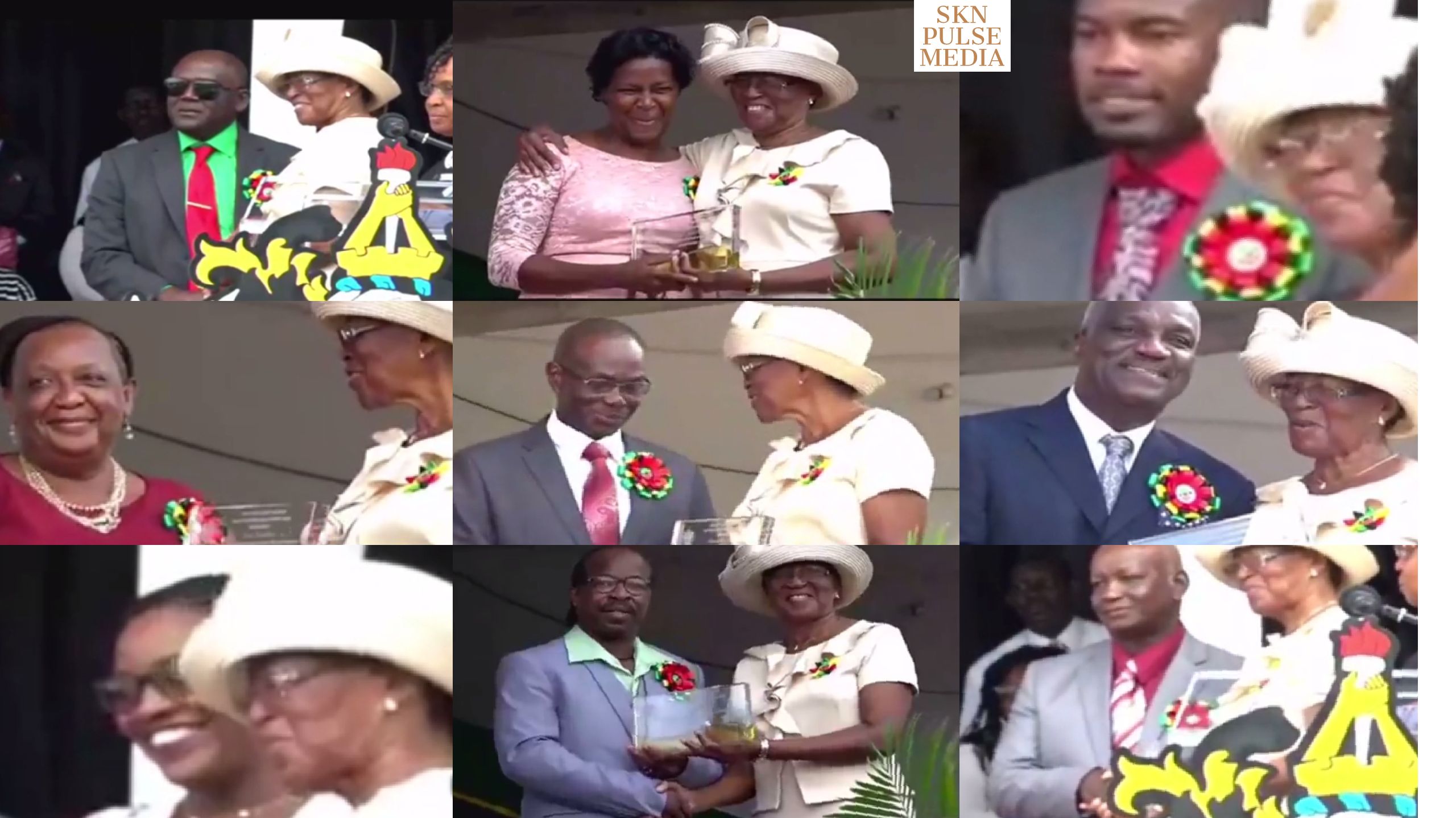 Photo Caption: SKN PULSE MEDIA collage of Nevis' Independence awardees.
By: Tito Chapman
Scores of Nevisians turned out to celebrate the 35th Anniversary of Independence at the Elquemedo Willett Park this morning, (Wednesday 19th September, 2019. In a show of true patriotism, patrons braved the weather and armed/unarmed bodies stood resolute as they placed country above self even with a light down pour of rain.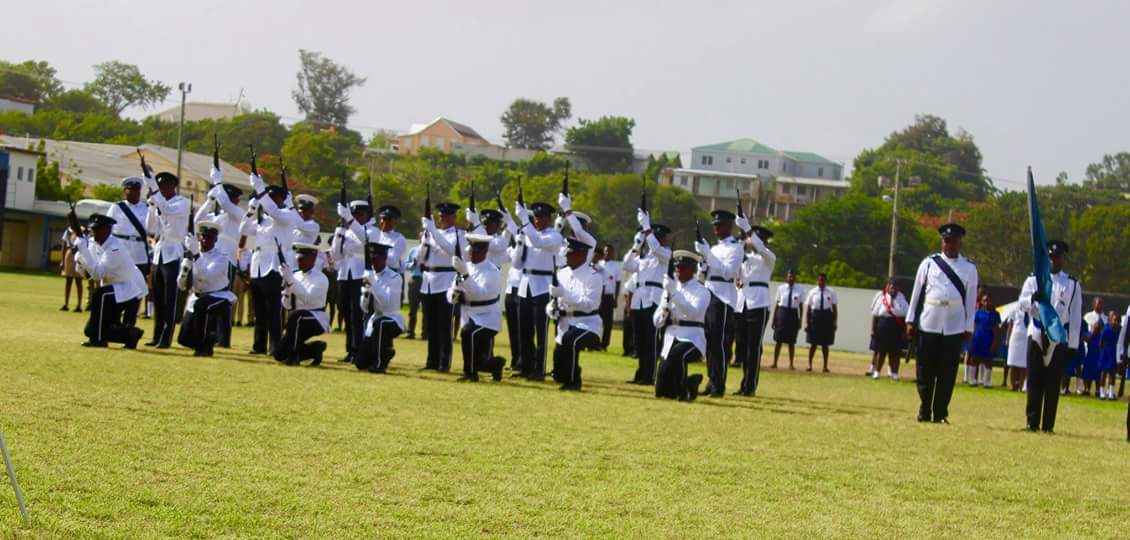 Photo Caption: St. Christopher and Nevis Police Force doing their drill on parade day, (Feu-de-Joie).
Uniformed bodies were applauded as they paraded pass the players' pavilion, which housed the island's dignitaries including Deputy Governor General Her Honour Mrs. Hyleta Liburd, President of the Nevis Island Assembly Mr. Farrell Smithen, Premier of Nevis the Honourable Mark Brantley and Resident Judge, Justice Lorraine Williams.
The annual ceremony included the usual awards segment. Nation builders in the field of construction, business, health, entertainment, recreation-sports and the Marine industry were presented with awards.
The awardees were:
Construction:
Urban Jones and Ralph Ottley
Entrepreneurship:
Claude Nisbett
Oldain Claxton
Marine Industry:
D. Allister Parris
Music:
Joya Clarke
Nursing:
Ermine Hendrickson
Religion:
Eric Maynard
Sports:
Vincent Maynard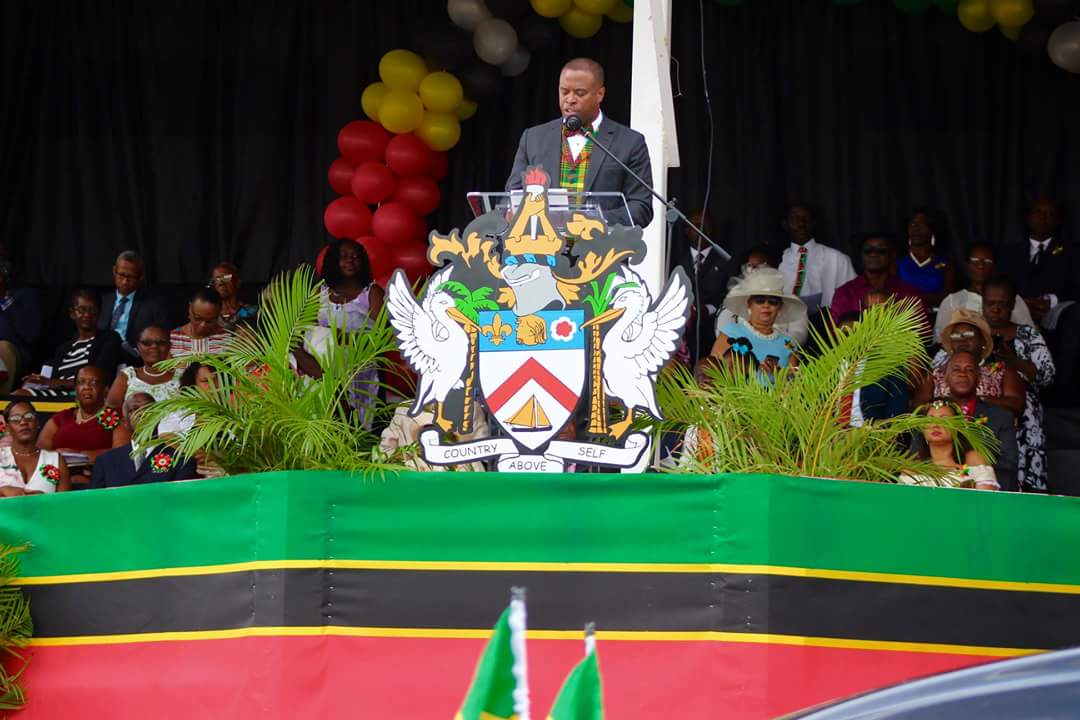 Photo Caption: Premier Brantley giving his first Independence Address as Premier of Nevis
Premier Brantley giving his first Independence address said:
I use this occasion to reassert my appeal to your humanity and better self, urging you to be more giving, more selfless, more caring, more compassionate and more loving. Each of us must find a way to give back to society; each of us must play our part in creating a kinder and gentler St. Kitts and Nevis. As a people rich in spirit and generous at heart, we are duty-bound to create:

– a society where no one is left behind and all are part of our national development agenda

– a society where the aged, the ailing, the poor, the at risk and the under privileged are always in the forefront of our thoughts
The official ceremony ended with three cheers to the nation and the Departure of the Governor General, Premier Brantley & his wife and Justice Williams.