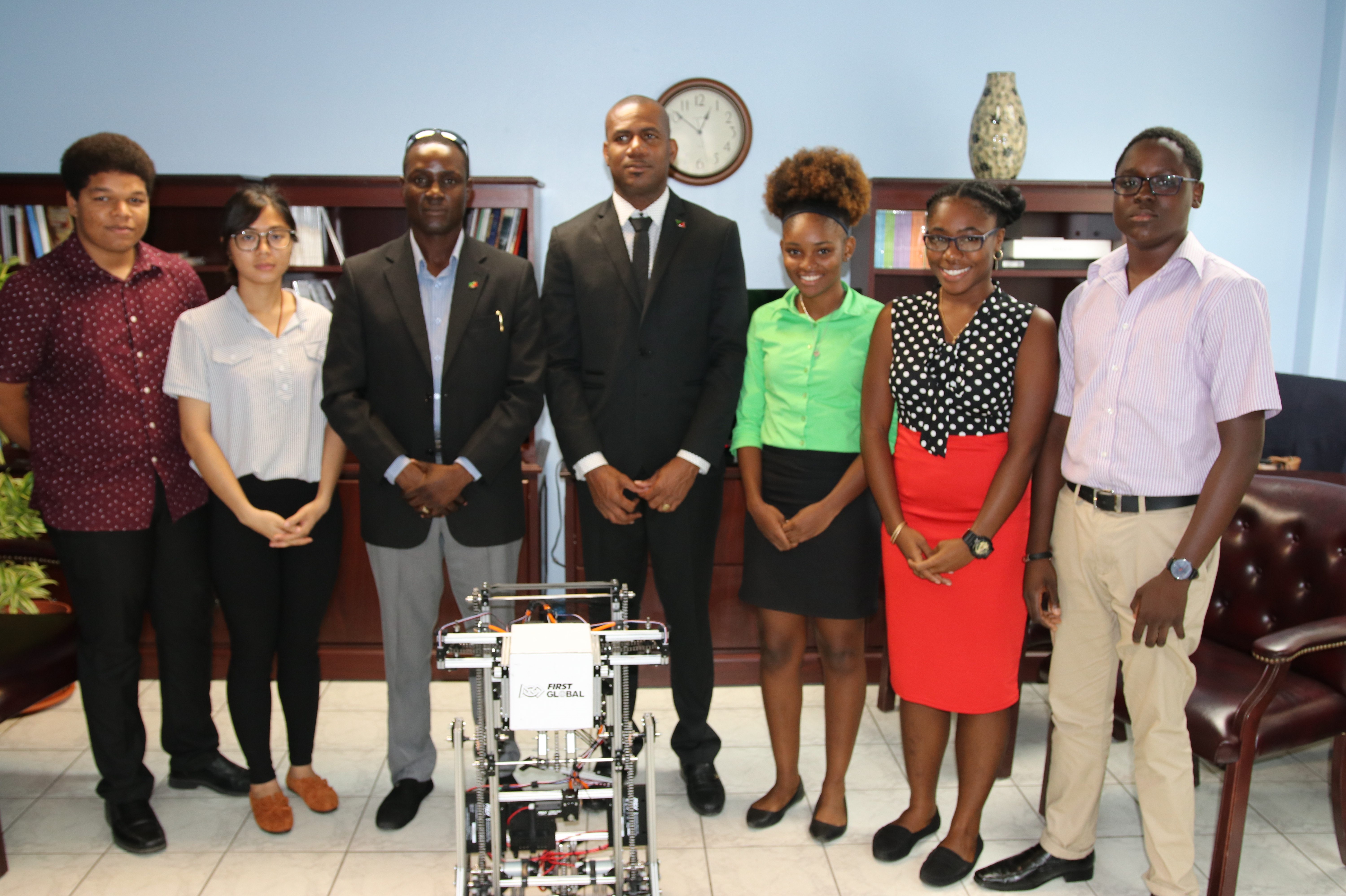 (EMU) – St. Kitts, August 9, 2018: Five scholarly students from the Clarence Fitzroy Bryant College (CFBC) have been invited to Mexico City to participate in the FIRST Global Robotics Olympics slated for August 15-18, 2018 under the theme 'Energy Impact'.
For the second consecutive year, Advisor, Dr. Ricardo Neil and students from the Information Technology Department, within the Technical Vocational and Management Studies Division have been selected to represent the Federation at this influential event.
On Thursday 9th August, the team visited the Office of the Deputy Prime Minister and Minister of Education, Hon. Shawn Richards, for a competition simulation by the robot model, Gambino.
"The aim is to simulate the use of alternate sources of energy, solar, wind, combustion plant and reactor plants could be used, via Gambino," said Jermellia Henry, Spokesperson, during the simulation.
"This is truly STEM at work! Exclaimed Minister Richards, as he marvelled at the demonstration. "I have no doubt that you can do better, having placed 36thout of 163 last year, additionally, you will enter the competition with a blend of experience which should work well for the team."
The education minister praised the students and their advisor for the exceptional work done and the level of expertise and commitment exhibited thus far.
"Thank you for taking the initiative and getting involved in this type of competition, two years ago we may have never thought that students in St. Kitts and Nevis would have been interested in robotics, but that has changed," Minister Richards stated."In St. Kitts and Nevis we have quite a bit to go on in terms of developing technology. No longer can we be the consumers and I think it would be more meaningful and economical, if we continue to build on what we have."
FIRST Global is a United States based not-for-profit charity which organizes a yearly international robotics challenge. The aim of the competition is to explore the impact of different types of energies used and how we can make them more sustainable.
When asked if the team intends to participate in other competitions in hopes of promoting the Information Technology Programme at the Technical Division, Christina Cho, Engineer stated, "As we find chances to advance the programme we will certainly take it."
The 2018 Robotics team consists of Jervik Lapsley, Captain; Jermellia Henry, Spokesperson; Zhavier Shaw, Programmer and Assistant Mentor; Christina Cho, Engineer; Tanuja Delaney, Assistant Engineer; and Dr. Ricardo Neil, Advisor, all of whom are attached to the Information Technology Department of the Technical Vocational Education and Management Studies at CFBC. The team will depart the Federation on Monday 13th August, 2018.
-End-
Disclaimer