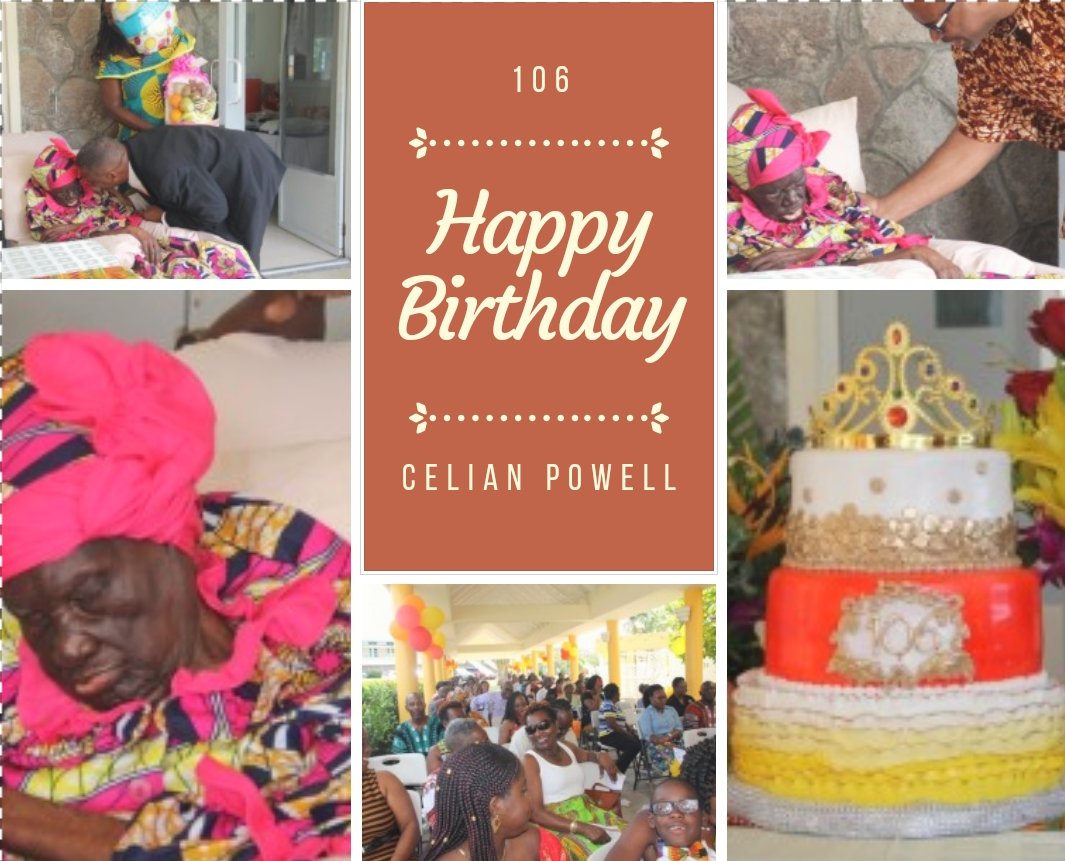 CHARLESTOWN NEVIS (January 19, 2018) —
Ms. Celian "Martin" Powell of Zion Village in Nevis, the oldest living person in St. Kitts and Nevis celebrated her 106th birthday among family, friends, government officials, care givers and well-wishers at a ceremony also celebrating her Ghanaian ancestry at the Flamboyant Nursing Home on January 19, 2018.

Hon. Eric Evelyn, Minister responsible for Social Development in the Nevis Island Administration and Area Representative for the Parish of St. George's said he is exceedingly proud that Ms. Powell had reached a milestone in her life.
"I want to say how proud we are that you have reached this milestone. This is not an easy feat 106 years and she must have done something well.
"God has blessed here and she would have lived an exemplary life for herself, her children for her grand- children, her great grand and the rest of Nevis. So I want to congratulate her and I would wish her many more years." he said.

Mr. Evelyn, who presented a fruit basket to Ms. Powell on behalf of the Department of Social Services, said he was elated to be celebrating the life of Ms. Powell and thanked her family and the staff of the Flamboyant Nursing Home for her care.
Premier of Nevis Hon. Mark Brantley said he was pleased to celebrate Ms. Powell's 106th birthday with her and her family, as it was an occasion for great celebration.
He commended the family for their care of their matriarch and urged others in the community to follow their lead.
"I want to congratulate the family because I think, this family year after year has come to celebrate the birthday of heir matriarch and I believe that by doing so, they demonstrate to all of us how families ought to live…
"This African tradition that I am hearing about and that they have traced their roots all the way back to Ghana that that is demonstrative of the African way to celebrate our elders and to ensure that we give honour where honour is due. I believe if all of us can emulate that we will have a much better Nevis," he said.
Mr. Brantley wished the birthday celebrant a wonderful birthday. He also expressed hope and a fervent prayer that they would be able to return year after year to celebrate her birthday with the rest of the Powell family.
Other remarks were delivered by Deputy Governor General of St. Kitts and Nevis Her Honour Mrs. Marjorie Morton; Senator Wendy Phipps, Minister of State in the Ministry of Health in the Federal Government and; Hon. Joseph Parry. Mr. Carlisle Powell, grandson of Ms. Powell chaired the ceremony. Pastor Theophilus Kelly said the opening prayer and Mr. Sydney Newton delivered the benediction.
Among those present were Ms. Powell's only surviving child 86-year-old Ms. Iris Dulcina Browne; Hon. Vance Amory; Hon. Hazel Brandy-Williams, Junior Minister in the Premier's Ministry with responsibility for Health and; Keith Glasgow, Permanent Secretary in the Ministry of Community Development.
*This article was posted in its entirety as received by SKN PULSE. This media house does not correct any spelling or grammatical errors within press releases and (or) commentaries. The views contained within are not necessarily those of SKN PULSE.