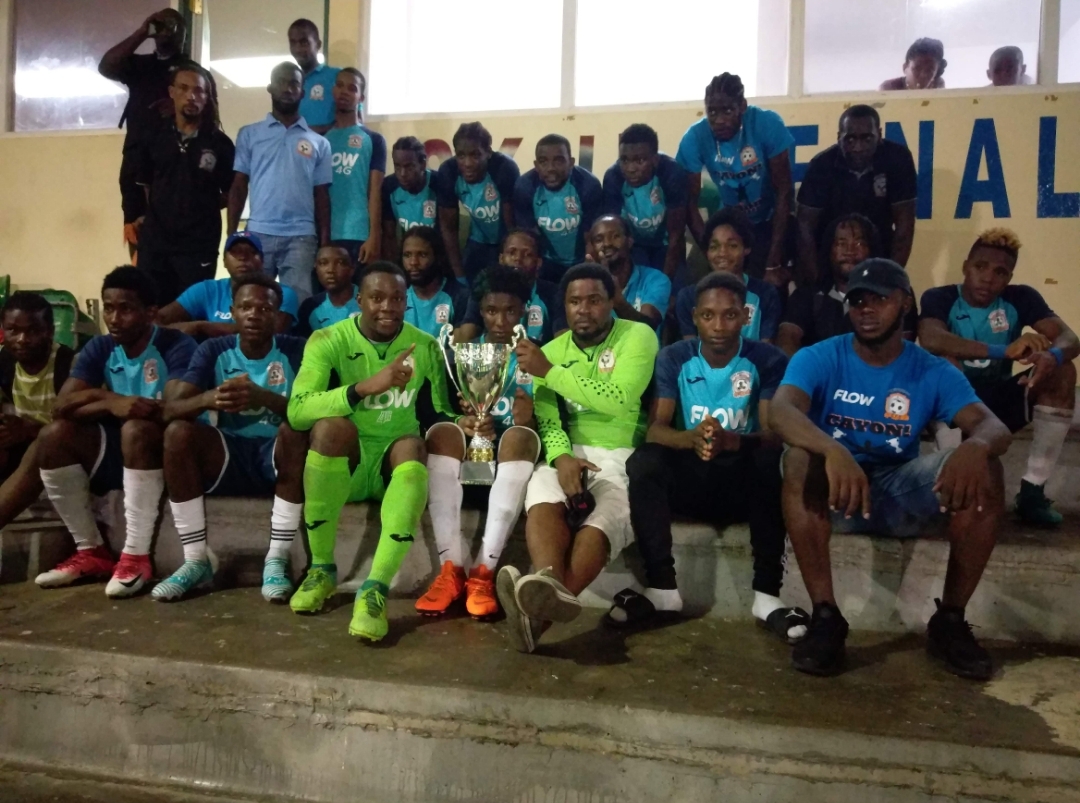 Caption: The 2018 President's Cup Champions—Flow 4G Cayon Rockets
By: Andre Huie, Media Consultant – SKNFA.
The 2019 FA Cup champions Flow 4G Cayon Rockets have gotten their 2018-2019 season off to a good start with a rousing 4-3 victory over the Rams Village Superstars to win the 2018 President's Cup. Cayon drew first blood in the 24th minute with a Carlos Bertie strike, only for Lawrence Jeffers to equalize in the 25th minute. But before the halftime break, Kurt Morton made sure Cayon regained the lead with a 41st minute goal to end the half 2-1 up.
Morton continued where he left off when he came out in the second half with a 53rd minute goal to give an unassailable 3-1 lead over Village. Six minutes later Vinceroy Nelson made it 4-1 and there seemed no way back for Village.
But a scuffle between Chevoy Rouse of Village and Cayon goal scorer Nelson, led to referee Kimbel Ward sending both players off with straight red cards in the 68th min, leaving both teams with ten men for the remainder of the match. Cayon seemed to have taken their foot of the gas giving the initiative in the last ten minutes to Village. In the 85th minute Austin Henry notched one in for Village to make it 4-2 and minutes later the team earned a penalty which was converted by Tiran Hanley in the 88th minute. It was a nervy three minutes stoppage time for Cayon, but they held out to seal the win.
Head coach for the 2018 President's Cup Champions Cayon Rockets, George Isaac, said this win will certainly be a motivator for his team as they get ready to start the season. When asked if he felt worried when Village mounted a late comeback, he said: "It's a normal thing. We up 4-1, then it went 4-2 then 4-3. We had ten men and it's the first game of the season, the players were tired. Village had the momentum, coming from behind."
Village Superstars Assistant Coach Stephen Clarke said coming off a long layoff between the end of last season and Saturday night's match took its toll on the players. "This is the same thing that happened last year but you saw the results…I still have confidence in my team," the assistant coach said. The President's Cup is a pre-cursor to the 2018-2019 National Bank Premier League, which begins Saturday September 22 at the Warner Park Football Stadium.
—END—