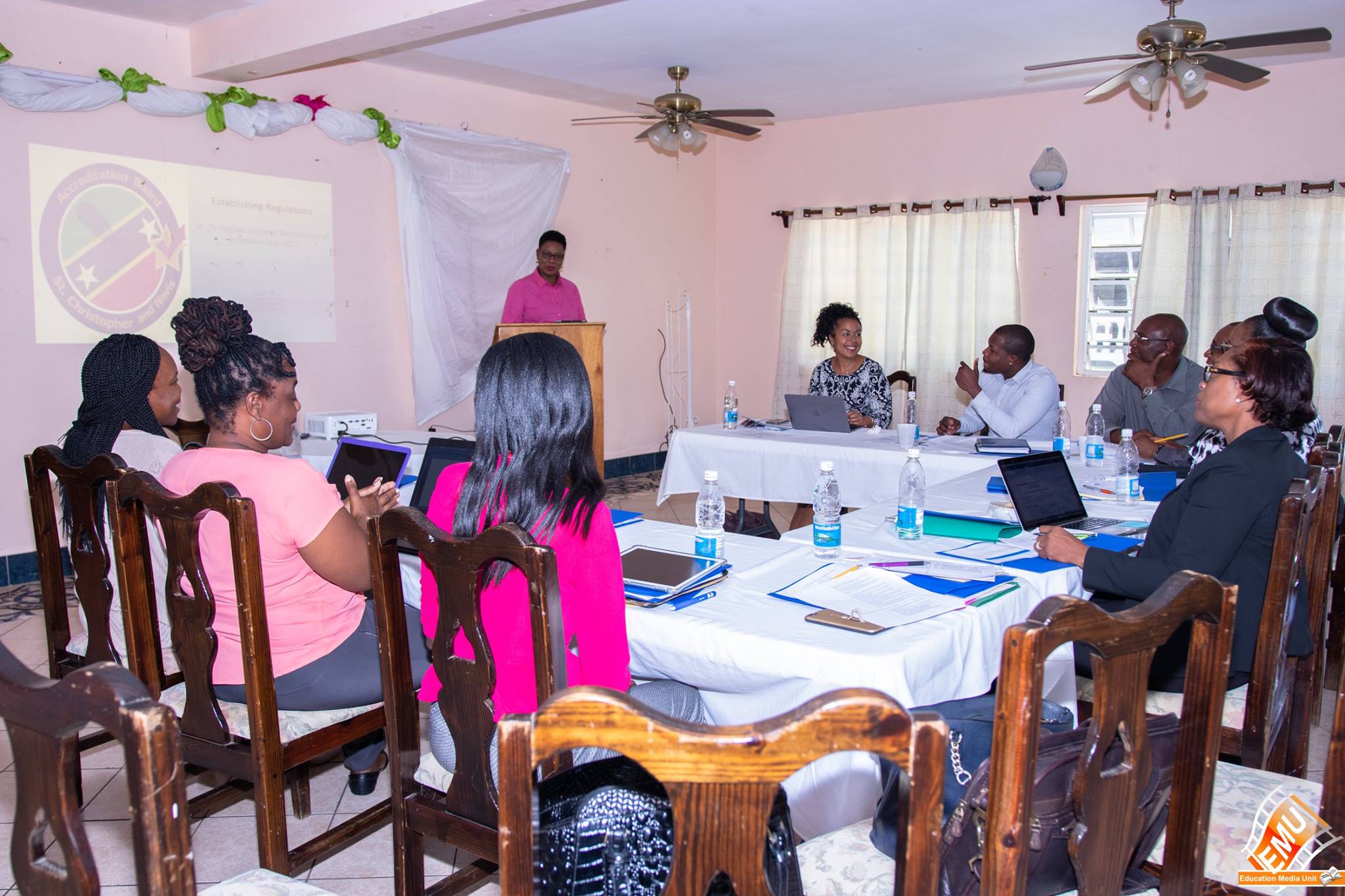 (EMU) – St. Kitts, March 28, 2019: The St. Christopher and Nevis Accreditation Board hosted a members retreat from 25-26 March, to focus on the revision and implementation of St. Christopher and Nevis Accreditation of Institutions Act of 2017.
The gathering for board members served multiple purposes – it mainly provided an opportunity for board members to be sensitized to the role and components of the Institutional Self Evaluation Report as well as External Evaluation Reports. Additionally, board members learned to effectively analyze evidentiary statements in these reports to inform decision-making.
Chair person of the Board, Ms. Ionie Liburd Willett delivered the opening remarks and praised the organizers of the retreat, Mrs. Trisha Francis and Dr. Neva Pemberton, for their significant commitment to the success of the activities, "I am pleased that we have the expertise right here at home and we value the contributions of these members. I also thank the other members for giving their input, being present today."
"These two days of training workshop are necessary and significant. If we are to carry out the mandate of the Act (SKN Accreditation of Institutions), members must be trained. We must be knowledgeable about our oversight responsibilities: how to monitor institutional quality, rigor and integrity, thereby ensuring that our constituents are compliant," she added.
Executive Officer of the Board, Mrs. Trisha Francis, highlighted the board's important role and the need for its members to be capable of developing this vital sector to serve the interests of the country, "We're also hoping to complete the guidelines for registration and accreditation and also develop a fee structure for the board and services provided at the secretariat."
During the retreat members discussed the way forward for the board, including the outputs of the teams, which included many suggestions, ideas and initiatives.
The two-day retreat ran from 9:00 a.m. – 3:00 p.m. daily at the Manhattan Gardens.
-End-