Basseterre, St. Kitts, May 25, 2023 (SKNIS): The Seniors' Day Programme has had an enriching impact on participants attending the weekly sessions being piloted in East Basseterre, St. Peter's and St. Paul's. 23-year-old Milano Welcome has found the experience equally enriching as a facilitator of the art and crafts and painting course he conducts in St. Peter's.
"It's actually fun, and the seniors are actually inviting and warm and very talented," he said. "Over the weeks, I have been overly excited to work with them. Every morning I come [and] they just have this warm smile and greeting."
During his three weeks with the seniors, Mr. Welcome had each person create a Mother's Day card, decorating it with origami flowers and bright colours. He also had the group work collectively on a portrait of the Honourable Isalean Phillip, Minister of State with responsibility for Ageing. Each participant worked on an assigned section.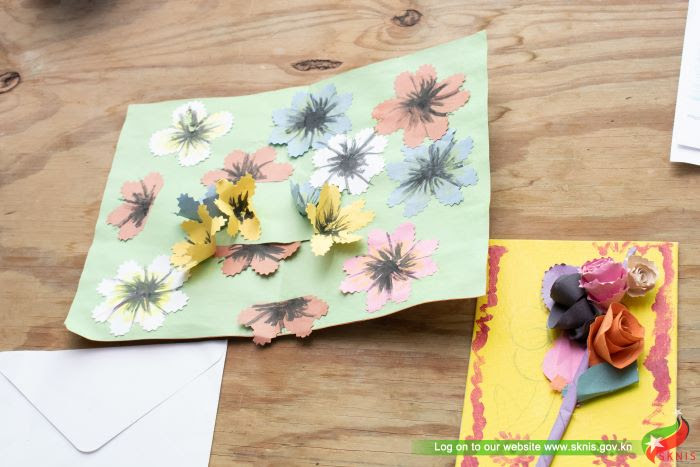 "For them, it was a bit scary in the beginning, but they are willing to do whatever it takes to finish the work, and despite their age, they are actually very hands-on," he indicated.
"They actually surprised me a lot with that painting because that is the first painting we actually did. Teamwork made the dream work," he added.
Minister Phillip said that the government is committed to creating opportunities for seniors to age with dignity. The launch of the Seniors' Day Programme within the first six months of the administration assuming office is demonstrative of this commitment, she indicated. The Seniors' Enrichment Programme has also been strengthened. A recent outing by the group took the older persons to Caribbean Cinemas to watch a matinee. It was the first time for some of the seniors. Future outings being planned are a day trip to Nevis as well as a Seniors' Prom.
"Our Seniors' Enrichment Programme is very vibrant," she stated. "We are very committed to finding ways how we can sustain this programme, and it's also very good to see that we have private sponsors."
The minister thanked the sponsors which include businesses, individuals, non-governmental organizations, and diplomatic allies.
-30-