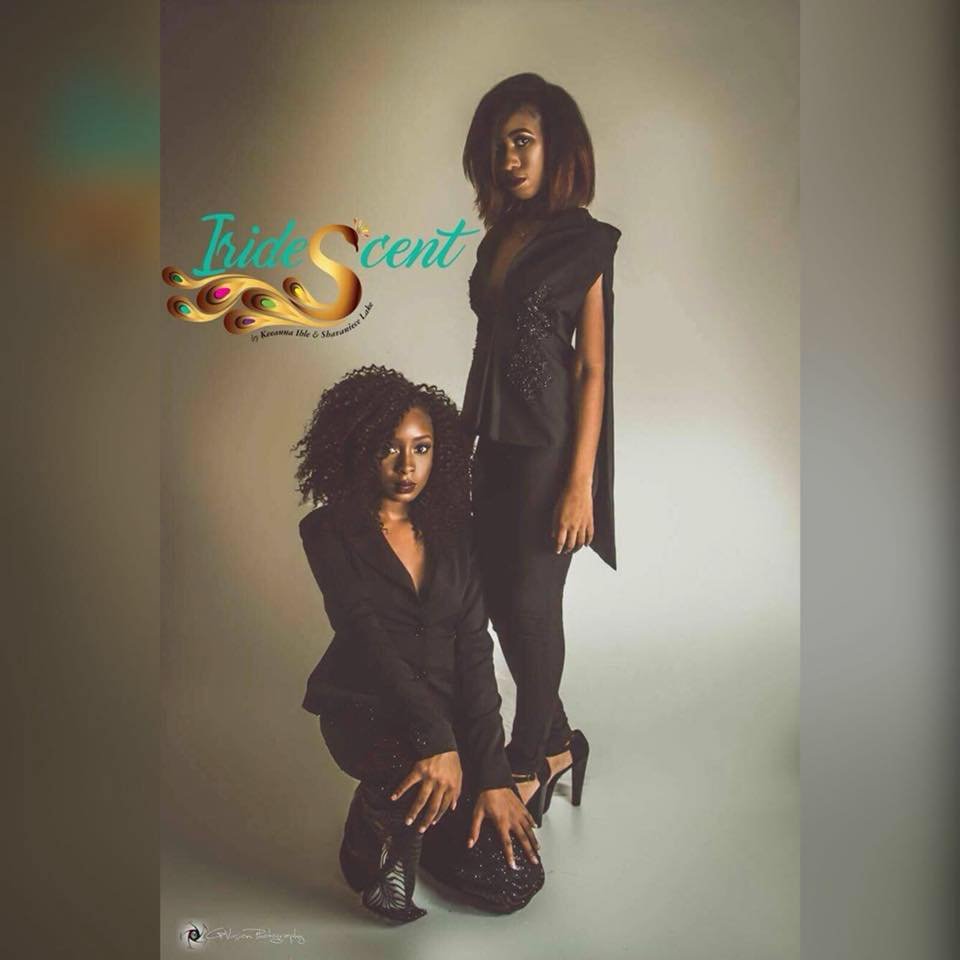 Photo: Keanna Ible (left) and Shavaniece Lake are in the U.K. for the Commonwealth Fashion Exchange
Basseterre, St. Kitts, February 16, 2018 (SKNIS): Shavaniece Lake and Keanna Ible are set to represent St. Kitts and Nevis at the inaugural Commonwealth Fashion Exchange, which will take place on February 19, 2018, and celebrated at Buckingham Palace during London Fashion Week. 
The18-year-old ladies are representing their local company Iridescent Fashion, which was created in July 2016. They will join with other fashion designers, artisans and creatives from across the 52 nation Commonwealth who exchanged skills, craft and traditions to create unique looks to showcase to a global audience. 
The  duo from St. Kitts and Nevis was challenged to produce a piece that reflects the local culture mixed in with the culture of the Caribbean island of Grenada. They teamed up with the Grenadian-born designer, stylist and artist Neisha La Touche to create a dress that captures the "Sugar and Spice" look, in keeping with the carnival spirit of both countries. 
The excited young people said that they were thrilled about the opportunity to participate in the first ever Commonwealth Fashion Exchange and look forward to meeting the Duchess of Cambridge and the Countess of Wessex, who have teamed up to host a reception for the fashion extravaganza on behalf of the Queen of England.
"I am very excited," Keanna said, noting that she has had a permanent smile for the past few days. "I'm really proud of us."
Shavaniece had similar sentiments. "It's a little nerve-racking because we are representing two countries – St. Kitts-Nevis and Grenada, so we will have to try our best to make both countries proud."
Details of the dress cannot be revealed until the actual event on Monday, but it is a colourful blend of the Sugar Mas and Spice Mas celebrations of each country. Following the showcase, the gown and other submissions will be featured at a public exhibition in London through to the end of the Commonwealth Heads of Government Meeting slated for April 16 to 20.
Ible and Lake's participation in the fashion event is co-sponsored by the organisers Eco-Age and the Government of St. Kitts and Nevis. It marks the second time that the government, through the Ministry of Youth Empowerment, has contributed to the young entrepreneurs' travel. The first occasion was for the 2017 edition of Summer Sizzle BVI, a regional event held in Tortola.
"We are very grateful for the support from the government, especially in this field that is not really pushed [locally] and in the Caribbean, so it feels really good," Ms. Lake stated.
-30-