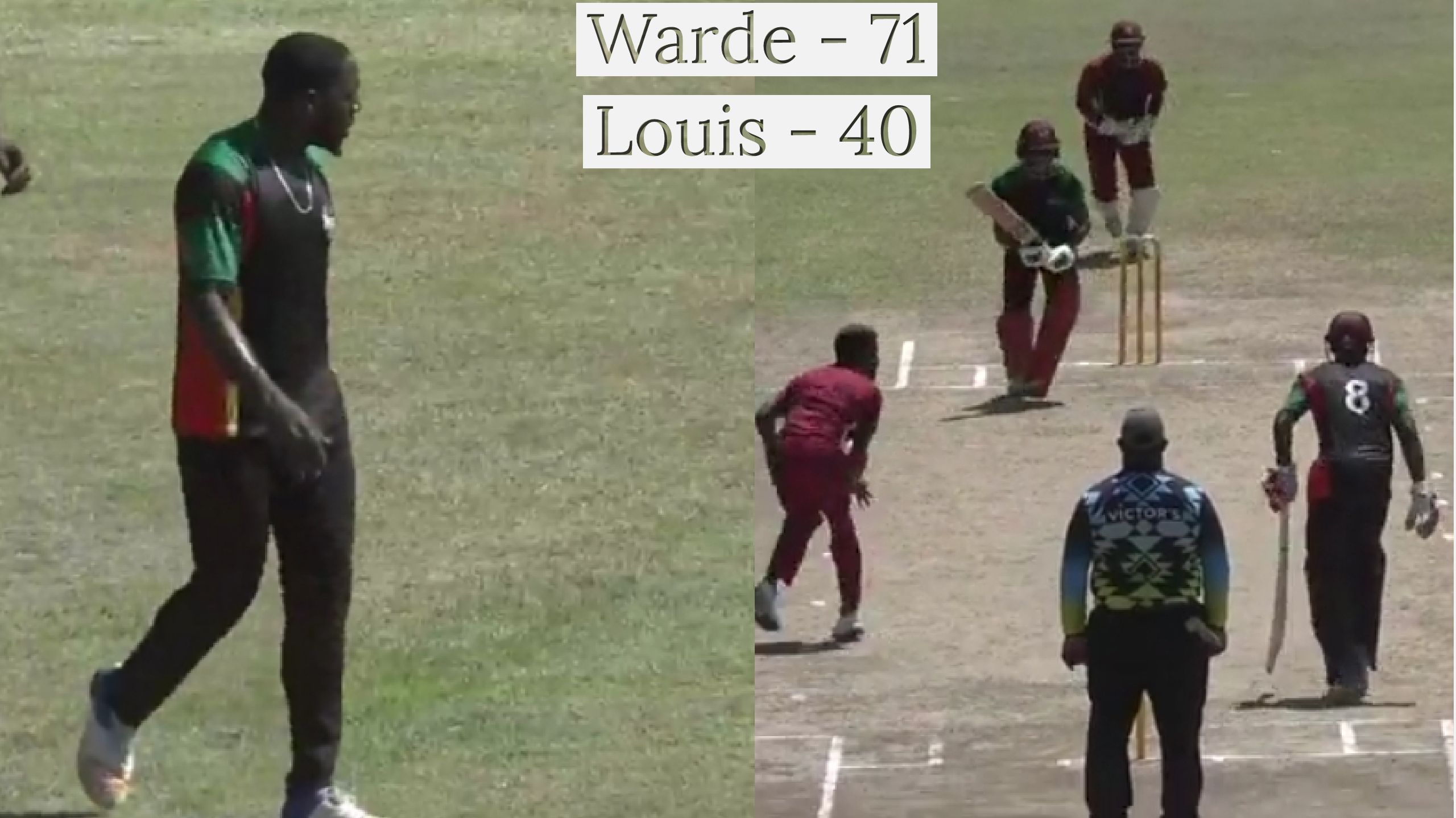 Photo Caption: Photo Collage of Warde and Louis batting and Louis returning to the bowling mark after taking a wicket, (SKN PULSE Creatives)
By: Tito Chapman
A Battle of the narrows at Little Bay Monsterrat – Defending 50 over Leeward Islands Cricket Champions St. Kitts, came up against last year's runners up, Nevis. With bragging rights at stake, Terance Warde and Jeremiah Louis led from the front as St. Kitts convincingly beat Nevis.
Captain Adelvin Phillip having won the toss elected to field first.
A decision which brought early results as St. Kitts lost four (4) quick wickets. At one point they were 19/4. This gave rise to two significant partnerships between Warde and Clarke followed by Warde and Louis.
St. Kitts 190/7 in their allotted overs. Terance Warde top scored with 71. Louis and Clarke contributed with 40, 32 respectively.
Nevis gave away 26 extras.
Bolan bagged 2 wickets for 27 runs. Williams, Willett, Campbell and Archibald took one, (1) each.
Nevis feared no better than St. Kitts in the early stages of their innings as wickets fell rapidly. Positioned at 22/5, Willett and Williams looked to take their team home as they built a mini partnership but to no avail. Willett was bowled and it was further down hill for Nevis.
Campbell topped scored with 29. Williams contributed 22 and Willett, 19. Nevis could only muster 104/9. Wicket-keeper, N'cosie George didn't bat due to an injured finger.
Jeremiah Louis took four (4) wickets and was responsible for knocking over Nevis' top order quickly. Elvin Berridge bagged 2 wickets while S. Berridge and J. Taylor took one, (1) wicket each.
St. Kitts won by 86 runs. They are now on seven, (7) points and are ranked first (1st) in the points table.
St. Kitts and Antigua, the two undefeated teams in the tournament will face off tomorrow at Little Bay.