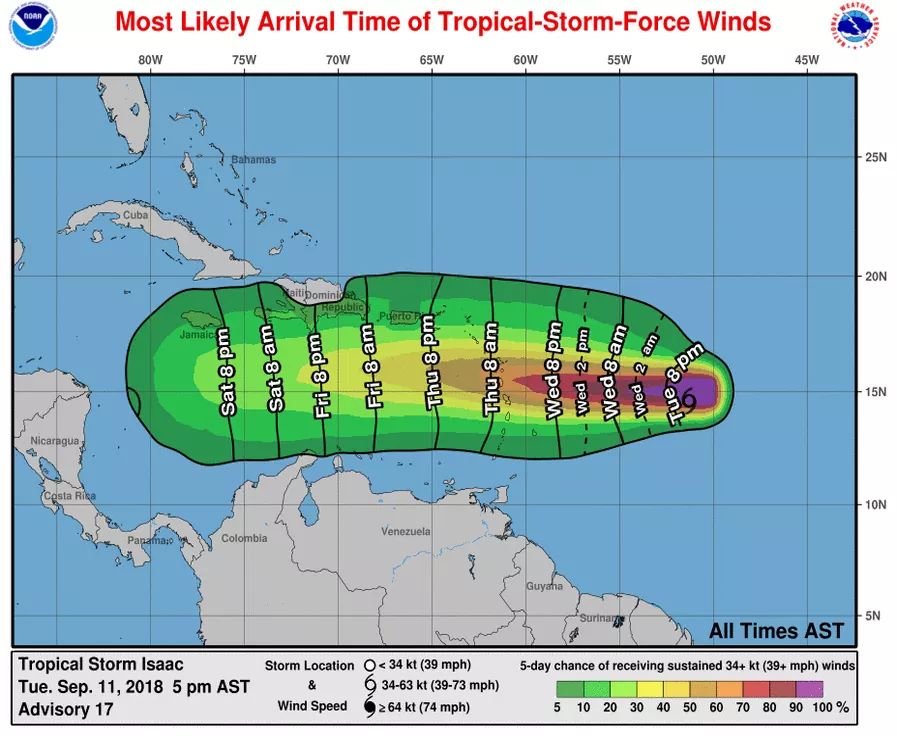 Photo Caption: Tracking Graph with info on most likely arrival time of Issac, (sourced graphic from the National Hurricane Center)
By: Staff Writer
A Hurricane Watch in effect for Guadeloupe, Martinique and Dominica, residents while a ropical Storm Watch is in effect for Antigua, Montserrat and St. Kitts and Nevis.
The National Hurricane Center is advising that, Interests elsewhere in the Leeward Islands should monitor the progress of Isaac as additional watches or warnings will likely be issued tonight.
The latest advisory issued states that Tropical Storm Issac is centered at 5 p.m. about 670 miles (1075 km) east of the Lesser Antilles. Isaac is moving toward the west near 17 mph (28 km/h), and this general motion is expected to continue for the next few days.
On the forecast track, it is anticipated that Issac would move near or over the central Lesser Antilles on Thursday, move into the eastern Caribbean Sea Thursday night, and move into the central Caribbean Sea by the weekend.
According to the National Hurricane Center, maximum sustained winds remain near 70 mph (110 km/h) with higher gusts. Isaac is expected to be near hurricane strength when it moves through the central Lesser Antilles, with some weakening forecast afterward on Friday and Saturday.