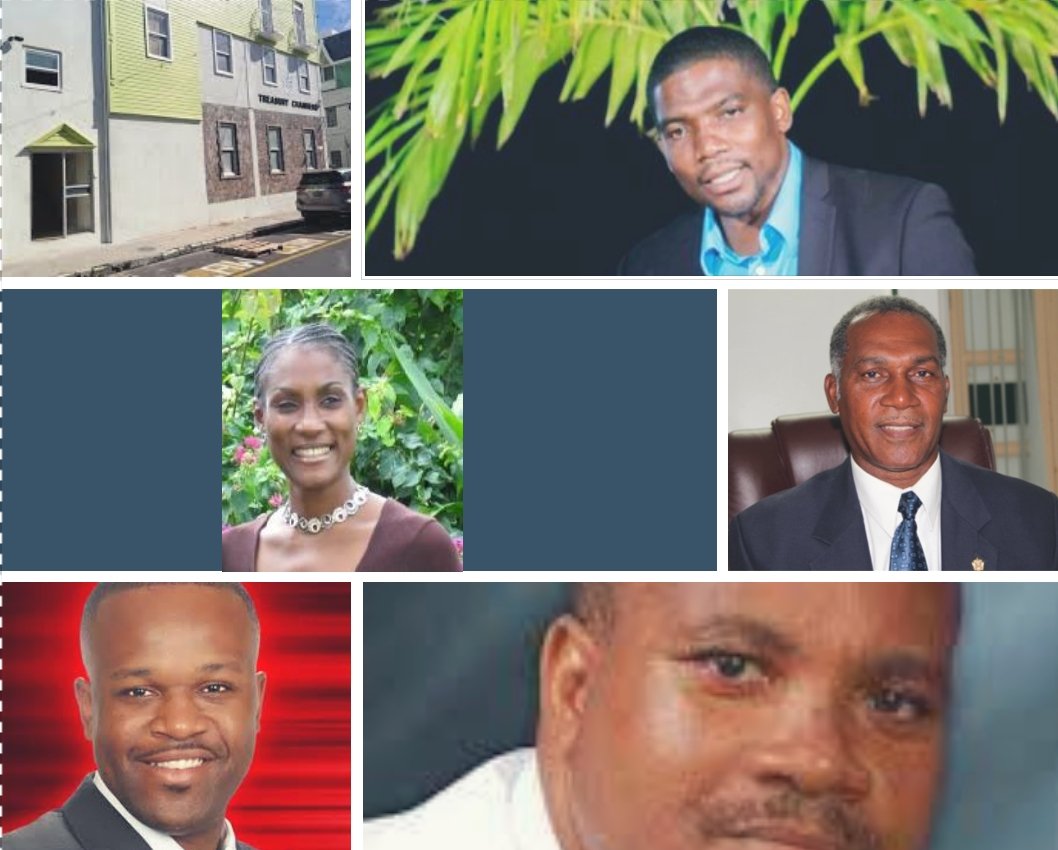 Basseterre, St. Kitts, January 25, 2018 – Persons employed in the Department of Labour in St. Kitts have tested positive despite statements by Minister of Labour Hon. Vance Amory that the building is mold-free.
Labour Party caretaker for St. Christopher 8, Dr. Terrance Drew accused Amory and his Permanent Secretary, Ron Collins, of "committing serious atrocities with the health of the people of St. Kitts and Nevis."
Parliamentary Representative for West Basseterre, Hon. Konris Maynard said at least three employees have been tested and the results indicate their bodies high levels of mold.
Dr. Drew, an internist, also slammed Mr. Amory for accusing Labour Department staff members of going on sick leave and also lying to embarrass the government.
"Hon. Vance Amory is not qualified to make statements like these. He is trying to pull the names of the doctors through the mud when he has no background information to comment on. The building that houses the Department of Labour was deemed to have high levels of carbon dioxide and suspected mold," said Dr. Drew on Wednesday's edition of Issues on freedom 106.5 FM.
Dr. Drew said the Bureau of Standards has confirmed that the carbon dioxide level in the Department of Labour is very high.
"I do not know how many hours Vance Amory spends in that building. If he spends enough time, he too will have to access the care of a medical doctor. High concentration of carbon dioxide will affect humans in various negative ways," said Dr. Drew.
Dr. Drew pointed out that while the adjoining National Drug Council has sent their staff members home, Mr. Amory and Mr. Collins "have defied all protocol and standard procedures in protecting the health of the Labour Department staff and playing petty politics."
He appealed to the employees to seek urgent medical attention to protect their health.
"You should not be forced to work in an unfit environment. I do not care which political divide you are on. Please protect yourself for your sake and that of your families," pleaded Dr. Drew.
He also advised members of the public to stay away from the building that houses the Department of Labour.
"It is not fit for the public to access it. I am asking the public to consider carefully when you have to access the building where the Labour Department is housed. Nobody should occupy that environment until the Bureau of Standards has retested the environment and declare it fit and suitable for human beings to occupy," advised Dr. Drew.
MP Maynard disclosed that four employees of the Department of Labour tested positively for mold.
"Two were found to have 11 percent mold in their bodies. Another one was found to have 19 percent mold and another with over 30 percent mold," said Maynard, pointing out that the acceptable limit is "two percent."
"These persons have been tested, yet the minister and his permanent secretary have the gall to state that the medical doctors are abusing their positions or that the workers are liars,' said Maynard.
He noted that the Permanent Secretary Collins and his counterpart in the Ministry of Tourism, Mrs. Carleen Henry-Morton were involved in a fake mold scandal at the BHS where there was not one person who was tested positively with those results.
"Three years after the BHS debacle, two persons who are now permanent secretaries, lead ministries that are now harbouring the most mold – the Ministry of Tourism and the Ministry of Labour," he said.
Henry-Morton was Principal and Collins, Guidance Counsellor, at the Basseterre High School.
Photo 1- Department of Labour housed on upper floor of Treasury Building.
Photo 2 – Dr. Terrance Drew
Photo 3 – Mrs. Carleen Henry-Morton
Photo 4 – Hon. Konris Maynard
Photo 5 – Hon. Vance Amory
Photo 6 – Mr. Ron Collins