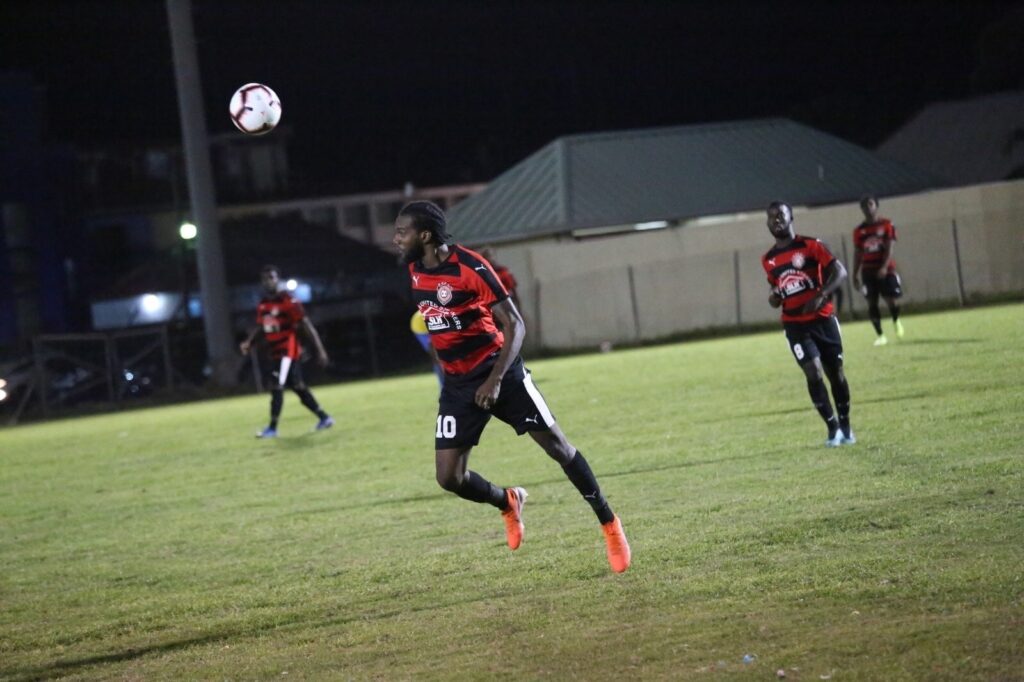 By: Andre Huie
St. Peters F.C. and S.L. Horsfords St. Pauls both enjoyed wins in the SKNFA Premier League Wednesday night at the Warner Park in their final matches of the regular season before the Super Six Playoffs begin. St. Pauls enjoyed a comfortable 2-1 win against Flow 4G Cayon Rockets, while St. Peters cruised past Fast Cash Saddlers 3-1.
FLOW 4G CAYON ROCKETS 1 – 2 S L HORSFORDS ST.PAUL'S UTD Scoring for Cayon
Anthony Caines (St. Paul's) own goal 71st min
Scoring for St. Paul's
Keithroy Freeman 29th min Anthony Caines 80th min
We spoke to a St. Pauls player Kwame Challenger after the match. "It was a well fought game for both times St. Pauls came out strong again and we gained the three points we strongly needed.
We also spoke to goalkeeper for Cayon Valentine Anthony. "It was a good game for the last game of the regular season. I think my team put up a good fight…unfortunately we lost. We just have to go back to the drawing board and come out hard for Super Six," he said.
Meanwhile, after comfortably defeating Saddlers F.C., Coach of the St. Peters F.C. Anthony Nets Isaac, said the game was a dress rehearsal for the playoffs. "The game tonight, for me, was just a warm up going into the Super Six. This game wasn't really important.

FAST CASH SADDLERS 1 – 3 ST.PETERS
Scoring for Saddlers
Stephan Rawlins 24th min
Scoring for St. Peters
Oszani Purcell 5th min
Kirkland Harris 41st min Tijhaun Isaac 84th min

For Saddlers Coach Kenroy Knibbs, the team was not well prepared for the match. "We were short on preparation because we didn't; get our field groomed as how we should…the guys performed well because this team that played today is a makeshift team," he said. He explained that most of the players who played in that match were those who didn't get a chance to play during the season.
The SKNFA Premier league continues on Thursday night with the crucial match up at 6pm when Hobson Enterprises Garden Hotspurs face surprises Super Six playoff contenders and KFC United Old Road Jets.
The winner in this match could qualify for the playoffs depending on the results in Fridays match when S-Krave Newtown United plays Mantab at 7pm. The Old Road Spurs match is followed by SOL IAS Conaree playing Rams Village Superstars at 8pm.
Caption: St. Pauls in action.
—END—