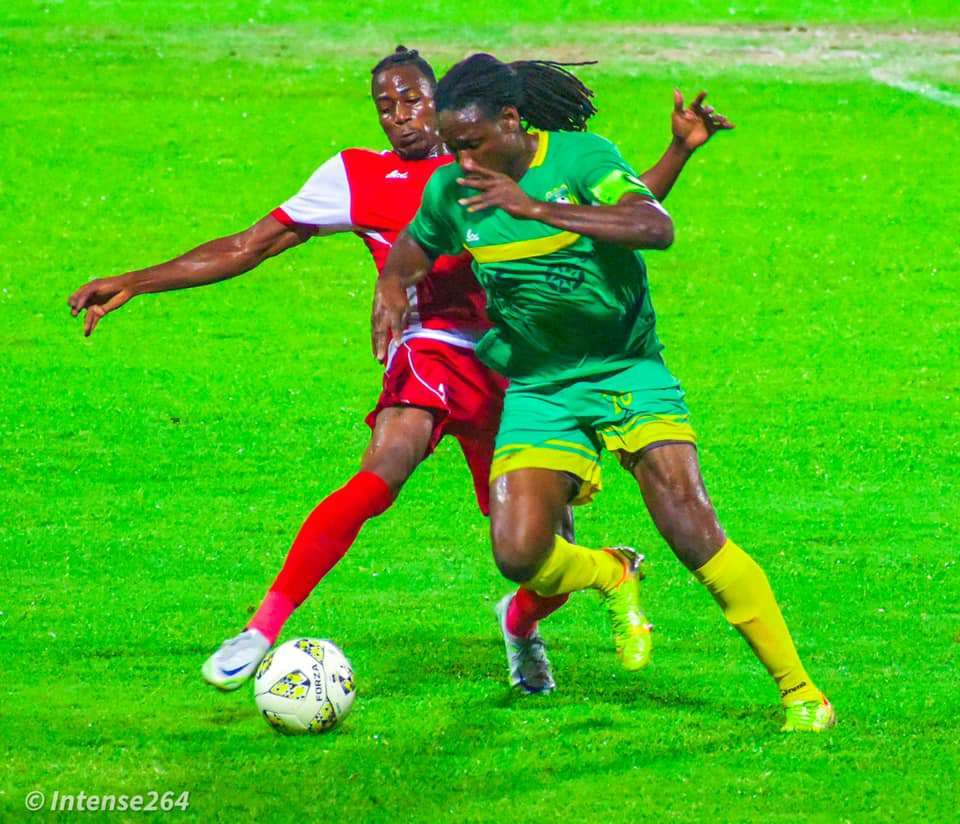 It's official: defending SKNFA Premier League Champions S.L. Horsfords St. Paul's United will face SOL IAS Conaree FC in the Super Six Finals slated to start on Saturday October 15. Both teams booked their spot after Saturday's Super Six playoff matches when Conaree snatched a late 2-1 victory over former champions Rams Village Superstars, while St. Paul's dispatched Flow 4G Cayon Rockets 4-1.
Village/Conaree goal scorers
Scoring for Village
Joseph Wilkes 48th min
Scoring for Conaree
Kadeen Lewis 41st min
Errol O'loughlin 90th + 3mins
St. Paul's/Cayon goal scorers
Scoring for St. Paul's
Kalonji Clarke (pk) 13th min
Keithroy Freeman hat trick – 15th, 42nd & (pk) 61st min
Scoring for Cayon
Carlos Bertie 55th min
Red cards
Malique Roberts (Cayon) 12th min
(for denying a goal by handling)
Conaree and Village suffered a major injury scare in the first half when Raheem Francis and Conaree's captain Mudassa Howe suffered a head injury during the match, causing a 24-minute delay. Eventually Howe, was taken via ambulance to the JNF General Hospital for treatment. Coach Al Richards of Conaree said Howe's injury was a major blow for the team, but their performance was in dedication to him. "It was a major blow for us. Mudassa is our captain; a major player for us; but we regrouped. That's how football goes sometimes, but we did it for him," Richards said.
Meanwhile, the man who sored that pivotal goal to seal the win and the finals appearance for Conaree Errol O'Loughlin, said his goal is history repeating itself. "A couple years again, it was Village to beat to get in the finals and guess who was the goal scorer in that game? We did it for Mudassa too," O'Loughlin said.
Zikomo Condor, one of the coaches of Rams Village Superstars, said injury played a pivotal part in conceding the goal in the first half, but commended the players for coming through in the second half to get the equalizer. In the end though, he commended Conaree for the victory and for making the finals.
After the second match of the night, Manager of St. Paul's United, Derionne Edmeade, said his team was warned to expect an attacking game from Cayon, which they were prepared for. "The guys absorbed (pressure) early and…with the pressure that they brought we were able to expose some of the weaknesses in the field," Edmeade said.
Meanwhile, Assistant Coach of Cayon Jazza Buchanan, said thy started the game well as planned, but made errors, including the red card from Malik Roberts that placed the team under immense pressure. "We started to play out of position, not listening, not communicating and that kind of cost us in the first half," Buchanan said. The finals will commence at 7pm on Saturday at the Warner Park Cricket Stadium.
-END-