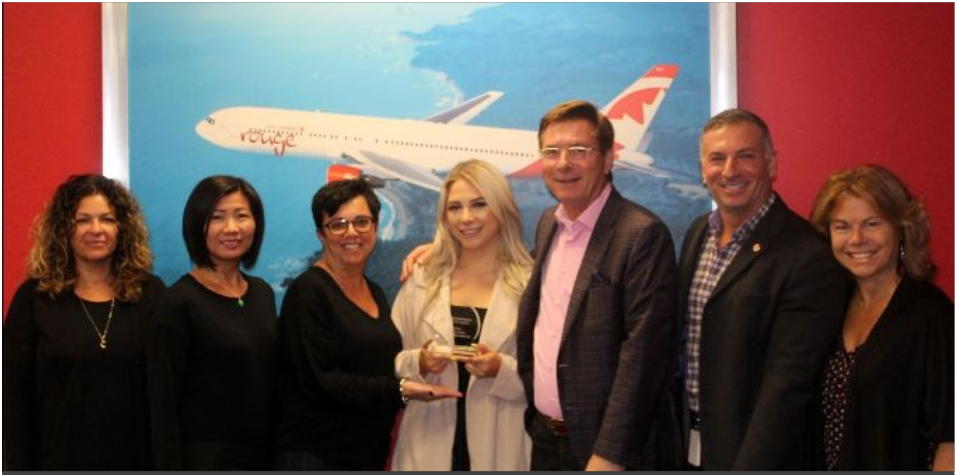 Destination Earns Special Recognition for Growth of Air Service
BASSETERRE (26TH September 2019): Last Thursday, September 12, 2019 in Toronto, the St. Kitts Tourism Authority was presented with a Recognition Award 2018/2019 by Air Canada Vacations during the final evening of a five-city national series of Air Canada Vacations product launch trade shows in Canada. The award acknowledges the successful partnership that has been developed over the years between the destination and the airline in light of the growth of the service.
"It is an outstanding achievement to receive this award from Air Canada Vacations in recognition of our partnership and the momentum we have achieved in the marketplace," said the Hon. Mr. Lindsay F.P. Grant, Minister of Tourism, International Trade, Industry, Commerce and Consumer Affairs. "With the recent service expansion, joint marketing efforts and our unique niche market strategy all serving to increase awareness among the travel trade and key lifestyle consumers with the result of our first ever mid-week non-stop flights beginning in 2019-2020, our goal is to continue to increase arrivals from Canada."
Racquel Brown, CEO of the St. Kitts Tourism Authority, added, "We are so pleased to receive this award from our partners at Air Canada Vacations, as an acknowledgement of the strong, successful working relationship we have established. Five years ago in 2014, the St. Kitts flight was not doing well and at risk, prompting us to launch an innovative and non-traditional marketing strategy revolving around the niche market of golf. The success of this strategy has manifested in increased service and frequency from Canada and a significant growth in Canadian arrivals. Over the five years, we have grown from 3 or 4 months of peak-season-only service to six full months of service, November – April, in 2018-2019. This year will see six months of non-stop service on Saturdays and new, mid-week Tuesday non-stop service for three months during the peak of the peak from February to April."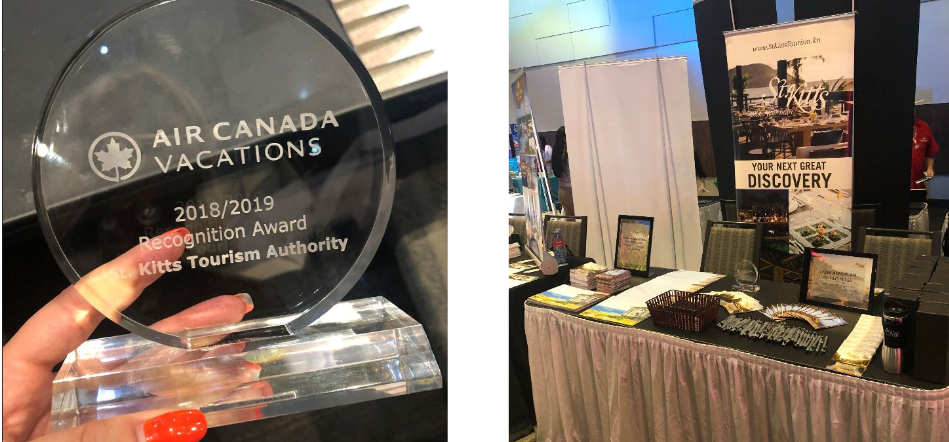 St. Kitts has been a Platinum Sponsor of the Air Canada Vacations product launch shows in Calgary, Vancouver, Halifax, Montreal and Toronto for the past three years. This year, St. Kitts' video presentation was played at all five shows highlighting the destination's product to thousands of travel agents in attendance. Travel agents also received the St. Kitts travel guide, maps of the destination, branded merchandise and booklets all while signing up to receive direct mail marketing from St. Kitts in the future about promotional offers and island information.
For the first four months of 2019, air passenger arrivals from Air Canada increased over 60% as compared to the same period in 2018. Air Canada first began serving St. Kitts non-stop on Fridays in peak season from Toronto Pearson International Airport in 2011 and subsequently shifted to Saturday service. It is the island's only non-stop scheduled service from Canada. Service expanded to operate for a six-month period starting in November 2018 through the end of April 2019 with the majority of those flights upgauged. From February 11 through April 14, 2020, Air Canada will operate a second weekly non-stop flight from Toronto Pearson International Airport (YYZ) to St. Kitts on Tuesdays for the first time in the island's history.
#