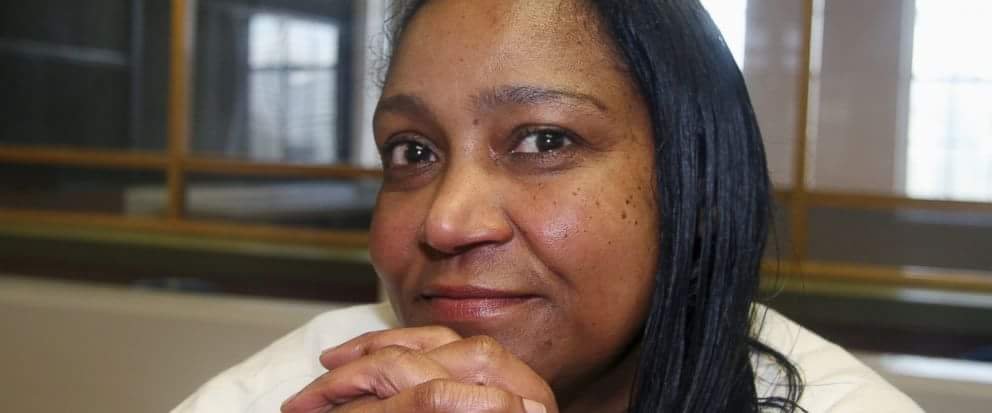 FILE – In this April 13, 2010, file photo, death-row inmate Linda Carty, a native of St. Kitts and Nevis who later moved to Houston, poses for a photo at the Texas Department of Criminal Justice Mountain View Unit outside Gatesville, Texas (AP Photo/Michael Graczyk)
079/201
By: E. Williams
Basseterre, St. Kitts, February 7, 2018 – Texas' highest criminal court on Wednesday rejected the appeal of a condemned St. Kitts-born British national who was convicted of arranging the killing of a neighbor so she could take the woman's baby.
According to media reports, the Texas Court of Criminal Appeals upheld the ruling of a lower court, which rejected Linda Carty's arguments that prosecutors had coerced witnesses and improperly hidden information that could have affected the outcome of her capital murder trial.
Carty, the only British woman on death row in the United States, was convicted in the 2001 suffocation of 20-year-old Joana Rodriguez.
Prosecutors said Carty, who had been living in Houston for about 20 years by the time of her trial, recruited three men to abduct Rodriguez and her newborn in the hopes of saving her relationship with her common-law husband by passing off the child as her own.
Rodriguez and her days-old son, Ray Cabrera, were abducted from their Houston apartment on May 16, 2001. The boy was found safe in a car that same day, but his mother was found suffocated in the trunk of another car. Her arms and legs were wrapped in duct tape, her mouth and nose also were taped and she had a plastic bag over her head.
The three men charged as Carty's accomplices received long prison terms. Carty was sentenced to death.
Carty's lawyer, Michael Goldberg, said Wednesday that he was unaware of the ruling and had no immediate comment.
The appeals court ruling supported the findings of District Judge David Garner, who decided in 2016 that Harris County prosecutors should have turned over some witness statements to Carty's trial lawyers, but that the evidence was overwhelming and wouldn't have changed the trial's outcome. Garner also determined that prosecutors didn't knowingly use perjured testimony or allow untrue testimony at the trial.
In a concurring opinion joined by two other appeals court judges, Judge Bert Richardson wrote that while Carty's lawyers contended that prosecutors committed "egregious misconduct," those claims weren't supported in the court record.
"None of the evidence eliminates her or even casts reasonable doubt on her role as a party to this offense," Richardson wrote.
When she was arrested, Carty was on probation for impersonating a federal agent and previously had been arrested for auto theft and drug charges.
She does not yet have an execution date.