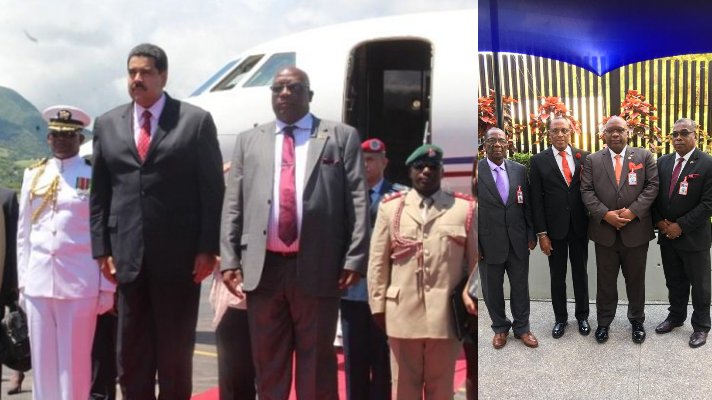 Photo Caption: St Kitts and Nevis Prime Minister Dr Timothy Harris (left) and Venezuela President Nicholas Maduro at the Robert Bradshaw International Airport in September 2015 after Venezuela presented a US$16 million check to Harris.Photo 2 – Prime Minister Timothy Harris and delegation at the inauguration of President Maduro for another term in January 2019
324/2019
By: E. Williams
WASHINGTON, United States, April 10, 2019 – The division among Caribbean Community (CARICOM) countries on the Venezuelan issue within the Organisation of American States (OAS) continued Tuesday, with St Kitts and Nevis abstaining, as the Permanent Council of the hemispheric body voted to "accept' the nomination of a candidate supported by Opposition leader Juan Guaido, who is seeking to replace President Nicolas Maduro as head of state in the South American country.
St Lucia, Jamaica, Haiti and the Bahamas voted in favour of accepting Gustavo Tarre "as the National Assembly's designated permanent representative, pending new elections and the appointment of a democratically elected government," in Venezuela.
But Antigua and Barbuda, Dominica, Grenada, St Vincent and the Grenadines, Suriname, joined Venezuela in voting against the measure, while Barbados, Guyana, St Kitts an Nevis, and Trinidad and Tobago abstained. Belize was the only CARICOM country absent when the vote was taken on Tuesday.
The OAS Permanent Council is chaired by the United States, which is at the forefront of efforts to remove Maduro, who was sworn into office for a second consecutive term earlier this year, from power.
The four CARICOM countries that voted in favour of the resolution have supported the so-called Lima Group that is seeking Maduro's removal and last month met with United States President Donald Trump on Venezuela.
CARICOM has adopted a united position on the Venezuelan matter and in February, the regional leaders at their inter-sessional summit in St Kitts-Nevis reiterated their position of non-interference in the internal affairs of Venezuela and said they were prepared to mediate in the process to bring about a peaceful resolution to the crisis.
Disclaimer

*This article was posted in its entirety as received by SKN PULSE. This media house does not correct any spelling or grammatical errors within press releases and (or) commentaries. The views contained within are not necessarily those of SKN PULSE