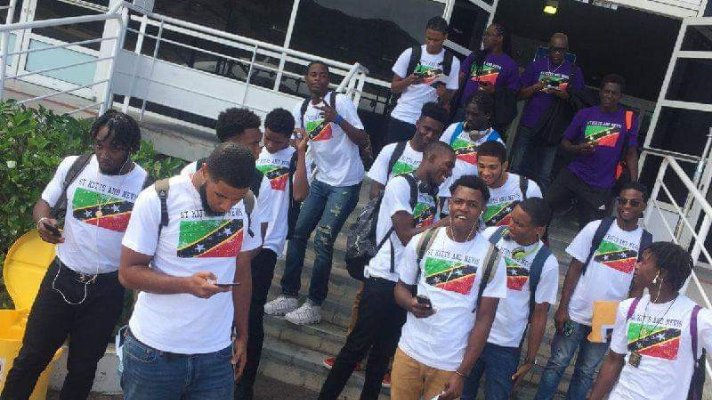 Photo Source: The St. Kitts and Nevis Handball Team exiting Departure Lounge at Robert L. Bradshaw International Airport, St. Kitts, (Sourced Photo)
By: Tito Chapman
St. Kitts and Nevis is one of 12 teams from the Caribbean and North America (NAC) participating in the first annual NAC Emerging Nations Championship in the Dominican Republic.
The competition format follows a knock-out round, with four preliminary groups, from which the top two teams in each group advancing to the quarter-finals.
The group phase started April 8, followed by the quarter-finals, ( April 9-12) then the placement round for the third-ranked teams.
The semi-finals will take place on April 13 and the finals will be held the following day. Each team is allowed three players above the age of 24, while the remainder of the squad must be 24 and under. As per source, such a regulation was designed to encourage development.
St. Kitts Nevis is in Group C with hosts Dominican Republic and Haiti. They played their first game on April 8th and lost to the Dominican Republic.
Canada will play against Puerto Rico and Dominica in the group A showdown. Group B consists of Mexico, Martinique and Trinidad and Tobago. While Group D team USA will meet Cuba and Barbados in the preliminary round.
All results and information on the event can be found here, competition.ihf.info.