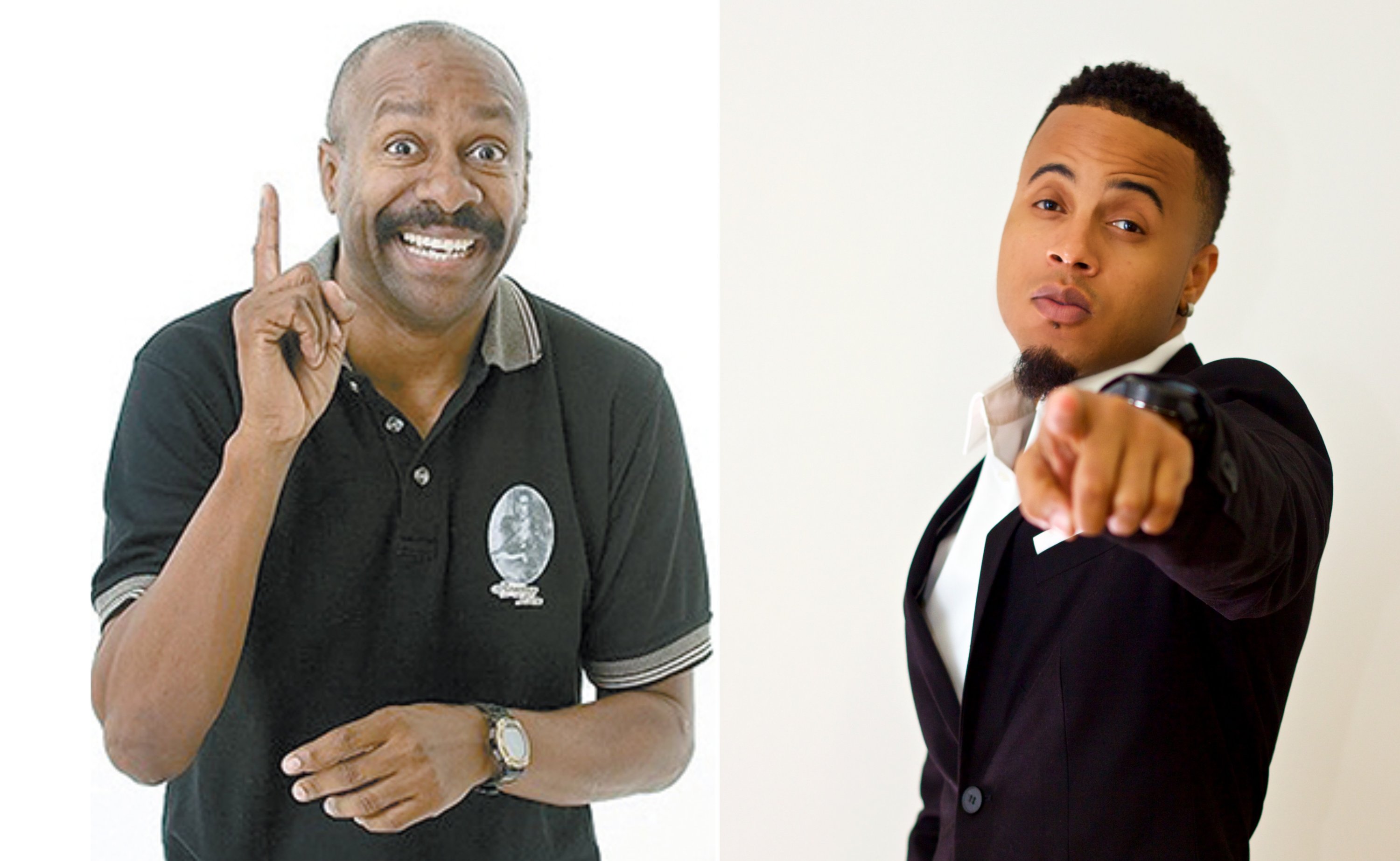 Photo caption: Comedian Errol Fabien and Ricardo Drue.
The improvements made for the 38th annual Haynes Smith Miss Caribbean Talented Teen Pageant is not only limited a shorter and smarter show, but also quality of entertainment. Organizers this year have enlisted the services of Ricardo Drue, one of the most sought after Caribbean artistes and comedian Errol Fabien from Trinidad and Tobago who will host the show. Born on the island of Antigua on July 31, 1985, Ricardo Drue has become one of the most passionate breakout artists in the Soca Industry. After moving to Cocoyea San Fernando, Trinidad & Tobago at the age of 4, and growing up in a musical family, Ricardo realized at a young age that music was his passion. After being influenced heavily by Soca, Reggae, R&B and Hip Hop all his life, Ricardo became the lead singer of Crossovah, a dance and vocal quartet in 2006. Crossovah became known internationally after being the opening act for recording artists; Jeffery Osborne, Fat Joe, Sean Kingston, Red Rat, TOK, Patrice Roberts, Allison Hinds, Destra, Machel Montano and many more.
Ricardo broke away from Crossovah in 2010 to focus on a solo career. Between 2010 and 2014 he garnered many musical achievements. In 2011 he became the co-lead singer of the Roy Cape All Stars band. In 2012 he became a brand ambassador for Digicel Antigua & Barbuda. The year 2013 saw the release of his first studio album; Dreams of My Reality with the breakthrough single Dreaming. In 2014, Ricardo released his second album My Time, the city of Boston dubbed June 21, 2014 "Ricardo Drue Day", became the Power Soca Monarch of Antigua and Barbuda and launched his mega hit "Vagabond" onto the world stage. Vagabond gained quick popularity and became Ricardo's first international hit catapulting him into a successful 2015.
That year was definitely one to remember for the young Antiguan. He entered Trinidad & Tobago's International Groovy Soca Monarch competition where he placed 2nd Runner Up with Vagabond (2nd highest placement for a non-Trinidadian), and also won Music Video of the year at the 2015 International Soca Awards. He also won breakthrough artist of the year at the COTT Awards and won back to back crowns as Antigua & Barbuda's Power Soca Monarch. Ricardo continued seeing international success with songs such as "Professional", "Bet" , "ID" (stamp yuh name) , and "Rum Again" just to name a few. In 2017 he became a Cultural Ambassador to Antigua and Barbuda and also has been signed to the mainstream music label Mad Decent which intends on bringing the song Vagabond to the masses of pop culture across the world.
As for Errol Fabien, he is considered a household name in Trinidad and Tobago and many Caribbean communities. He is known for his comedy and his position against substance abuse and illegal drugs. Fabien is recovering drug addict and sees media and entertainment as a means of compensating for some of the wrongs he did while being an active addict. He is currently the chairman, co-founder and C.E.O. of Gayelle the Caribbean, a Caribbean content non-fiction television station.
Fabien has been involved in entertainment since 1975 in theatre, calypso, public speaking and comedy. Today he is still involved in all these disciplines of the performing arts.
The 38th annual Haynes Smith Miss Caribbean Talented Teen Pageant will be held this Saturday December 30, 2017 at 8pm at the St. Kitts Marriott Resort. Tickets are $100 and are available at Occasions on Fort Street, Basseterre. There are seven finalists this year: 15 year old Deztynee Bryan representing Anguilla, 17 year old Zaria Bideau representing Antigua and Barbuda, Meghan Green, 18 year old Melissa Ferreira representing Guyana, 16 year old Dolicia Barry of St. Kitts and Nevis, 18 year old Cathlina Lawrence of St. Lucia and 18 year old Tasyanna Clifton of French St. Martin. Ms. St. Kitts Kadeema Blanchette is the reigning queen.
—END—
*This article was posted in its entirety as received by SKN PULSE. This media house does not correct any spelling or grammatical errors within press releases and (or) commentaries. The views contained within are not necessarily those of SKN PULSE.