Basseterre, Saint Kitts and Nevis, October 17, 2023 (Press Secretary, PMO): Prime Minister of Saint Kitts and Nevis, Hon. Dr. Terrance Drew embarked on a milestone visit to the Canadian capital, leaving an indelible mark on diplomatic relations between the two nations.
Prime Minister Drew was the first foreign dignitary to meet the newly elected Honourable Greg Fergus, who made history as the first black Speaker of the House of Commons.
Accompanied by the Minister of Foreign Affairs, the Rt. Hon. Dr. Denzil Douglas; Ambassador to the CARICOM, H.E. Larry Vaughan; and Charge d'Affaires ad interim in the High Commission of Saint Kitts and Nevis, Eustace T. Wallace, Prime Minister Drew conveyed congratulations to Speaker Fergus, who proudly traces his heritage to the Caribbean, with roots in Jamaica and Montserrat.
The deliberations during this momentous meeting were centred on identifying opportunities for even closer bilateral collaboration between Saint Kitts and Nevis and Canada. Prime Minister Drew expressed gratitude for Canada's recent partial visa waiver and advocated for enhanced ease of travel between the two nations to bolster trade, tourism, and investment.
Highlighting the investment potential in Saint Kitts and Nevis, Prime Minister Drew emphasized the Federation's steadfast commitment to democratic principles and the rule of law, which forms a solid foundation for fruitful trade and commerce.
The Honourable Prime Minister also invited increased private sector investments in critical areas such as green technology, renewable energy, and water and food security, aligning with the global imperative for sustainable practices.
In a poignant moment, the Prime Minister underscored the significance of Canada's early investment in education in Saint Kitts and Nevis, acknowledging its pivotal role in building capacity and skills post-independence. He urged Speaker Fergus to consider similar initiatives for skills training and capacity building, particularly in the green and blue economy, as the Federation embarks on a transformative journey towards becoming a Sustainable Island State.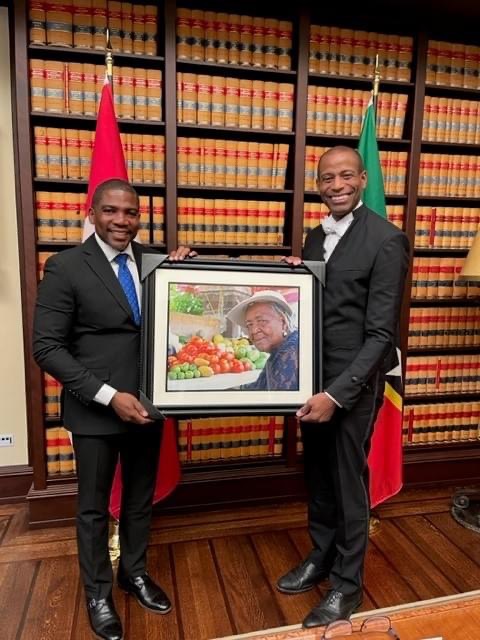 Honourable Greg Fergus' ascendancy to the Speakership represents a culmination of his active role as Parliamentary Secretary to Prime Minister Trudeau and his pivotal chairmanship of the Canada-CARICOM Parliamentary Friendship Group. He has been an unwavering advocate for strengthening ties between Canada and the CARICOM nations.

As a token of appreciation, Prime Minister Drew presented Speaker Fergus with a framed photograph by Professor Tau Battice, encapsulating the indomitable spirit and resilience of the Federation.

This historic meeting between Prime Minister Drew and Speaker Greg Fergus marks a pivotal moment in the diplomatic history of Saint Kitts and Nevis and Canada, setting the stage for deeper collaboration and mutual growth.

###