NIA CHARLESTOWN NEVIS (October 03, 2023)- Premier of Nevis the Honourable Mark Brantley on Monday, October 2, conveyed words of encouragement and congratulations to the four Nevisian students who will soon travel to Singapore as part of the St. Kitts and Nevis Robotics Team.
There, Team S. Kitts and Nevis will be among 190 countries competing in the 2023 First Global Challenge Robotics Competition.
The Premier welcomed the students-Vikash Singh, Mayur Daswan, Jaiden Clarke, and Nailah Taylor- at his Pinneys Estate office. They were accompanied byFounder and Primary Mentor of the St. Kitts and Nevis Robotics Association, Dr. Ricardo Neil.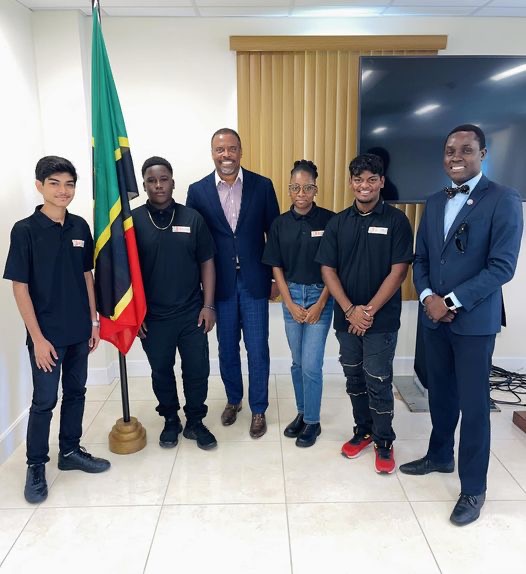 "It was such an honor to meet the students from Nevis who are part of the St. Kitts and Nevis Robotics Team and their mentor Dr. Ricardo Neil who will be traveling to Geneva, Singapore. I wish them every success as we take STEM [Science Technology, Engineering, Mathematics] education to the next level. I congratulate our entire team and wish them well in this global competition," he said.
The Premier said the SKN Team is a shining example of how young persons from such a small country are using the technical disciplines of science, technology, engineering, and mathematics to solve problems that have global implications.
"This year's Competition will be highlighting the importance of renewable energy and its potential to create a better future for all. That resonates with us here in Nevis and the wider Federation as we pursue geothermal energy and an overall greener economy as part of the national sustainable development agenda."
First Global Challenge Robotics Competition takes place October 7-10, 2023. First Global said "bringing these future STEM leaders together in an engaging and collaborative competition drives home the importance, excitement, and applicability of STEM education and demonstrates that they can work together- even in competition- to find solutions to the world's greatest challenges."
END