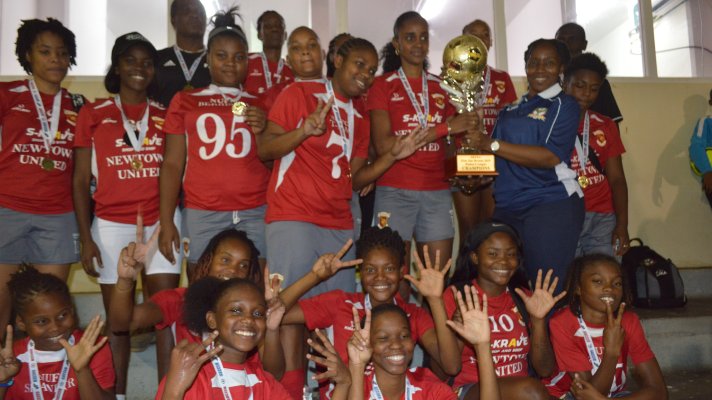 Caption: S-Krave Newtown United players celebrate on Friday night after clinching their seventh title following a 2-0 victory over Flow 4G Cayon Rockets.
For a record 7th straight time, the S-Krave Newtown United senior women's team have won the Elvis Star Browne Women's League. On Friday, the team from East Basseterre clinched their 7th hold on the title after defeating Flow 4G Cayon Rockets 2-0 in Game 2 in the finals series. The winners already defeated Cayon 7-0 earlier in the week in Game 1.
S-KRAVE NEWTOWN UTD vs FLOW 4G CAYON
FINAL SCORE: 2 – 0 in favour of NEWTOWN
SCORING FOR NEWTOWN
Zonia Marshall 48th min
Kshanta Mills 68th min
Newtown's coach Tyrone Saddler said after going in 0-0 at halftime, he had to remind the girls to play the Newtown way and not take Cayon lightly. "I told them that we were thinking we won the championship before the game was played. So I told them we have to go out in the second half and play Newtown's style of football. Control the ball, pass the ball and when you get our opportunity, put them away," Coach Saddler said.
Newtown played most of the match with 10 players after their star striker Caroline Springer received a second yellow card in the 1st minute of stoppage time in the first half and then eventually nine with an injury to one of their players. But Coach Saddler said his team stood up to the challenge. "We were down to nine because two of our better players were out. One on a red card; one got injured. So we went in the second half at half time and I told them we got to be mentally tough and we have to go out there play this for Niranja and T-Mac and they listened and took heed and went out there and we played," he added.
Coach of Cayon Tyrone Oloughlin said his team played much better in game two, but did not have enough to overcome Newtown. "It's just that we couldn't hold out on the last 16/17 minutes because the Newtown team is a fitter team so maybe our girls just got tired…but we did a better job defensively (than in Game 1)," he explained.
Meanwhile General Secretary of the St. Kitts and Nevis Football Association (SKNFA), Stanley Jacobs said women's football in the Federation is developing and that this season was a success. "I believe that we had an excellent finals. It came down to two games and the eventual champions, S-Krave Newtown, congratulations to them. (Cayon) gave a good account of themselves and they too must be congratulated. I want to congratulate all the teams that participated in the Elvis Star Browne Women's League for 2018-2019," Jacobs said. "We continue to build the women's game and we continue to invest in the women's game and it can only grow from strength to strength," he added. The SKNFA General Secretary noted that the women players are looking forward to a slew of competitions this summer including the Under 14 Women's Challenge Series, the Concacaf U-20 Championships and the Olympic Qualifiers.
The General Secretary also noted that with the recent exploits of the Senior Women's Team on the regional scene, the future of women's football is bright. He noted however that while there is more work to be done, women's football is heading in the right direction.
—END—
Media contact
Andre Huie
Media Consultant
St. Kitts and Nevis Football Association (SKNFA)
[email protected]
1 (869) 668-5652
Disclaimer
*This article was posted in its entirety as received by SKN PULSE. This media house does not correct any spelling or grammatical errors within press releases and (or) commentaries. The views contained within are not necessarily those of SKN PULSE