NIA CHARLESTOWN NEVIS (JUNE 21, 2023) — Nineteen persons in St. Kitts and Nevis were awarded for their contribution to nation building at the Companion of Star Merit (CSM) and Medal of Honour Investiture Ceremony at Government House in Basseterre on June 2023.
Among the awardees who were all presented with medals by Governor General of St. Kitts and Nevis Her Excellency Dame Marcella Liburd, was this year's only awardee from Nevis, Educator Mrs. Lorraine Agatha Browne for her contribution to the development of Education. She was one of 16 persons awarded with the CSM.
According to her profile read out at the ceremony, Teacher Lorraine or Teacher Lo as she is affectionately known, began her teaching journey at the Combermere All Aged School at the tender age of 15.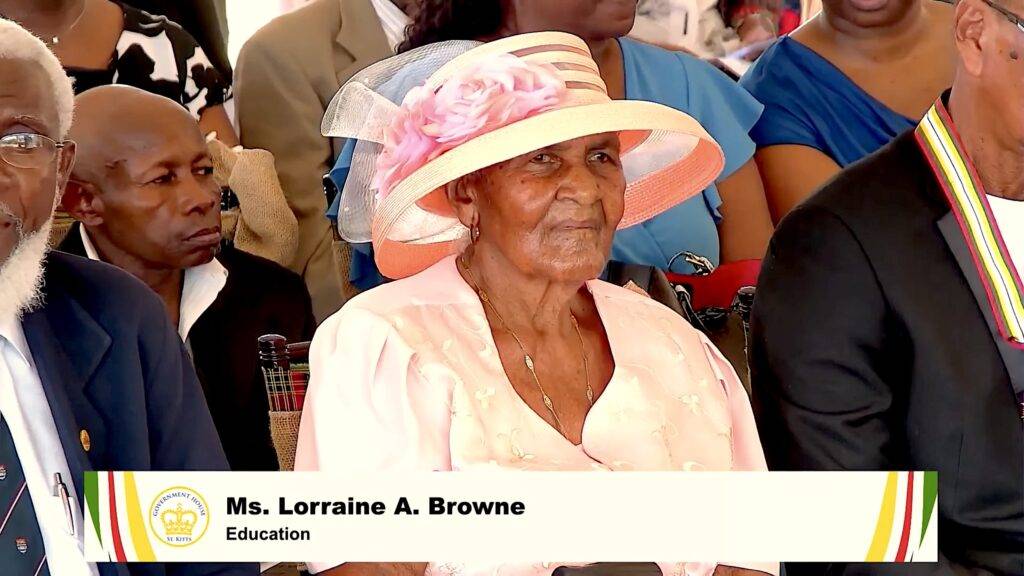 "She taught for four years before she left to study at the Spring Garden Teachers College in Antigua in 1950. On completion she returned to the Combermere All Aged School but was transferred to the White Hall All Aged School. She was guided by the principle that 'Every child can learn something.'
"Pride exuded from her when she said that her greatest joy came from her teaching the slower children and to subsequently watch them blossom. If Teacher Lorraine had to hold her students' hands and guide their fingers so that they could learn to write, then that is what she would do," her profile said.
In 1969 she attended the St. Kitts and Nevis Teachers Training College for one year. She was described as an excellent teacher, "who loved to work in the Infant Department. This was evident by the numerous charts and various methods that she used, for example singing and poetry. She ensured that flash cards and books of all levels formed the base of her reading classes."
Teacher Lorraine's career spanned 40 years, one which started at the Combermere All Aged School and ended at the Combermere All Aged School.
It is believed that Teacher Lorraine or Teacher Lo will be remembered by her colleagues and students for her jovial nature, her keen sense of humour and her vibrancy.
Among the awardees, three persons received the Medal of Honour.
Among those present at the ceremony were Deputy Governor General for Nevis Her Excellency Mrs. Hyleeta Liburd; and Hon. Dr. Terrance Drew, Prime Minister of St. Kitts and Nevis.
END
Photo caption: Educator Mrs. Lorraine Agatha Browne affectionately known as Teacher Lorraine or Teacher Lo at the Investiture Ceremony at Government House in Basseterre, St. Kitts on June 20, 2023