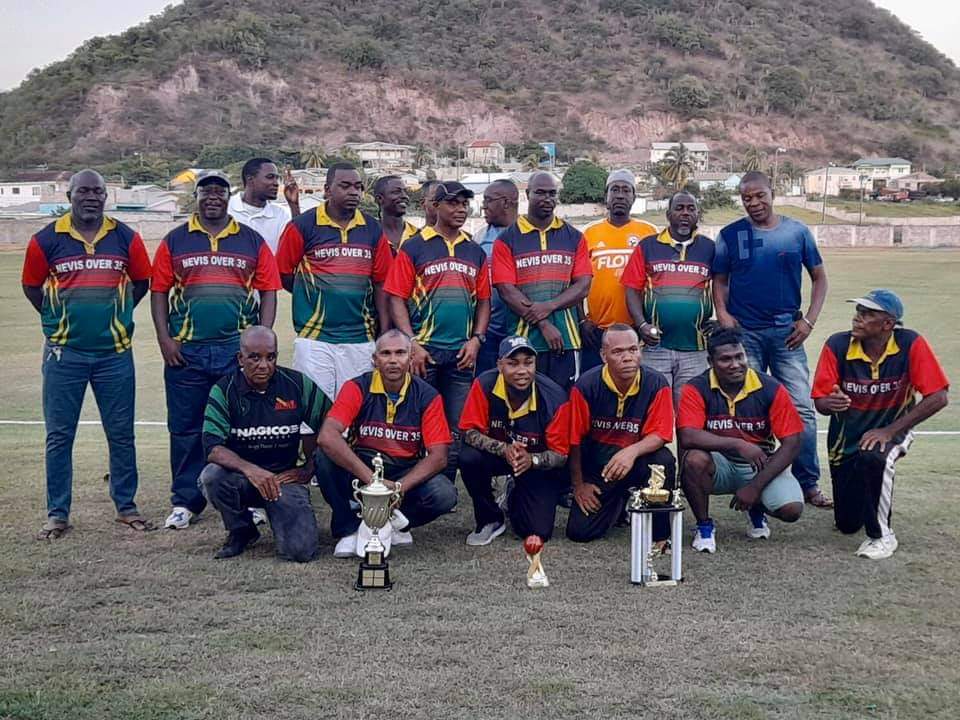 By: Staff Writer|Story Credit: C. Morton
The Nevis Over 35 cricket team retained bragging rights as they successfully defended the title they won in St.Maarten last year, in the 11th edition of the Dango Farrell created Luther Kelly over 35 tournament.
The tournament which is normally held in St. Maarten and attracts teams from Nevis, St. Kitts, Antigua, Anguilla and St. Maarten featured four teams in a shortened version of the tournament which was held in St. Kitts due to the Corona Virus Pandemic.
The four teams represented were: St. Kitts over 35's; St.Kitts ex nationals, the Guyana Young Guns team and defending champions, Nevis Over 35.
Both Young Guns and Nevis were victorious in their matches on Saturday 24th October. Young Guns defeated St. Kitts and Nevis handled business against the St. Kitts ex nationals' team.
The summarized scores in that match:
Nevis over 35's: 184 for 4 from 20 overs: Tonito Willet 67; Carlon Smithen 38; Ardie Liburd 25
F. Nisbett 2 for 19; Chumney and Clarke 1 wicket each
St. Kitts over 35's: 128 for 7 from 20 overs: Calvin Williams 20; Roy Nisbett 18; Shane Jeffers 18; Percy Daniel 13
Dowe, Liburd, Newton and Bhim, 1 wicket each
Nevis over 35's won by 56 runs
Nevis engaged the Guyana Young Guns in the finals and batted first after winning toss. They ammassed 171-4 in their 20 overs.
Guyana Young Guns where bowled out for 131. Captain Merlin Liburd bagged 5/22.
Nevis won by 40 runs.
Summarized scores: Nevis over 35's: 171 for 4 from 20 overs: Anan Bhim 55*; Stuart Williams 53*; Joel Simmonds 21; Tonito Willet 19
White, Simmonds; Edwards and Harry, 1 wicket each
Young Guns: 131 all out in 18.3 overs: Welton Edwards 30; Jatin Patel 23; Alex Harry 23; Andrew Simmonds 19
Merlin Liburd 5 for 22; Patrick Newton 2 for 18; Tonito Willet 2 for 28; Anan Bhim 1 for 24
Winners: Nevis
Second Place: Guyana Young Guns
Third Place: St. Kitts Over 35