NIA CHARLESTOWN NEVIS (May 08, 2023) —The Department of Community Development on Nevis thanked one of its own recently, the day she embarking on her retirement as a civil servant in the Nevis Island Administration (NIA) after 33 1/2 years in service to others.
During a simple but moving retirement gathering hosted by the department on April 27, 2023, at the Barnes Ghaut Community Centre, an emotional Mrs. Lydia Claxton who is the first Nevisian to captain the West Indies Netball Team expressed her feelings on her tenure.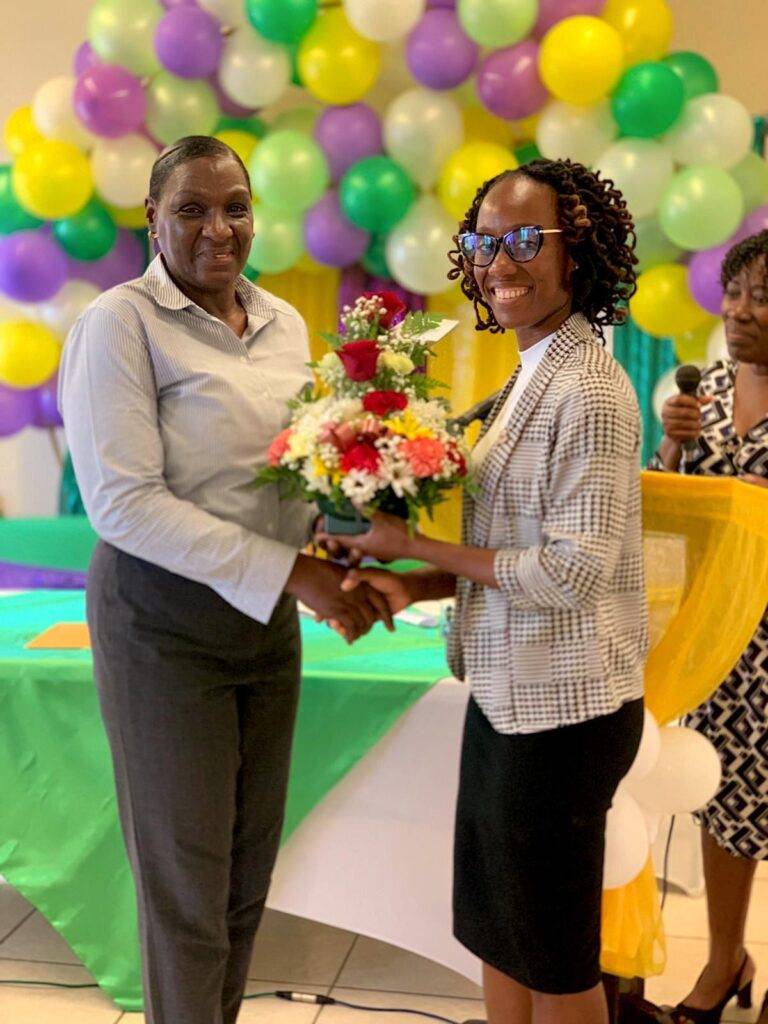 "I just want to give God thanks for the opportunity that He gave me to serve for those 33 ½ years because many would have started out and would not be here but God has blessed me and so I just want to give thanks this afternoon that I was able to serve my country, my people in all the different capacities," she said.
Though when the time came for her to further her education, she chose to shelve the opportunity in order to care for her aging mother who was going through some struggles but even that didn't get in the way of helping others.
"College or no college, my passion has always been to serve people; to see the development of others in whatever way that I can, wherever I can make my contribution and so I think I would have done that in different capacities, would have fallen short here and there, I know that because nobody is perfect," she said.
During her tenure, Mrs. Claxton's first served as a substitute teacher at the Charlestown Secondary School in 1989. She later moved to the Department of Sports as a Junior Sports Officer before returning to the Department of Education as the Sports Coordinator. Her final assignment before retirement was at the Department of Community Development.
She described her colleagues at Community Development as a "group of wonderful people." Although there were times they "knocked heads," she always saw in the staff the potential for greatness.
"People think because of certain things you cannot reach to a stature of success but I'm one of those persons who do not believe that. I believe that within all of us there is a measure of greatness. Your greatness may not be in my field and my greatness may not be in your field but God made us all to give a contribution in the best way that we can," she said.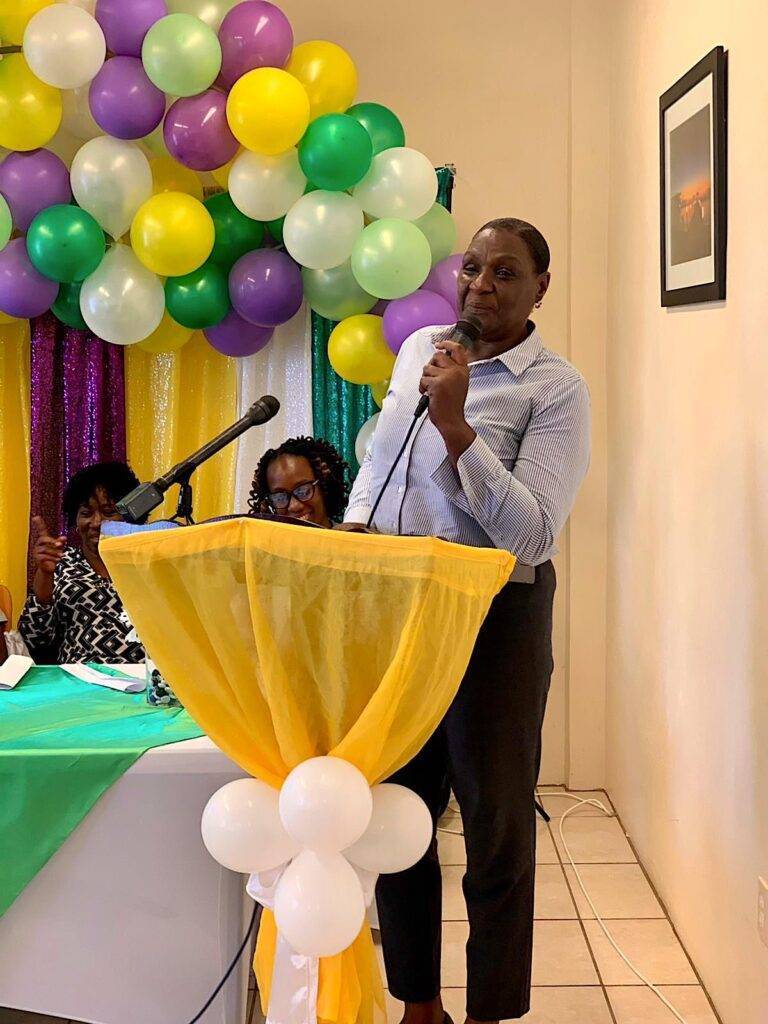 Mrs. Claxton's powerful advice for her colleagues she was leaving was to remember the parable of a pencil.
"Remember the parable of the pencil. The pencil as you know it has greatness depending on whose hands it's placed within, and so if you place your life and the pencil in the hands of God, you too are destined for greatness.
"The pencil goes through many trials because it has to be sharpened. In life we have many difficulties, things that cut us but we can learn lessons from all those cutting moments and it can make us even better persons, stronger persons.
"The pencil also has an eraser and when you mark, sometimes you write something and you have to rub it out; we all make mistakes. Life is such that some of those that we really cannot erase but we can learn from the mistakes that we make; and then the pencil also has a core within it and so that is where you have to look at the values that are in the gifts that God has placed in you because that is where your greatness lies, and then finally, a pencil always makes a mark, and so I encourage you to make a mark at Community Development where you're at and if you choose to move on, always try to make a good mark in whatever you choose to do. So that is the message I'd want to leave with you," she said.
A grateful Mrs. Claxton also thanked the staff for their support and the impact they have had on her life while working at the department.
"I just want to say thank you to all of you for whatever role you would have played in my life at Community Development. I am truly grateful and I want you to know that I appreciate everything that each of you would have done for me.
"I have grown in areas that I never thought I would but I would have grown in those areas in terms of really seeing what it means to be there for one another, and so I will encourage you to continue working," she said
Mrs. Claxton, who is also known locally and regionally for her mark in the game of netball. She also expressed gratitude to the staff who have impacted her personal life.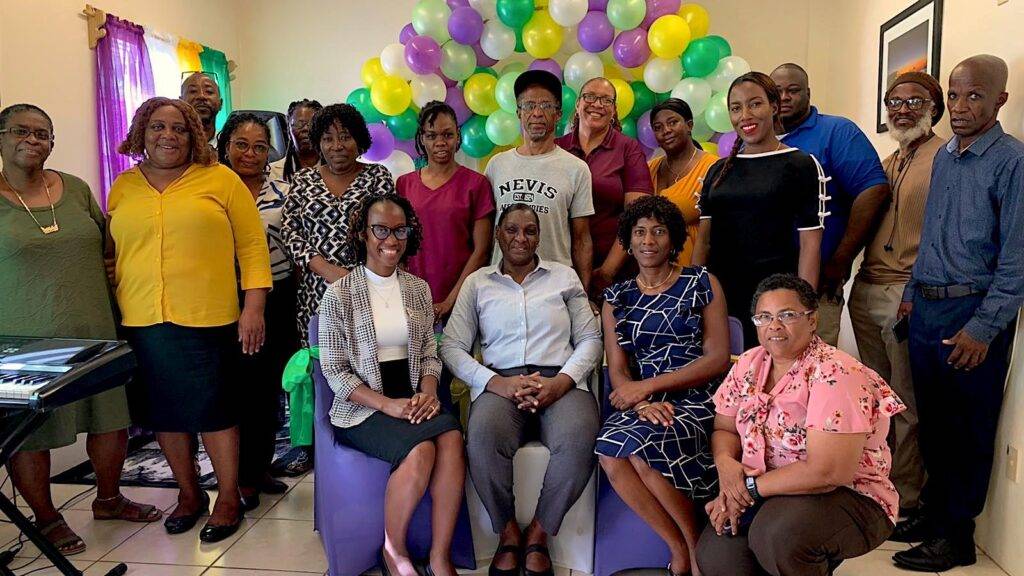 In 2010, she was diagnosed with breast cancer, a life changing time for her and her family.
"I think everybody knows about the fight that I have with cancer and my family has been through a lot but God has brought us through and I'm still here," she said.
Notwithstanding, Mrs. Claxton stated that although she was retiring, she would assist the department.
"I'm not going to Germany; I'm here on Nevis and I'm just a phone call away. I am willing to come out and work and put my hands on deck to do whatever you'll want me to do as long as I'm available. I don't know what direction the Lord will lead me in," she said.
Among those present were Hon. Jahnel Nisbett, Minister with responsibility for Community Development; Ms. Shelisa Martin-Clarke, Permanent Secretary in the Ministry responsible for Community Development; Mrs. Janette Meloney, Director of the Department of Community Development; staff of the department; Hon. Joseph Parry, former Premier of Nevis; Mrs. Claxton's husband Mr. Joseph Claxton and their daughter Ms. Thea Claxton.
END