NIA CHARLESTOWN NEVIS (June 05, 2023) –The Nevis Tourism Authority (NTA) hosted a media launch for Mango Festival 2023 at the Mount Nevis Hotel on Friday, June 02, unveiling a host of exciting mango-themed activities for the June 30 to July 2, 2023 festival.
Premier Hon. Mark Brantley, Minister of Tourism in the Nevis Island Administration (NIA), said the annual Mango Festival is a very important event for the island of Nevis, attracting local patrons and visitors during the traditional tourist off-season, and generating international publicity for the island.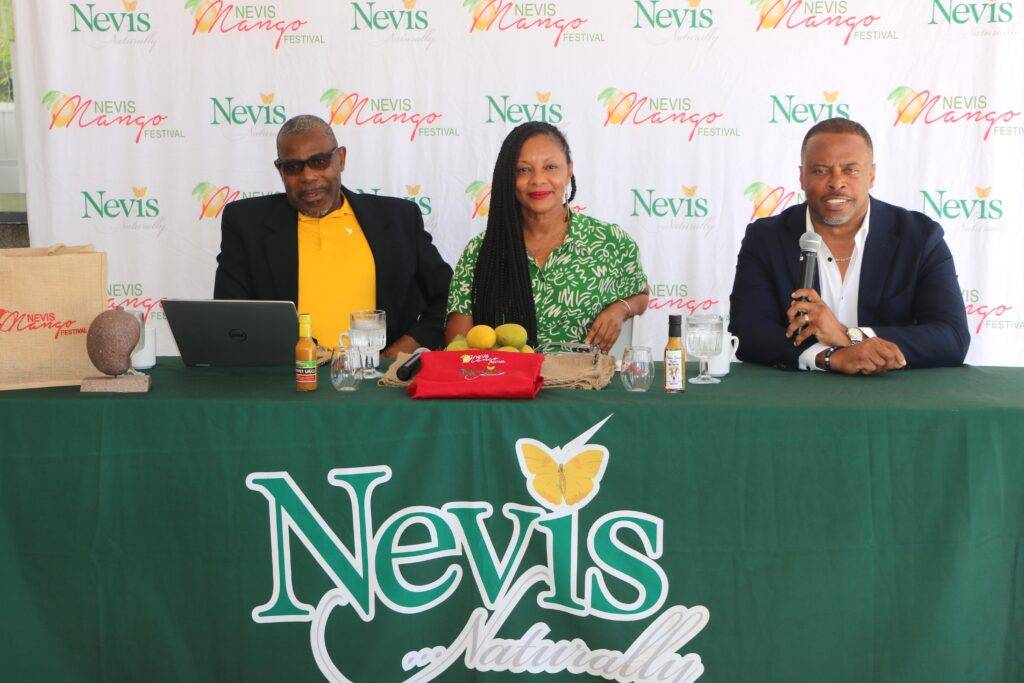 "The concept of the Mango Festival was designed to try to attract attention for the jurisdiction during that off-season. Each year the festival gathers momentum. It has been growing from strength to strength and it is clearly gaining the reputation and gaining traction in the region as an incredible food festival, and of course, based around what we say is the sweetest fruit.
"The organisers this year have some new and exciting initiatives in terms of regional and international personalities coming in. We always have regional and international chefs coming in and the idea is for us to create a space where we can promote what is natural to Nevis, our mangoes, but also to show the versatility of this fruit in terms of cooking, to build an entire ecosystem around it and to encourage, more importantly, persons to come to the island and visit the island, and to stay with us and experience what we have to offer. So I want to assure the Nevis Tourism Authority, who have been doing an excellent job, that this is an important item on our calendar each year in terms of our tourism product, our tourism offerings," he said, wishing the event every success.
Mr. Devon Liburd, NTA's Chief Executive Officer, share the details of the 9th edition of the festival. He said the NTA has curated a programme of authentic experiences "which are equal parts fun and inspiring".
The 2023 edition of the Mango Festival will be officially launched on Friday, June 30, at the DewDrops Restaurant and will feature a cooking demonstration, followed by Mango Festival Open Day at the Indian Castle Fruit Orchard. This event will feature mango tasting, a mango eating competition, a mango mixologist competition, and a mango hunt. The day culminates with a mango cocktail bar crawl at Pinneys Beach.
Saturday, July 01, features a taste of Nevis food tour and a supper club at Mount Nevis Hotel.
One of the most anticipated events on the Mango Festival calendar is the For the Love of Mangoes extravaganza taking place at the Malcolm Guishard Recreational Park on Sunday, July 02. There over 30 local chefs will showcase their culinary genius with mango-infused creations, and locally made products including pepper sauce and skin care products will also be available. The family event will also feature a chef's competition, wellness zone, chef samples, kids zone, live music, and performances by cultural groups.
Friday's media launch was hosted by Chantal Miller, Coordinator of the Festival. In attendance were representatives from several corporate sponsors of the event including Rams, and Bank of Nevis International; local social media influencers; and members of the media. Chef Tayo Ola will join the Nevis Mango Festival 2023 as a host, celebrity chef and judge, and Jamaican social media personality and comedian Juliet Bodley, better known as JulieMango, is the guest host for this year's Mango Festival.
Tickets for Mango Festival 2023 are available online at nevismangofest.com, and physical tickets will soon be available at the Nevis Tourism Authority office in Charlestown.
END