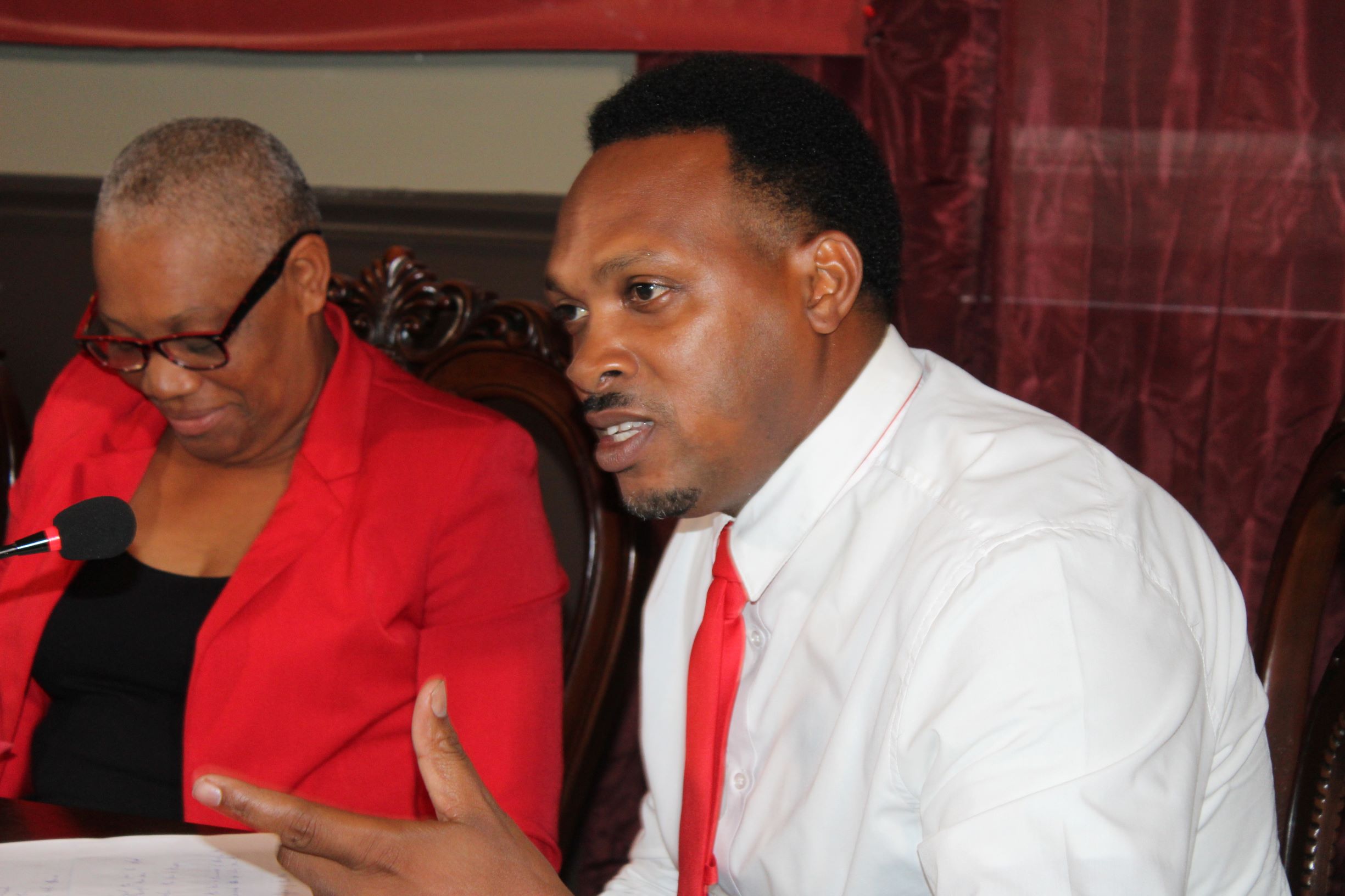 Photo – Leon Natta-Nelson (right) with Deputy Political Leader of the St Kitts-Nevis Labour Party and Central Basseterre MP Hon Marcella Liburd at Wednesday's Press Conference
285/2019
Basseterre, St Kitts, March 27, 2019 – A young civil servant who sought the protection of the St Kitts and Nevis Constitution reiterated his determination Wednesday to challenge prime minister Dr Timothy Harris for the St Christopher 7 seat in the National Assembly in the next general elections due in a few months.
Leon Natta-Nelson who was victorious in challenging his right as a civil servant to become involved in politics and a candidate said public officers must also exercise professionality in carrying out their duties.
"It is my determination to add to the already capable leadership in the St Kitts-Nevis Labour Party, my own leadership, responsibility and accountability and avail myself to become the next parliamentary representative for Constituency #7," Leon Natta-Nelson said at the party's monthly press conference.
The senior customs officer and accountant promised to make a positive difference in the lives of the people of the constituency and the country on a whole.
"It is my intension to bring innovative ideas that will create opportunities for the development of our people, our communities and our country," Natta-Nelson said.
He noted that in trying to exercise his rights as a citizen of this democratic country, he was threatened by Dr Timothy Harris and his government on several occasions.
"My recourse was to find resolution, peace and protection in the judicial system. However, the decision by the court was not only a personal victory for myself, but rather the entire civil service in the Government of St Kitts Nevis," said Natta-Nelson, who advised civil servants to "feel free to support openly which ever political party you wish. For those who support the SKNLP in particular, you are now vindicated. No more harassment. No more victimization. Support, affiliate and debate the political issues of this country."
"If Timothy Harris victimized you, say it. If you have any issue with the policies of this government, say it. If you have a problem with nepotism, say it. If you have an issue with crime or health or promotion or appointment, say it," said Natta-Nelson.
"Can civil servants attend political meetings, and march on Labour Day in solidarity with all workers in this country? Absolutely yes. You are now vindicated, you are now free to voice your opinion, free-er than before," he said.
Natta-Nelson noted that all civil servants like him have a professional responsibility to perform their duties.
He expressed confidence that his years of service to the communities in which he lives and his professional career will help him take the constituency and country to a higher standard.
Disclaimer
*This article was posted in its entirety as received by SKN PULSE. This media house does not correct any spelling or grammatical errors within press releases and (or) commentaries. The views contained within are not necessarily those of SKN PULSE.