(Basseterre, St. Kitts, July 20, 2023):
The Ministry of Agriculture, Fisheries, Marine Resources and Cooperatives is deeply saddened to learn of the passing of our beloved colleague, the late Dr. Lesroy Henry, also known as Pacer.
He first joined the Department of Agriculture on the 1st August 1988 as the assigned Veterinary Assistant. After successfully obtaining his Doctorate in Veterinary Medicine from the University of the West Indies in May 2002, he was officially appointed Veterinary Officer in July 2002 and continuously worked to improve his skills and knowledge. In March 2021, he then became the Animal Health Officer with responsibility for the Livestock Division at the Department of Agriculture, St. Kitts. Dr. Henry continued to show exemplary leadership, wearing many hats as doctor, teacher, trainer and lecturer until he earned himself the title, Director of Agriculture in June 2022.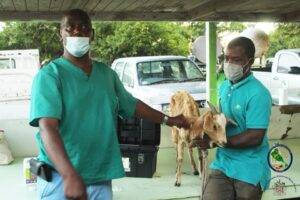 Dr. Henry will undoubtably be remembered for his outstanding and unwavering commitment to veterinary care, his hearty laughter, remarkable work ethic and his friendly spirit.
His invaluable contributions to the agricultural sector, specifically livestock production and the communities he served will be greatly missed.
We offer our deepest sympathies to the family, friends and loved ones of the late Dr. Lesroy Henry. We wish you peace and comfort during this extremely difficult time.
-END-