NIA CHARLESTOWN NEVIS (October 10, 2023)- The Joycelyn Liburd Primary School (JLPS) celebrated its 45th anniversary with a thanksgiving service at the Gingerland Methodist Church and a parade to the school grounds on October 09, 2023.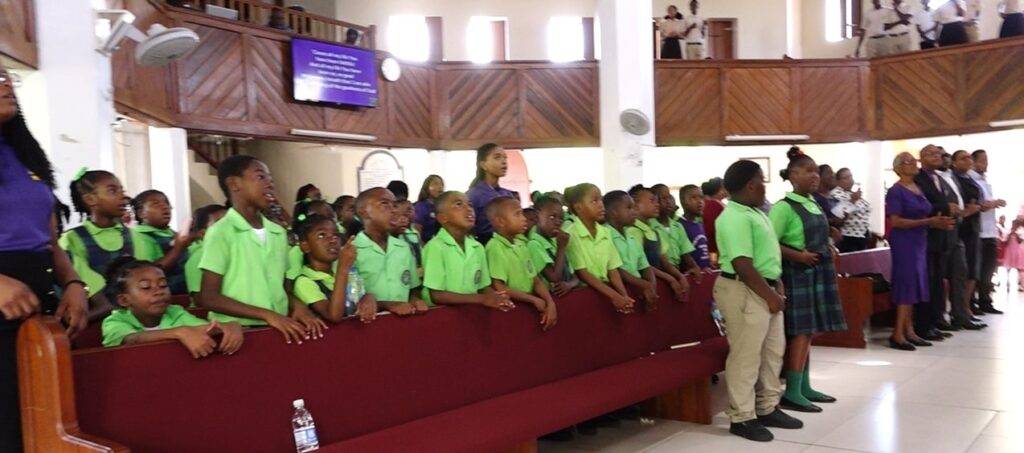 Faculty and students past and present were joined by parents and other well-wishers for the service, held under the theme "Connecting Communities: Maintaining Relationships, Promoting Wholesome Maturity and Resiliency."
Area Representative, Deputy Premier the Hon. Eric Evelyn, delivered welcome remarks and performed with the Honeybees String Band.
"This is an educational institution that has made a massive, sterling and extraordinary contribution to the development to the island of Nevis, and this school has always been soaring high. This school is known for its reputation in so many good areas. JLPS has created so many great minds here in Nevis, in the Federation and further afield. This school has molded persons in practically every profession.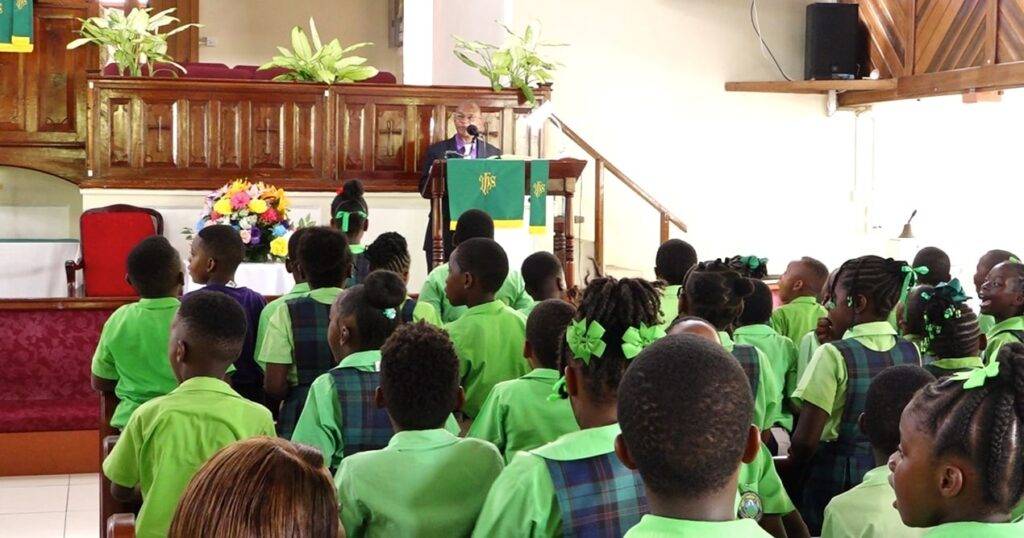 "I want to take this opportunity to say heartiest congratulations to the Joycelyn Liburd Primary School on this milestone 45th anniversary. May you continue to grow from strength to strength. I want to salute all who have been part of this journey; all of the past principals and teachers, staff members and students, all who have helped make the Joycelyn Liburd Primary School the pillar of strength that it has been in our community."
Premier of Nevis the Hon. Mark Brantley, other members of the Nevis Island Administration Cabinet, and other alumni in the private sector recorded congratulatory messages, registering appreciation for their alma mater.
Premier Brantley said, "I was among the first batch of students that went to the Gingerland Primary School, now known as the Joycelyn Liburd Primary School. I want to take this opportunity to wish you a happy 45thbirthday. Continue what you are doing in educating the young people of the island of Nevis."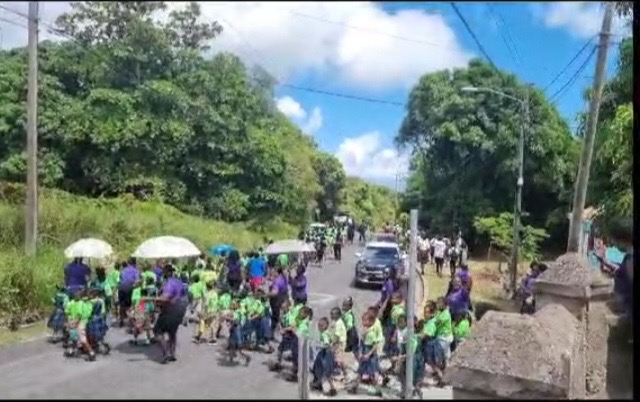 Cabinet Secretary Stedmond Tross said, "I am a proud graduate of the Chapel School, now the Joycelyn Liburd Primary School. They have played a very pivotal role in my life. What I am today is because of the training that I got at the Chapel School and I want to wish them all the best. 
Minister of Education the Hon. Troy Liburd said he is a proud graduate of the now JLPS and wished the institution all the best for its future.
JLPS Principal Mrs. Akela Brand greeted past, present and future "High Flyers" via video message.
"Whether you attended the then Gingerland Primary or the renamed Joycelyn Liburd Primary School it is not about the building; it is about the dreams, hopes, and bright futures that were crafted and nurtured between its walls…
"Today we celebrate the life Joycelyn Liburd Primary School has brought and will bring to this community. Today is special because it reminds us of our journey, our growth and our unity as a community and school family."
During the church service, several past and present teachers and students of the Joycelyn Liburd Primary School read scriptures, performed songs, poems and string band and steel pan renditions. Rev. Mark Christmas delivered the sermonette.
Also attending the service were Deputy Governor General Her Honour Mrs. Hyleeta Liburd; Principal Education Officer Ms. Zahnela Claxton, other members of staff from Ministry of Education, and other invited guests.
END