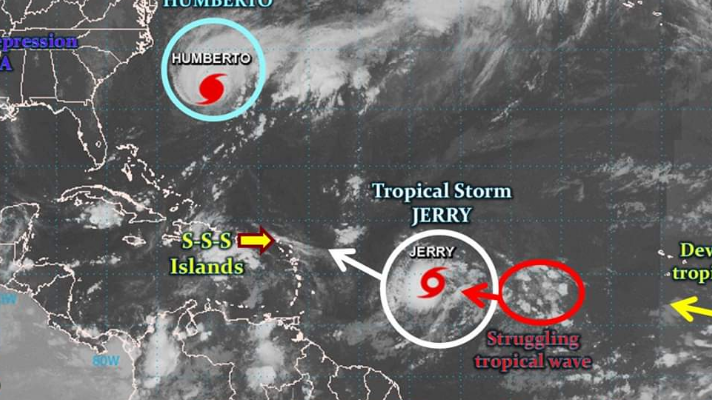 By: Staff Writer
Interests in the northern Leeward Islands are being advised to monitor the progress of Tropical Storm Jerry. While it is too soon to determine if there will be any direct impacts in the islands, persons should ensure they have their hurricane plan in place and monitor the progress of this system.
Currently there are no coastal watches or warnings in effect.
The National Hurricane Center has upgraded Tropical Depression Ten to Tropical Storm Jerry. As of 5 a.m. AST/EDT, Jerry was centered over the central tropical Atlantic Ocean about 960 miles (1545 km) east of the Leeward Islands. It's moving toward the west-northwest near 13 mph (20 km/h).
According to the NHC, a west-northwestward motion at a slightly faster forward speed is expected over the next few days. On the forecast track, the system will be near the northern Leeward Islands Thursday night or Friday.
Maximum sustained winds have increased to near 45 mph (75 km/h) with higher gusts. Tropical-storm-force winds extend outward up to 45 miles (75 km) from the center. Further strengthening is forecast during the next couple of days, and Jerry is expected to become a hurricane by the time it moves near the northern Leeward Islands.
The next advisory will be issued by NHC at 11 a.m. AST/EDT – www.hurricanes.gov