The Ivor Walters Primary School brought the curtains down on their week of Bullying Awareness activities, on Thursday 26th October, with an island-wide motorcade, making brief stops at several of the public primary schools- raising awareness and campaigning against the social ill of bullying. The school's Anti-bullying Ambassadors performed a dance to their Anti-bullying jingle which admonishes all to STAND TOGETHER AGAINST BULLYING.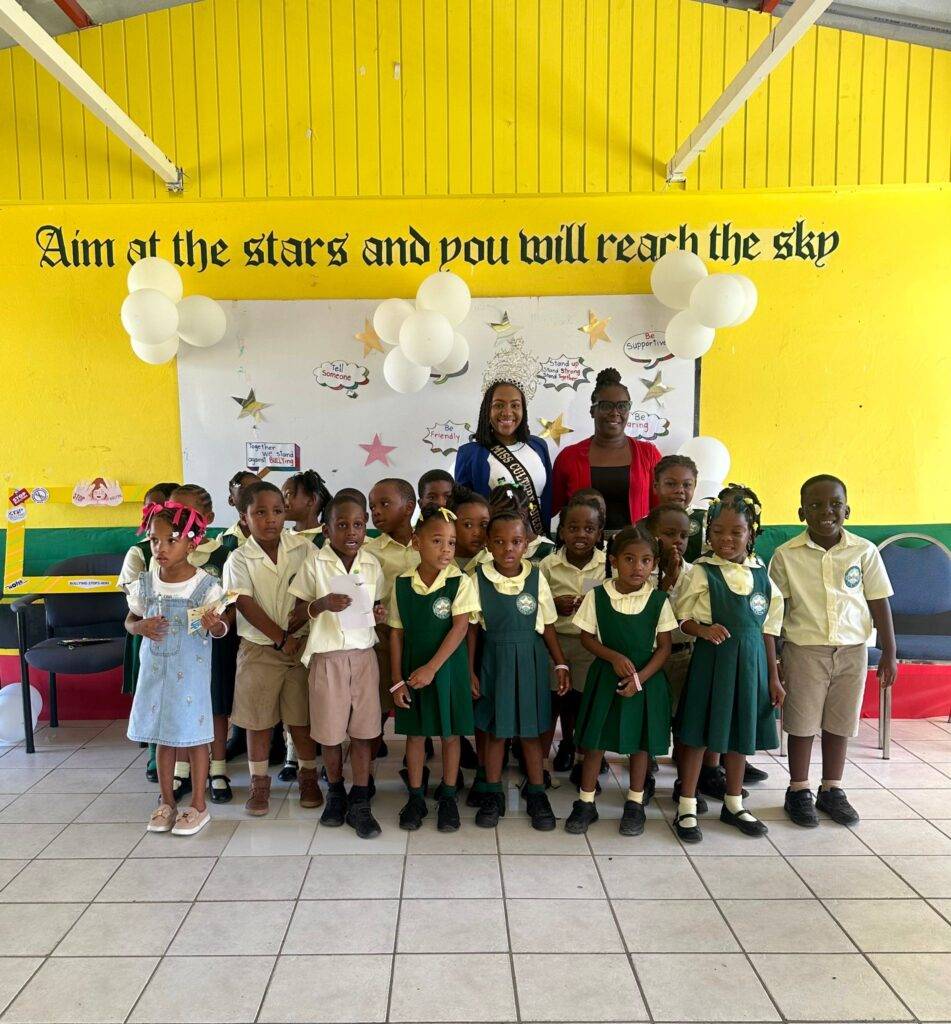 The week of activities featured an Anti-bullying Special Assembly, where the reigning Miss Culture Queen and past student, Nykeisha Henry delivered the featured address to the entire student body and staff. Ms. Henry explained what bullying is, outlined the various types of bullying and provided students with tips on how to identify bullying behaviors and combat them. She admonished the children to speak up against bullying, tell someone if they are being bullied and to express themselves in positive ways. Before departing, the Queen reminded the children to be kind, respectful and supportive of each other. She distributed wristbands containing positive messages to each child and teacher, and challenged all to use the messages to encourage someone each day.

Also present was reigning Groovy Soca Monarch King, Mr. Delroy Huggins, aka Delly Ranks who composed the school's Anti-bullying jingle 'Together We Stand Against Bullying' to perform live for the children. Also, presenting a brief Anti-bullying Power Talk was Officer Bisset from the Royal St. Christopher and Nevis Police Force.
The week of activities continued with the IWPS Poetry and Poster-making Day, followed by the much anticipated Parent Night, featuring a Panel Discussion, moderated by popular deejay, Mr. Marvin 'DJ Woodis' Lewis, surrounding the issue of bullying.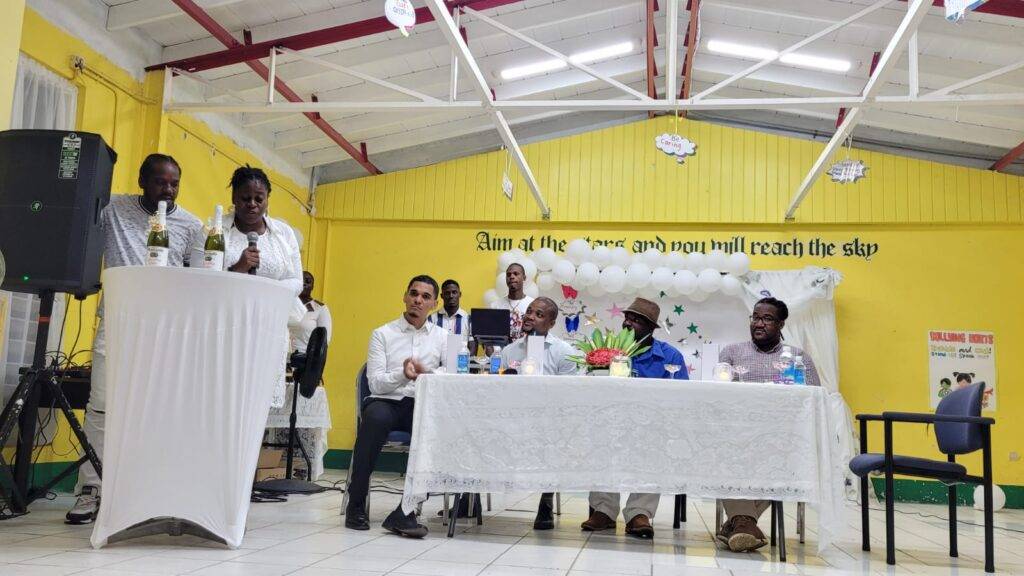 The unique all-male panel consisted of Clinical Social Worker and Counselor Mr. Oldain Claxton; parent, Mr. Terrence Flemming; Mr. Delvon Clarke and Corporal Randolph Diamond. The moderator did an excellent job, engaging the esteemed panelists and parents as they shared their professional expertise and personal experiences to bring life to the discussion. Parents were challenged to take their role seriously in the raising of well-rounded children that can transition smoothly into society to reflect purpose and dignity.
Miss. Lowe, the school's guidance counsellor, on behalf of the principal and staff, extended profound gratitude to God Almighty for seeing this years activities through to a successful completion. She also thanked a number of key supporters in this venture. They are as follow:
Premier, Hon. Mark Brantley for being the primary supporter of the years
Mr. Donald Hendrickson of Island Mouldings
Mr. Carl Liburd of CEquip
-Dr. Patricia Bartlette
-Dr. Kerdis Clarke
-VON Radio
-Mr. Curtis Morton
-Bull's Gym
-Mr. Patrick Howell and his team
-Mr. Tito Chapman of SKN PULSE
-Mr. Delroy 'Ras Iroy' Pinney
-Meeting Dynamics Global
– Mrs. Jennifer Liburd of Conje's Creations
-The principals, Staff and students of the various public, primary schools
Cecele Browne Integrated School
-The IWPS Kitchen Staff, and
-Mrs. Shinella Joseph -Nisbett, Education Officer, and the Department or Education
-Bullying Awareness Committee
-The parents of IWPS and the general public
Ms. Shevonne Lowe, who initiated this Anti-bullying Campaign approximately 6 years ago, expressed that, "Bullying prevention is everyone's business." She admonishes all not to stand by, rather to stand up, stand strong and stand together against bullying!