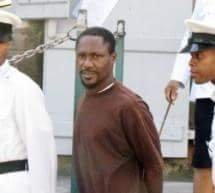 121//2018
Basseterre, St. Kitts, February 19, 2019 – Alistair Isaac, an inmate at Her Majesty's Prison in Basseterre, suffered injury when received the full impact of a "scattershot bullet" fired by a prison officer earlier this month.
According to multiple sources, a member of the Prison Enforcement Response Team opened fire on Isaac striking him in the leg.
Isaac was rushed to the Emergency Department at the Joseph N. France General Hospital where treated. His leg was placed in a cast and discharged.
The circumstances are not too clear, but according to sources, Isaac was being taken to solitary confinement by a prison officer when the incident occurred.
Isaac has a long prison record and served sentences for several offences including possession of cannabis, larceny, possession of firearm and ammunition, robbery and escaping lawful custody while under guard at the JNF General Hospital.
With 21 convictions and regarded as a career criminal, Isaac is serving a 12-year sentence for wounding and attacking a woman and following that a 38 year sentence for attacking and raping a woman (without a condom) at knife point and assaulting her husband.
Photo of Alistair Isaac